Koi is one of the most popular fish breeds among fishkeepers. But rather than keeping them in small aquariums, they thrive more in an open pond system.
The thing is that ponds can hold a massive amount of water, and as they are outside, the water tends to get very dirty.
A small aquarium filter will not be much help for filtering toxins and debris out of the pond. What you should be looking for is the best koi pond filter.
These pond filters are massive and extremely powerful. Furthermore, they are designed to work outside and can survive harsh conditions.
But what is the best koi pond filter system? How can you decide?
Today, we will look at the best koi pond filters in a guide which will help you choose the best one!
7 Best Koi Pond Filters
1. Laguna Pressure-FLO 3000 Filter – Best Pond Filter For Koi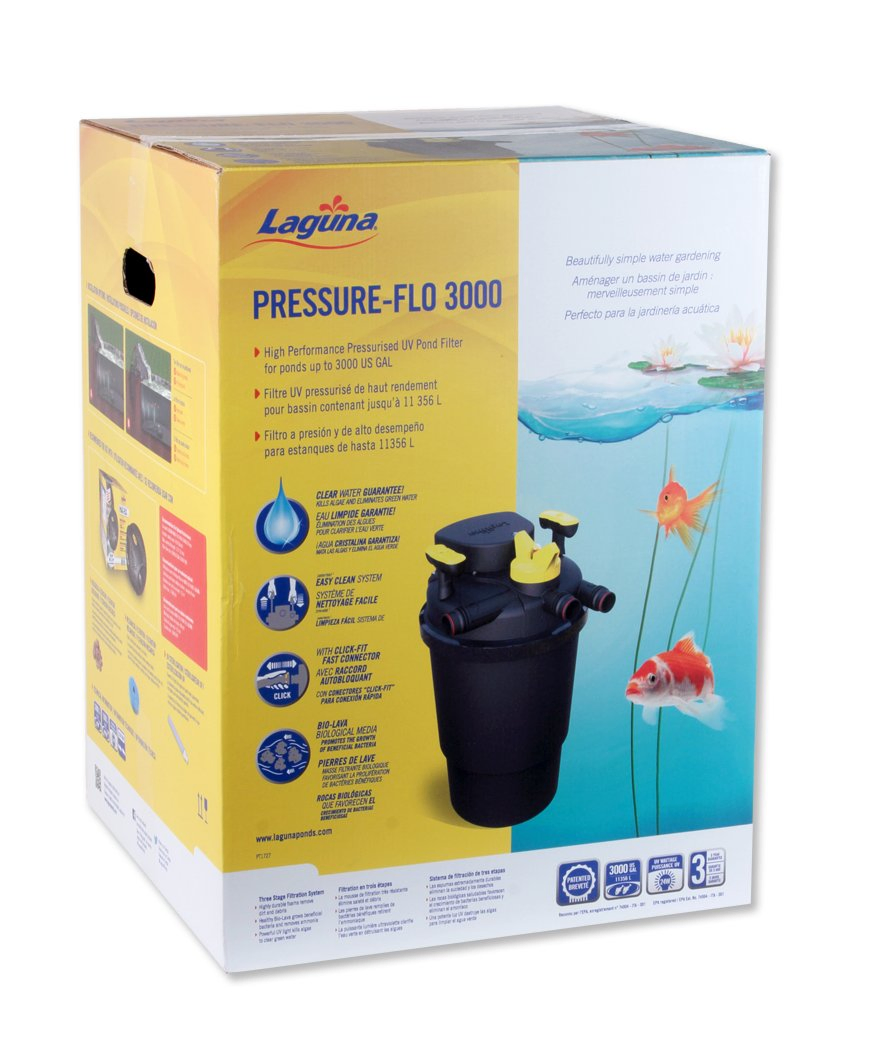 This is a product stacked with all the necessary features that you could want from a pond filter.
Laguna Pressure-FLO 3000 Filter is a monster when it comes to filtration capability. This pressurized filter comes with advanced UV sterilization capability.
It's surely the best filter for koi ponds.
Notable Features
​​- Features three-stage filtration, including mechanical, biological, and UV sterilization– Includes four-prong UV bulbs which clear off green water– Comes with a patented backwash cleaning system called the EasyClean system– Click-Fit fast connector ensures easier connectivity– Has four layers of filter foam and 3,200 grams of Bio-Lava rocks– Suitable for 3,000-gallon ponds– Comes in five different models
Pros
​Superior filtration ensures clear and cleaner water
​Powerful UV sterilization capability
​Easy to connect and simple installation process
​Robust build quality
​Patented backwash cleaning mechanism
​Long 16-foot power cord
Cons
​Some users have complained about leaking issues
2. OASE BioSmart 5000 Pond Filter – Best for a Moderate Fish Load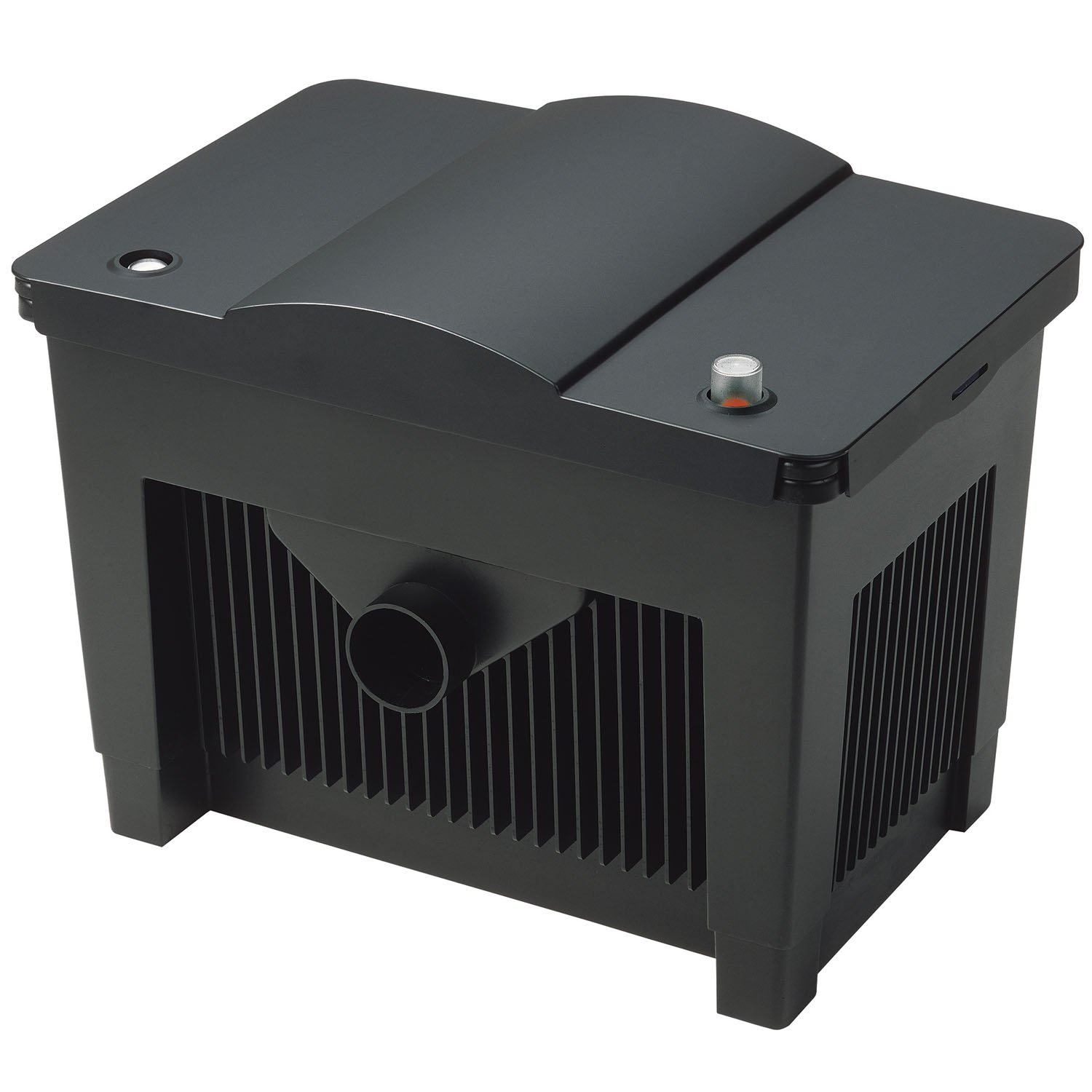 If you are looking for a box filter or a non-pressurized filter, OASE BioSmart 5000 Pond Filter is the best one you can get your hands on.
This filter fulfills all the criteria of a perfect non-pressurized filter. The automatic cleaning indicator and constant temperature display are two cherries on top of it all!
You will also love its enormous capacity. The 10,000-gallon pond filter variant of this same model can handle even the most gigantic of ponds!
Notable Features
​- ​Non-pressurized box filter that offers mechanical and biological filtration– Suitable for up to 5,000-gallon ponds– Large surface area offers better biological filtration​– Different biological filtration zones deal with different phases of the nitrogen cycle– Comes with an automatic cleaning indicator which lets you know when to clean the filter– The temperature display always shows the current temperature of the water– Two different models
Pros
​Impressive biological filtration
​Automatic cleaning indicator
​All-time temperature indicator
​Offers high-quantity oxygen supply
​Sludge drain system allows easier cleaning
Cons
​Doesn't have UV filtration
3. Polar Aurora 4000 Gallons Pond Pressure Bio Filter 13W UV Sterilizer 10000L Koi Water – The Best Budget Option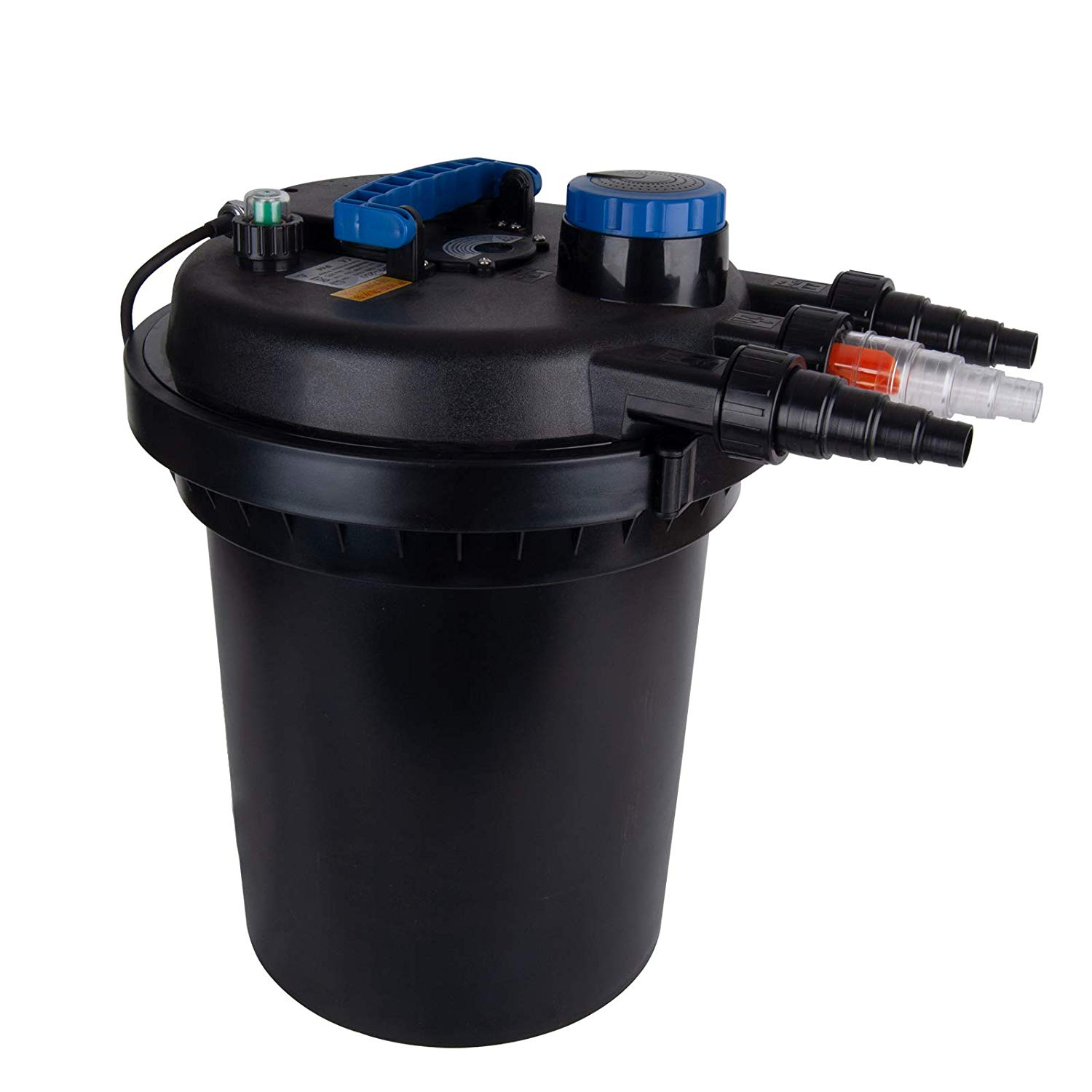 Polar Aurora is a relatively new name in the industry. However, what that they are offering at this price point is absolutely insane.
You will be getting flagship-level filtration at half the price with Polar Aurora 4000 Gallons Pond Pressure Bio Filter.
However, there is a small issue.
Although the spec list says that it is suitable for a 4,000-gallon pond, it can actually only handle 2,500 gallons at best. If the bioload increases, that number might come down to only 1,500 gallons.
Notable Features
​​- Comes with special UV bulbs which target single-celled algae– Suitable for 4,000-gallon ponds with no load, 2,500-gallon pond with normal load, and 1,500-gallon pond with a heavy load– Ultra-durable outer casing ensures zero water leakage– Comes with a multiple function tool that can be used in ponds with bacteriostatic function– With the automatic cleaning function, cleaning is very easy
Pros
​Superior filtration quality
​Ultra-durable and leak-proof
​Complete UVC sterilization
​Automatic cleaning indicator
​Offers good results even without pre-filters
Cons
​You will have to purchase the pump separately
​4.​ Grech CPF-2500 Pond Bio Pressure Filter UVC 13-watt Up to 1600 Gallons – Best Small Pond Filter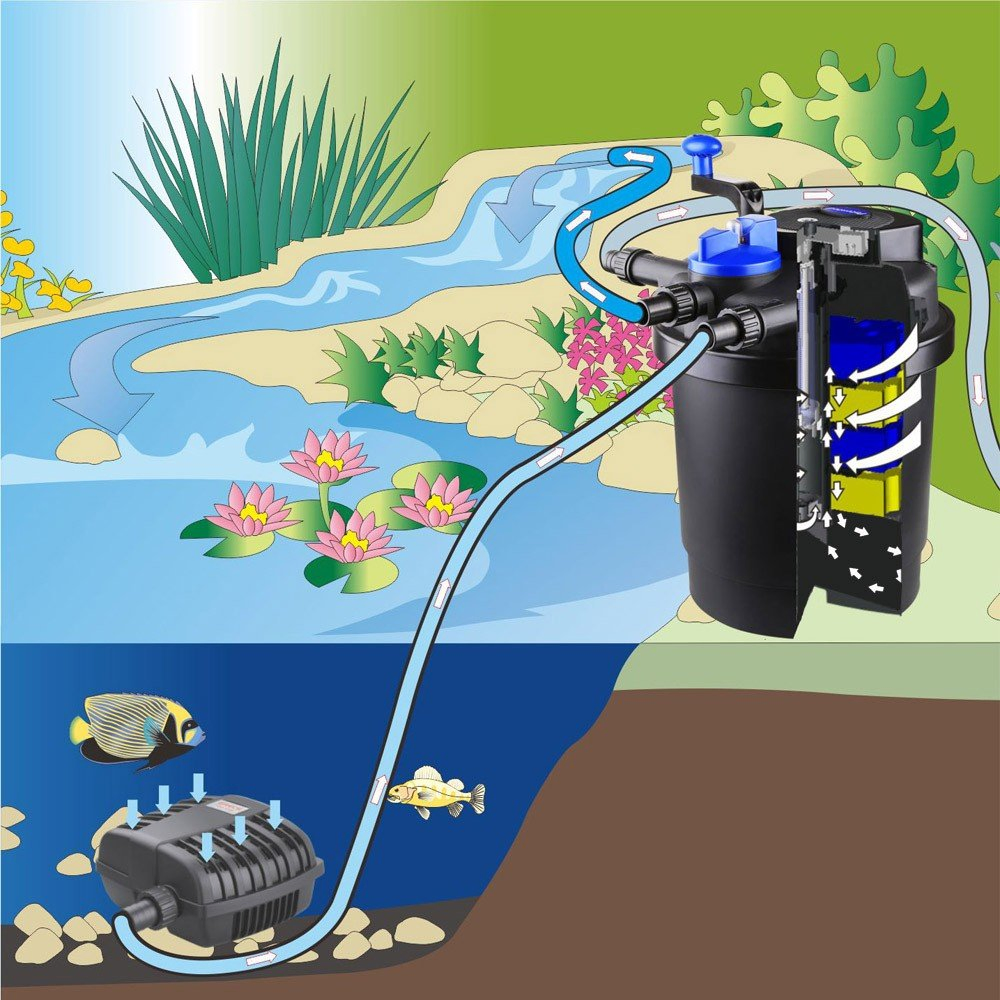 Grech is a Chinese brand which offers great value in Asian countries. Don't let the "made in China" label fool you.
Grech CPF-2500 is one of the toughest and most durable pond filters on my list today. However, you can't use this filter in a large or even in a medium-sized pond.
It will fail miserably. The maximum capacity of this filter is 900 gallons (for a koi pond).
Notable Features
​​- A pressurized filter which features three-stage filtration, including mechanical, biological, and UV sterilization– Suitable for 1,600-gallon decorative ponds and 900-gallon koi ponds– Has a handle-based cleaning system which allows cleaning without the need to open the whole system– Allows beneficial aerobic bacteria to grow quickly– Gives inlet and outlet pipes along with the main filter– Has a maximum flow rate of 1,600 GPH
Pros
​Good filtration quality
​Great biological filtration quality
​Easy to clean due to the handle system
​Good flow rate
Cons
​Doesn't serve large ponds very well
5. Aquascape 77014 UltraKlean 1000 Filtration Kit for Pond and Water Features – The Durable One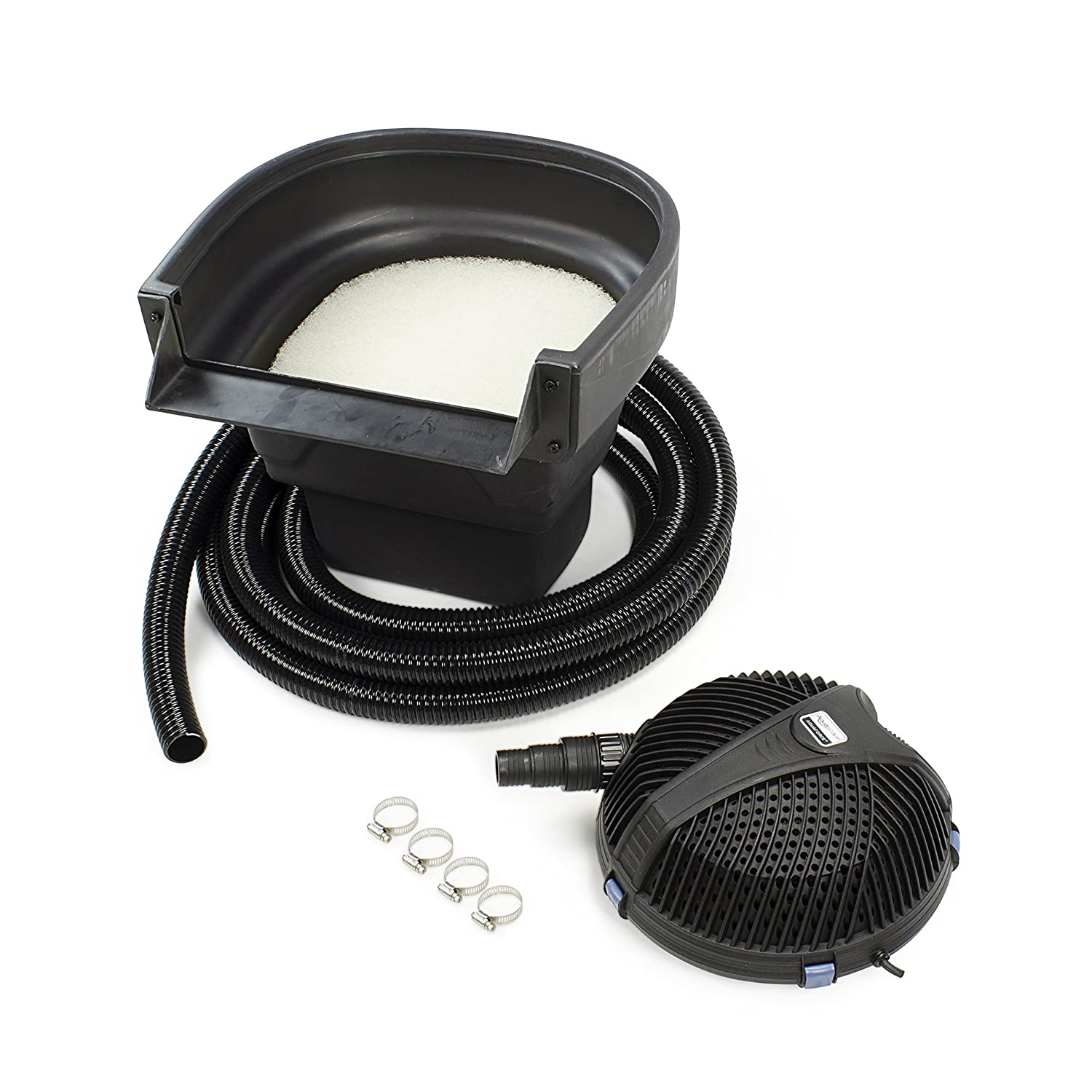 Aquascape is a wonderful brand which is passionate about water and pond gardening. You can always expect unique products with lucrative features that will always stand out in the crowd.
I have to say, Aquascape 77014 UltraKlean 1000 Filtration Kit will surely save you a large amount of money.
There's one minor catch, though.
It may take more time than usual to completely filter your pond.
Notable Features
​​- The whole kit includes BioFalls 1000 filter, AquaForce 2700 pump, 25 feet of 1.5-inch kink-free pipe, and stainless-steel hose clamps– Suitable for very large 1,000-gallon ponds– Maximum flow rate is 3,000 GPH– Has a waterfall kit which can mimic a natural waterfall in the pond– Two bulkhead ports provide plumbing options– Durable pre-filter cage design prevents clogging and reduces pump maintenance– Oil-free design prevents pond contamination
Pros
​Very durable
​Superior filtration
​Waterfall kit included
​Suitable for large ponds
​High flow rate
​Stacked with features
Cons
​Assembly and installation are quite complex
​6. XtremepowerUS Koi Pressure Bio Filter Pond Garden Pond Pump Filter UV Sterilizer – The Premium Choic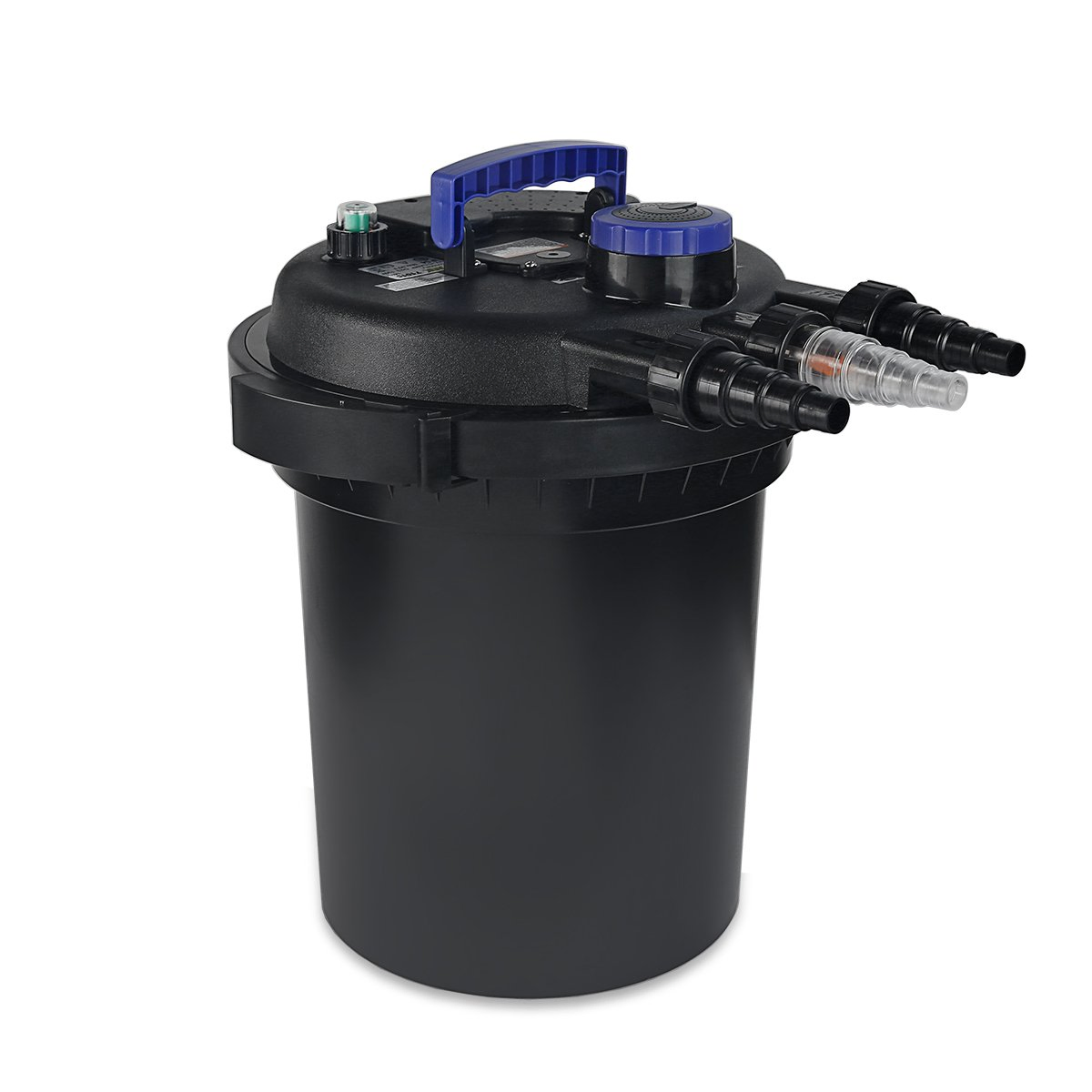 XtremepowerUS Koi Pressure Bio Filter could be your new best friend if you don't like complex installations. It's extremely simple to set up and easy to operate.
XtremepowerUS 10000 koi pond pressure bio filter UV sterilizer is extremely silent; you won't even notice it's there!
However, it's mainly a small pond filter system. It works best in smaller ponds rather than medium to large ponds.
Notable Features
​​- A pressurized filter featuring three-stage filtration, including mechanical, biological, and UV sterilization– The 13-watt UV light can sterilize most harmful microbes in the pond– Suitable for medium-sized ponds with up to 4,000-gallon capacity– Can be connected to a wide variety of pipe size options
Pros
​Easy to clean with the backflushing mechanism
​Great build quality
​Durable
​Budget-friendly
Cons
​Average filtration quality
​7. ​TotalPond Complete Pond Filter with UV Clarifier – The Smart Choice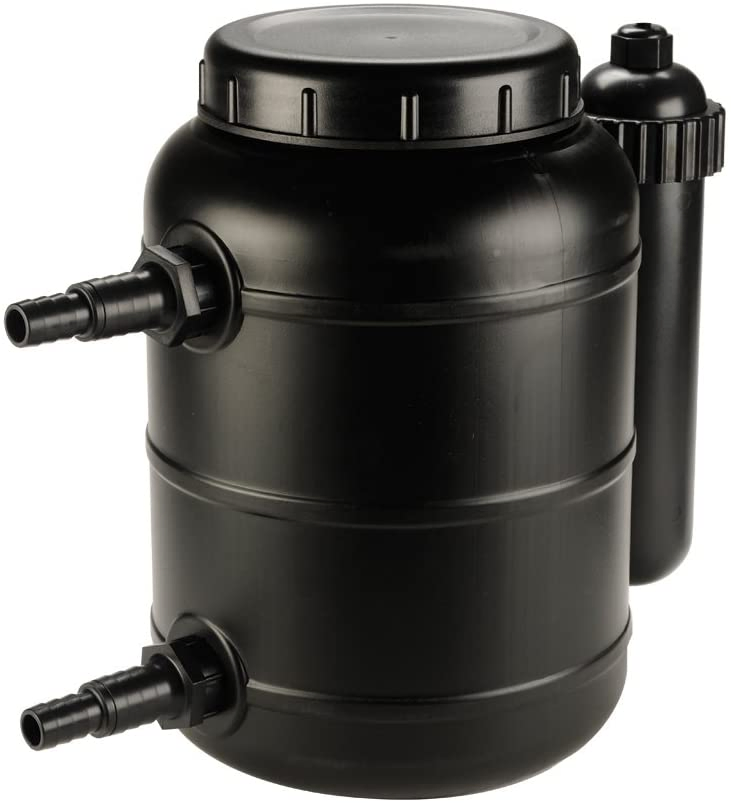 Filtration is a crucial element for koi ponds. So, the eco-friendlier it is perfect in that case.
I think you'll absolutely love TotalPond Complete Pond Filter as it has an all-natural filtration system.
The biological filtration unit promotes a healthy pond environment for sure. It's definitely one of the cheapest ones on my list so far.
Notable Features
​​- A pressurized filter featuring three-stage filtration, including mechanical, biological, and UV sterilization– Uses bio-balls to aid biological filtration, the bio-balls encourage beneficial bacteria to grow and colonize– High water pressure doesn't allow debris to settle in the pond or in the filter– Can work alongside other filters– Has a 16-foot power cable
Pros
​High-quality UV clarifier and biological filtration
​Superior filtration
​Great build quality
Cons
​Only suitable for small ponds (1,200 gallons max)
​The Best Koi Pond Filter Buying Guide
Before you head to your local pet shop, you should familiarize yourself with a few key factors about pond filters.
As you can imagine, ponds contain many gallons of water, way more than the aquarium you might have in your living room. Obviously, you will require a much more powerful filtration system.
Also, the filtration layers are not the same as in aquarium filters. So, without further ado, let's move on to the guide section.
​More: Check The Best Rock For Aquarium Here
Stages of Filtration System
Most of good filter brands on the market have two stages of filtration. Each of these stages deals with different types of harmful elements.
For example, the mechanical filtration stage deals with extra waste food and fecal waste, while the biological filtration stage gets rid of toxic agents such as ammonia and nitrate.
Some brands even have a separate stage called the UV stage. In the UV stage, the filter kills off unwanted microbes, bacteria, and parasites using UV light.
So, you can see a total of three types of filtration in a koi pond filter:
​​1. Biological​2. Mechanical​3. UV (optional)
1. Biological Filtration
Over time, a fish habitat will become toxic with different waste materials.
For example, anything that rots will eventually turn to ammonia, then nitrite, and ultimately to nitrate.
This cycle is known as the nitrogen cycle, and it's an inevitable natural process.
The good news is that some beneficial bacteria and microorganisms break down these toxic materials in the denitrification process.
The biological filtration process is based on this theory.
In this stage, a media substrate is added where beneficial bacteria can grow.
When dirty water passes through this layer, bacteria breaks down the nitrate and produces nitrogen gas and water.
Due to the nature of this filtration stage, we use the name "biological filtration."
A good koi pond filter must have the biological filtration stage with the best pond filter media. Otherwise, it will be almost impossible to achieve healthy water chemistry.
More: Check The Best Freshwater Plants Here
2. Mechanical Filtration
The next stage is the mechanical filtration stage. This is a basic stage where filtration media sifts out any physical waste.
For example, an outdoor pond will accumulate different kinds of waste such as leftover food. If leftover koi food remains in the pond, it will soon rot and degrade the water quality.
Think of the mechanical filtration stage as a net.
When water passes through this net, it captures all solid waste.
A good filter contains multiple layers of the mechanical filtration stage, so that it captures waste of different sizes without clogging the whole system.
3. UV Filtration
UV protection is a comparatively new idea in the filtration industry. As you can imagine, it's an
advanced and modern filtration technique.
The thing is that even after using a good biological filtration system, a large number of harmful agents can remain in the water.
Why?
Biological filtration only acts against the compounds of the nitrogen cycle (ammonia, nitrite, and nitrate).
Basically, it's common to find other harmful agents in the pond water, such as parasites, viruses, cysts, and bacteria.
The UV light penetrates through these pathogens and attacks their genetic core. Experts suggest that UV light can purify water up to 95%!
So, having UV light in a koi pond filter is a great feature to have. Is it expensive?
Yes, having a UV protection layer in a filter can bump up the price, but it's totally worth it.
​More: Check The Best Light For Planted Aquarium Here
Choose a Filter that Matches Your Pond Size
I think this is the most important deciding factor that you should consider. Using a 5,000-gallon filter in a 10,000-gallon pond will do you no good.
Don't know the size of your pond? You can apply some simple geometry.
To find out the capacity of your koi pond, use one of these formulas:
Using the imperial system, water volume (gallons) = length (feet) × width (feet) × depth (feet) × 7.48
Why did I multiply the result by 7.48? That's because 1 cubic foot is equivalent to 7.48 gallons. Or, with metric measurements, water volume (liters) = length (decimeters) × width (decimeters)
× depth (decimeters)
Okay, but what if you have a circular pond? Then, you need to apply the following formula:
Using imperial units, water volume (gallons) = radius2 (square feet) × depth (feet) × π (3.14) × 7.48
For metric, water volume (liters) = radius2 (square decimeters) × depth (decimeters) × π (3.14)
Okay, enough with the geometry lesson.
Once you have calculated the volume or size of your pond, make sure to buy a filter which has the capability to sustain the pond.
Pressurized or Non-Pressurized Filters: Which One to Get?
While going through the product catalog, you will see two terms – pressurized and non- pressurized filters.
So, what does it mean, and what are the differences between the two?
Basically, you can classify pond filters into two categories based on their mechanism and functionality.
Based on this classification, a pond filter can be either pressurized or non-pressurized.
Let's look at some details!
1. Pressurized Filters
Pressurized filters, aka bead filters, change the water pressure to reduce water flow rate. As the water flows at a slower pace, the filtration media has more time to treat the water. There are some other important aspects to a pressurized filter.
First is the ease of installation. You can install a pressure filter at or below pond level. It doesn't depend on gravitational force. However, you will need a powerful pump to run the filtration system.
The second big advantage of a pressurized filter is cleaning. As most of these filters have a backflush mechanism, you will have to clean it much less frequently.
However, there is a small issue with this type of filter.
Slow water movement causes oxygen level depletion in the water. This can cause two different types of problem.
Firstly, the beneficial microorganisms can't participate in the denitrification process with low oxygen levels.
And, secondly, the koi in the pond might feel a shortage of oxygen.
So, here's the summary:
​Pros
​High filtration rate (GPH)
​More time to treat dirty water
​Can be placed anywhere
​Can treat a large amount of water
​Easy to clean
​Cons
​Poor biological filtration
​Oxygen depletion
​Expensive
2. Non-Pressurized Filters
Non-pressurized filters follow a more traditional design and functional principles. Unlike pressurized filters, water flows at a faster or normal pace here.
Rather than changing the water pressure, they rely on gravitational force.
As the water flows at a normal pace, it doesn't hamper the denitrification process or disturb the
beneficial microorganisms.
Yes, you've guessed it: these filters don't deplete the oxygen level in the water and are quite cheap compared to the previous category.
However, you will have to clean it more frequently, and your potential installation places will be limited.
​Pros
​High-quality biological filtration
​Beneficial bacteria can thrive
​Doesn't deplete the oxygen level
​Suitable for all pond sizes
​Cons
​You will need to clean more frequently
​Limited installation options
​FAQs Related to Koi Pond Filters
Does a Koi Pond Need a Filter?
Yes, you MUST get a filter for your koi pond.
Naturally, koi is an aggressive breed. They eat more often, play more often, and fight more often. As a result, the water tends to get very dirty very quickly.
Unlike indoor aquariums, a koi pond in your backyard will accumulate different kinds of dirt and debris from outside.
Also, koi grow at an insane rate.
Therefore, your koi pond will need to sustain a huge amount of bioload.
Considering all of these facts, you can't skip having a good pond filter for your beloved koi.
How do You Set Up a Koi Pond Filter System?
Firstly, you will require a detailed design. Draw a layout of the pond and a component installation plan.
A complete koi pond filtration system consists the following:
– Water intake tube- Pond pump- Pre-filter- Actual filter- Outtake tube
You should design a closed-loop system. Remember, your system will begin by taking dirty water from the pond and end with returning clean water to the pond.
Now you are all set to start cutting the pipes to the desired sizes.
Next, you should set up the electrical components. Cut some wires, install circuit breakers, and choose the power outlet. Also, make sure that the power outlet has enough capacity to deal with the pump and the filters.
And don't forget to waterproof the wirings and electrical circuits.
Once you are done with the prepping stage, the main assembly tasks begin.
Attach the inlet pipe to the pond pump. Then attach another pipe between the pump and the pre-filter.
After that, connect the pre-filter and the main filter to the pipe.
Finally, attach the last pipe which goes from the main filter to the pond. Now you can attach an electrical power supply to the pump and filters.
Voila! You have successfully set up a pond filtration system.
To set up the main pond filter, you should follow the instruction guidelines provided by the manufacturers.
Okay, let's sum things up:
Pond – (pipe) – Pond Pump – (pipe) – Pre-filter – (pipe) – Main Filter – (pipe) – Pond
How Often Should I Clean My Filter?
The answer depends entirely on your filter, filtration system, and your pond conditions. As there
are so many things at play here, it's almost impossible to give a definitive schedule.
So, what should you do?
You need to follow a strategy, right?
The best strategy that I have found which works for me is monitoring the water outlet from the main filter.
If you find the water coming out of the filter is dirty or smelly, you should clean the filter. Also, you might notice the water outflow rate slowing down.
These are the clear symptoms.
There are some models on the market which give an automatic indication to clean the filter. If you are so confused when determining the perfect cleaning schedule, you might want to choose one of these advanced models.
Should You Add a Pre-Filter for the Best Water Filtration?
It's not mandatory to add a pre-filter alongside your main filter, but it can help you in many ways.
Mainly, a pre-filter greatly helps the mechanical filtration process in the main filter. A large percentage of solid debris can be filtered out before it can enter the main filter.
If your pond is lightly stocked, you can skip the pre-filter. You can use many cheap alternatives instead of a skimmer or a leaf basket.
However, if you have a heavily stocked pond, you need a good pre-filter. Otherwise, you will be placing too much pressure on your main filter.
Also, if you have decided to get a pre-filter, make sure that your pond pump is capable of supplying water at the desired pressure.
Here's a tip, if you are suffering from heavy water contamination, you can use a non-pressurized filter as a pre-filter with a pressurized filter as the main filter.
But if it's absolutely necessary, you should pick the best pre-filter for koi ponds.
What Size of Pump Do I Need with My Koi Filter?
Coupling a fishpond pump and filter system is crucial. The pond pump should sync with the filters; otherwise, you there could be a catastrophe!
For example, pressurized filters are very pressure sensitive. You wouldn't want to put too much or too little pressure on this type of filter.
In this case, you should rely on the manufacturer's guidelines.
The general rule of thumb for koi pond filters and pumps suggests having a 5,000-gallon pump for a 5,000-gallon pond.
Some aquarists tend to experiment with water pumps, but I would suggest otherwise. Stick to the instructions, and your devices will thank you in the long run!
Conclusion
Gather round folks, it's time to announce the winners of the Best Koi Pond Filter title!
Today's winner is the Laguna Pressure-FLO 3000 Filter. It has all the great qualities of a perfect pressurized filter with some very practical additional features.
OASE BioSmart 5000 Pond Filter would have been the winner today, but as it is a box filter, its efficiency will be less than that of pressurized filters. That's why it takes second place.
Finally, third place goes to the Polar Aurora 4000 Gallons Pond Pressure Bio Filter.