Lights are essential for any tank, particularly planted tanks. Without a good light setup, your plants can't
make enough food to sustain themselves through the photosynthesis process.
With an abundance of lights available for planted tanks, it's becoming harder and harder to choose the best light for a planted tank.
Don't worry, because with proper knowledge, choosing the best LED aquarium lighting for plants isn't
that hard!
That's why we are taking a closer look at the top 8 lights for a planted tank and then diving in even deeper to understand the buying considerations.
The Review of Best Lights for Planted Tanks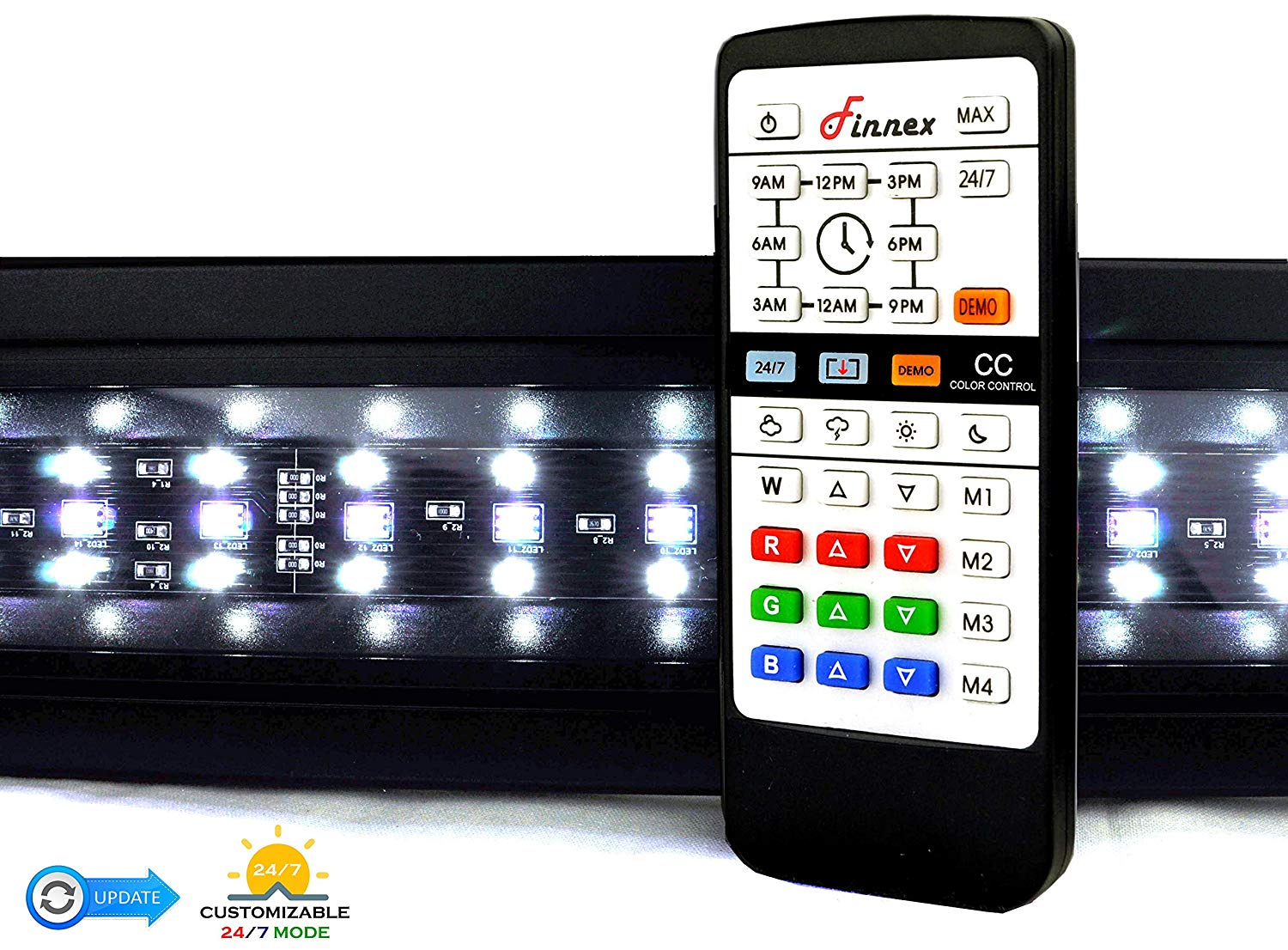 Finnex Planted+ 24/7 LED KLC is a light which tries to create a natural environment for your plants in the tank. The most notable feature of this light is the automatic sunrise and sunset mode.
Also, the 7000K warmth offers a bright cool tone which helps plants partake in the photosynthesis process easily.
Apart from the sunrise and sunset setup, there are a number of other modes such as starry night, thunderstorms and even a cloudy day.
Notable Features
​​- Has super bright 7000K warmth with a multicolor blend for plant growth– With the +CC mode, you can change the color of the sunrise and sunset– Has a 24/7 feature that can mimic any time of day or night with lighting setup– Programmable setup with LED wireless sensor​– Four customizable color channels, users can dim any color of their choice– The legs can move inwards to fit into smaller aquariums– Comes with a water-resistant IR remote control with two AAA batteries– Comes in five different models and sizes
Pros
​Superior quality lights

​Great build quality

​Easy to install

​Fully automated

​Water-resistant remote control
Cons
​Issues with the remote, the battery drains too fast

​The power cord is quite short
Current USA Satellite Freshwater LED is sometimes considered to be the best LED lighting setup. In fact, I was very conflicted about which one to put in first place.
As with the Finnex Planted+, this comes with a number of modes to set the proper mood for your plants.
But my favorite part of this light is the superb build quality and ease of use. The remote with 32 buttons is also very appealing.
Notable Features
​​- Offers standard 6500K warmth with a wavelength of 445nm blue light– Has three cloud cover modes, two lunar modes, two storm modes, and one dusk mode– High-quality aluminum build– Orbit tank arm mounting system offers ease of installation– Complete color control– IR remote control with 32 customizable buttons– Adjustable size, meaning that it fits any size of aquarium– Programmable and customizable– Comes in five different sizes
Pros
​Feature-rich

​Water-resistant (splash-proof)

​Wide variety of color modes

​Programmable

​Bright and standard coloration

​Easy to use
Cons
​There is no built-in timer

​Only offers blue light; red and green spectrum lights are missing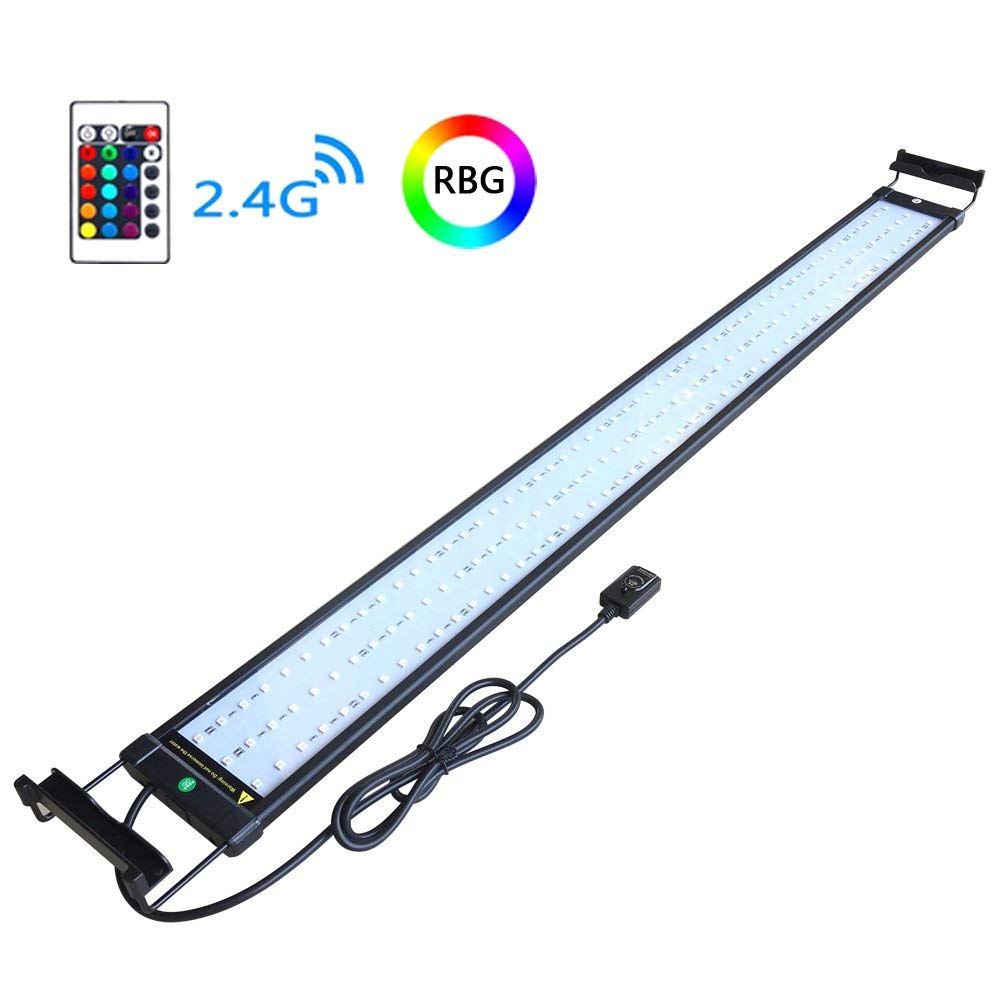 Aquarists love this newly released LED light system mainly due to its dazzling bright color.
Yes, COODIA Aquarium Hood Lighting Color Changing Remote Controlled Dimmable RGBW LED Light
doesn't have that many head-turning features but it's a solid lighting setup.
It's quite easy to install due to the extendable brackets and the 2.4G remote control which makes things quite convenient.
However, there are two things I will complain about – the odd reddish hue and the absence of a timer.
Notable Features
​​- Has a variety of colors and lighting modes– Has extendable brackets which ensure ease of installation in tanks of any size– The power supply design offers energy-efficient operation and has a lifespan of over 10,000 hours– Control the light from anywhere, even through walls, with the help of 2.4G remote– Individual LED bulbs are controllable and dimmable offering complete customization– Offers 16 kinds of colors with a super bright color temperature of 7500K
Pros
​Extremely bright

​Superior build quality

​High-quality remote

​Energy-efficient and durable

​Easy to install
Cons
​Has a reddish hue

​Doesn't have a timer function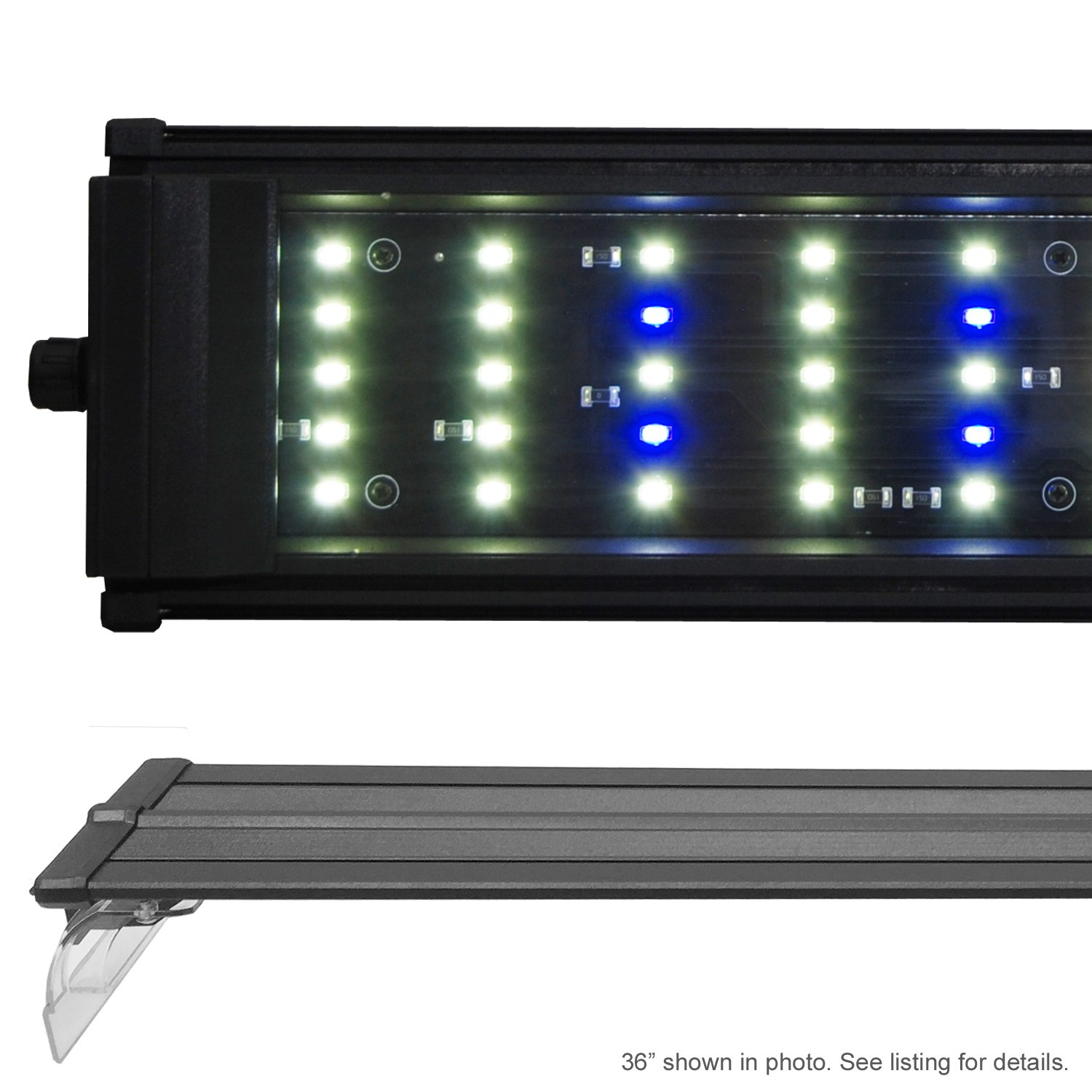 Are you looking for a big, powerful light? In that case, Beamswork DA 6500K will satisfy your needs!
What's so special about this light?
It offers 144x 0.5-watt LED and 32x actinic lights. Overall, it can offer 8,000 lumens of lights which is one of the brightest light setups on this list today.
You will get a much-desired timer with this light, but sadly there are only two modes available. However, the 72" huge size can support quite large planted tanks.
Notable Features
​​- Comes with 176 LED lights in the setup which consume 0.5 watts each– The 32 actinic lights help to promote photochemical reactions in plants– Comes with aquarium light timer– The configuration comes with 144 LED lights and 32 actinic lights with 6,500K white color
Pros
​Superior brightness

​Helps with the photosynthesis process

​Great build quality

​Can be used in large tanks

​Timer included
Cons
​Non-programmable design

​Lacks a remote control system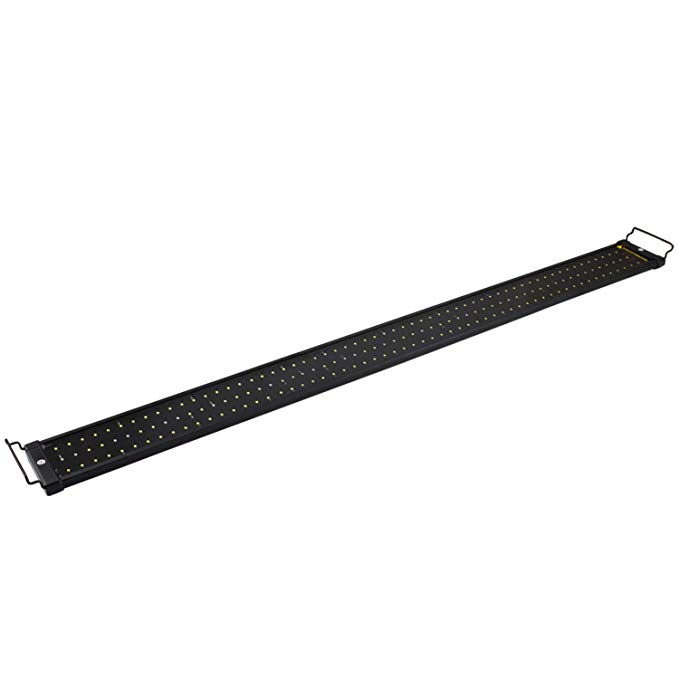 Hey, all you aquarists on tight budgets! Here's the perfect option for your planted tanks.
I would recommend the NICREW ClassicLED for three reasons – adjustability, simplicity, and budget.
This light can fit perfectly in any tank between 12" and 52". Its adjustability is remarkable. Some might complain about this, but due to the cheap price tag this has no out-of-box feature. It is a non-programmable, non-customizable light.
Notable Features
​​- Has two different light combinations – white and blue, for use in both day and night– Adjustable mounting legs make the installation process very easy– Offers lunar light effect and bright daylight effect– Has 180 individual LED bulbs in the complete setup– Consumes 32 watts– Offers 1700 Lumens bright light– Comes in six sizes
Pros
​Budget-friendly

​Great bright light

​Easily adjustable, can be used in all small and medium-sized tanks

​Decent build quality; made of either plastic or aluminum

​Has two color modes
Cons
​Doesn't have a remote-control system, timer, dimmer, or similar features

​The supporting mechanism can occasionally fall off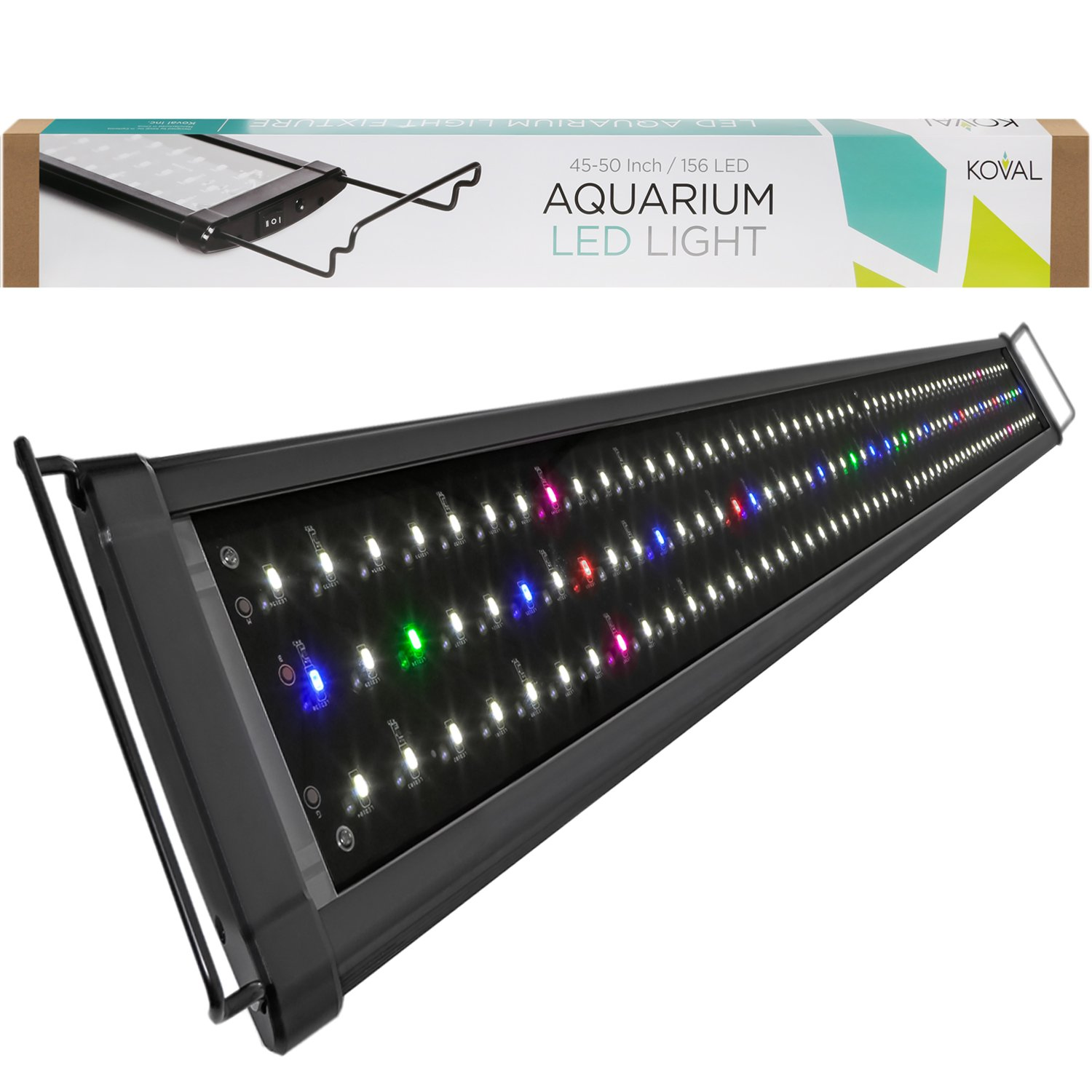 Koval Aquarium Lighting Fish Tank Light Hood with Extendable Brackets offers you the power of 156 individual LED bulbs.
As they have used a parallel circuit, damage to one LED bulb will not affect other bulbs. Another great thing about this light setup is its durability. The high-quality LEDs in this light will serve for more than 50,000 hours which makes it one of the most durable light setups on the market.
Notable Features
​​- Has LED lights in five different colors which helps phycophyta to grow– Uses parallel circuits so that each LED light works individually– Low energy dissipation – each LED bulb consumes only 0.1 watts per hour– The outer layer is made of aluminum alloy shell which gives it a sturdy look and feel– Extremely durable, the LEDs can last for more than 50,000 hours
Pros
​Durable

​Long-lasting

​Easy to install

​Energy efficient

​Budget-friendly
Cons
​Doesn't have a remote

​Doesn't have preset light modes

​Non-programmable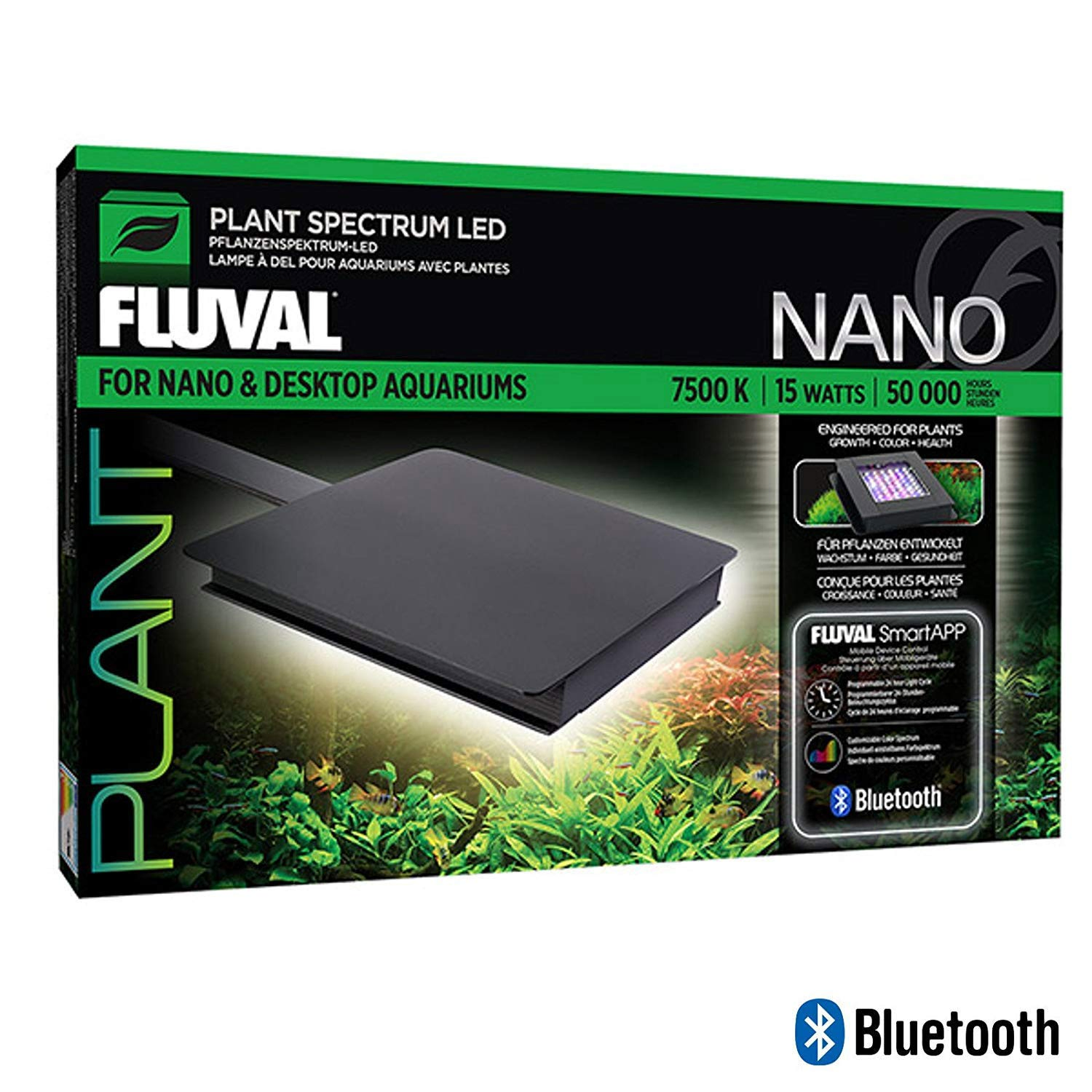 You might already be familiar with the name Fluval. Another brand, Hagen has partnered with Fluval to create a superior lighting setup for planted tanks.
Hagen Fluval Plant Bluetooth Nano LED Aquarium Light follows a different design philosophy than most others.
Rather than creating light in a bar-style design, they have implemented a square design principle.
Let me tell you something, this light is stacked with features. Firstly, it's programmable and follows a gradual 24-hour light cycle pattern.
They have also implemented a few pre-set light modes, such as Lake Malawi, Tropical, and Planted. You can control this Bluetooth light with the Fluval SmartApp.
You can place it anywhere you desire – up-down, side-to-side, forward-backward.
Notable Features
​​- Super bright 7500K light with 50,000+ hours durability– Fully programmable with 24-hour gradual light cycle setting– Stacked with six unique band waves to offer a full-spectrum– Individual color controlling facility– Flexible adjustability feature allows you to place it anywhere you desire– 120° of illumination offers uniform lighting which eradicates any blind spot– IP-67 waterproof rating– Features the new generation H.T.E (High Thermal Efficiency) LED function which offers better thermal performance and longevity
Pros
​Durable

​Modern look and features

​Easy to use

​Flexibility

​Waterproof
Cons
​Can't be used in large tanks

​Lumen count is only 1000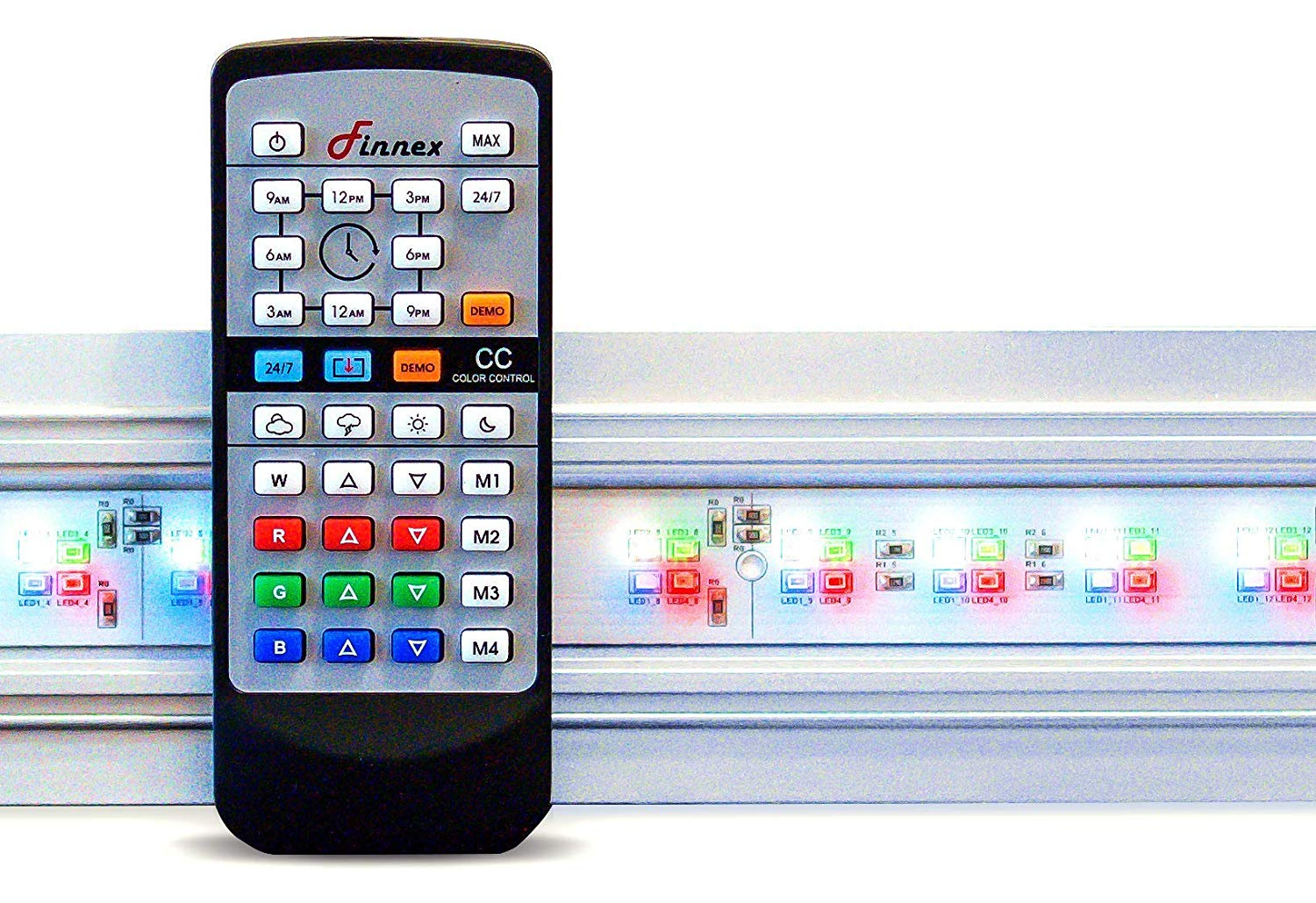 Finnex Planted+ 24/7 HLC Aquarium LED Light is another masterpiece from Finnex. Compared to the KLC models, the HLCs are even sleeker and more powerful.
For example, the KLC model from Finnex aquarium light in the number one spot offers 7000K warmth but this one is even brighter and offers 8000K warmth. It even beats the previous model on the High Color Rendering Index (CRI).
Notable Features
​​- Has 176 individual LED lights which offer 8000K warmth– The aluminum made razor-thin hood is sleek and beautiful, dissipates heat faster– 120° optical angle offers better light and clears all blind spots– Fully programmable with different weather modes, and memory slots– Intertek certified power supply offers safer and more efficient lights– Two conformal coatings on the LEDs make it water, moisture, and corrosion proof
Pros
​Superior quality

​Fully customizable and programmable

​High-end build quality

​Longer lifespan
Cons
​Hardy plant, so you must keep its growth in check if you don't want it getting too big.
Planted Aquarium Led Lighting Guide – How to Choose the Best Light for a Planted Aquarium?
Choose the Right Brand
When shopping for aquarium lights, you might see many small brands offering cheap lights stacked with features.
Even I have fallen victim to this trap. I was excited to see some unknown brand offering premium grade features in a cheap light.
Listen to me – STAY AWAY from these!
There are a number of issues with these cheap, unknown brands.
Most of the time, they will lie about their specs to pull off marketing stunts. Even if you get the correct specification, there is no guarantee that the light will last for a long time.
Furthermore, these manufacturers offer low-price products by using cheap materials. What is the end result?
Often, the light overheats and increases the temperature of the whole aquarium. Sometimes, it can break off and your fish can fall victim to nasty accidents.
It's always better to choose a product from a well-known brand. These brands have a responsibility to their customers and a legacy to maintain.
That's why they never make false claims or do ridiculous marketing stunts.
Finnex, Current USA, COODIA, Beamworks, NICREW, Hagen, etc. are some of the more notable brands in the aquarium light industry.
Light Spectrum
For a planted tank, a good light setup is a must. The plants need light to conduct photosynthesis.
But plants react differently to different colors of lights. You should know that the white light spectrum consists of an infinite number of colors.
The chlorophylls in the plants absorb mostly violet-blue and orange-red wavelengths.
Therefore, you should check the specification of the aquarium light and make sure it offers mostly blue and red lights. You should also check the wavelengths of these colors.
Your plants won't get any benefit if the light doesn't consist of the desired colors and wavelengths.
Remember, your goal is to promote the photosynthesis process so that your plants can make enough food and maintain steady growth.
Control Features and Modes
These two are relatively new features which you can find in the newer varieties of light setups. So, what do they mean?
First, let's start with the modes.
In nature, light intensity doesn't remain constant throughout the day. For example, the light intensity is soft and sweet at dawn and during the morning.
The intensity gradually increases and reaches its maximum level somewhere around noon. Then, in the afternoon and dusk, it dims slowly.
To mimic this natural light intensity, some brands offer modes. They have different modes which mimic sunrise, daytime, sunset, and even a starry night.
Such a change in intensity doesn't only enhance aesthetics but also helps the plants and the fish to maintain a healthy daily cycle.
Now, let's take a look at the control features.
This simply means user-friendliness., for example, the light might come with a remote-control system to set a preferred lighting scenario.
Some companies even offer programmability which allows you to set a customized light controlling system.
These advanced features make a huge difference and put a product above others.
The Ease of Installation
No one wants a light which requires great technical knowledge to install. Simplicity is majestic.
The easier the installation process, the better. Everyone should be able to install a simple light without seeking professional help.
I would say that this is one of the most basic features to look for in a light.
Sliding-docking system, suction system, and attachment clips are some of the easiest and most basic installation processes.
When buying a light, make sure that you fully understand the installation process. You can even watch some tutorials online.
Make sure you do a proper job.
Durability of the LEDs
This is a feature which doesn't require any instruction. Whichever light you buy, it should be durable and be able to serve you for a long time.
Almost all the notable brands give an estimation of the lifetime of their LED bulbs. 10,000 hours seems like a good lifespan to me.
It's not mandatory for your light to have a 10,000-hour lifespan, but it should be around this number.
You certainly don't want your light to stop working within a few weeks, do you?
More: Best Turtle Tank
Ventilation and Splash Guard
As an aquarist, you should be aware of the impact of heat in an aquarium. No matter what, you should try to keep the water temperature at a constant level.
Otherwise, you may suffer a lot of problems.
As you will be keeping the light on for a long time, it's only normal that it will heat up.
But a good light setup should have a sound heat ventilation system so the heat can dissipate through a diverting channel.
There are multiple ways to dissipate heat from the light – heatsinks, fans, insulating material, and so on. Then comes the splash guard.
A splash guard works as a barrier between the water and the naked light.
Without the presence of a splash guard, the water can reach the electric panels and nasty accidents may occur.
It's a simple yet crucial feature to have.
​More: Check our guide to best nitrate remover here
The Kelvin Rating
A lot of new aquarists often ignore this feature, but this is one of the most important factors that makes a light setup good or bad.
So, what is the Kelvin rating?
The Kelvin rating indicates the warmth of the light. As you know, light can be either cool or warm. Cooler light appears bluish and warmer light has a yellowish tone.
On the Kelvin scale, the lower the Kelvin rating is, the warmer the light will be.
For example, 2000K to 3000K color temperature is very warm. This sets an orangish-yellow tone.
On the other hand, cooler light has a higher Kelvin rating. 4600K to 6500K rating indicates a very cool color and it appears white or bluish. Remember, white or blue light for an aquarium is very important!
Most big brands offer super bright 6500K white light.
However, there are some controversies regarding the importance of the Kelvin rating on the photosynthesis process.
​More: Best Rock For Freshwater Aquarium
FAQ – The Best Light for a Planted Tank
What Is the Best Light for Aquarium Plants?
This depends on a number of factors. As I have stated above, my vote would be for the Finnex Planted+ 24/7 LED KLC Aquarium LED Light.
My reasons are simple – it provides versatility, controllability, and customizability.
There are different modes to offer vibrant living condition, and you can control the light using a remote- control system.
The colors are bright and offer a multicolor blend. You also get extra safety with the sensor system and the water-resistant coating.
Overall, it's a great buy which offers tons of features.
​More: Best Filter For Turtle Tank
What Size LED Light for an Aquarium?
The size of the LED will eventually determine the size of the whole lighting setup. Furthermore, the size of the light should match the size of the tank.
As you can imagine, there are many things you should consider in this case. But first things first, what is the total watt demand of a tank?
Ideally, you should allocate 1 to 3 watts per gallon of water. So, according to this rule, if you have a 10- gallon tank, your light setup should be able to offer 10 to 30 watts in total.
However, there are some plants which demand more light. These are special cases.
So, it doesn't matter what the size of each individual LED bulb is as long as you get the proper watt count.
However, there is another crucial factor which you shouldn't forget.
LED lights for planted freshwater aquariums are way more efficient than traditional CFL lights. For example, an 18-watt LED bulb provides the same result as 175-watt CFL lights.
Most light manufacturers have a chart or guideline that will help you choose the correct size. So, just stick to their suggestions and you will be good to go.
More: Best Aquarium Plants
How Much LED Lighting is Needed for a Planted Tank?
As I have said, the light intensity depends on the size of the tank and the type of plants you are keeping in it.
Not all plants require the same amount of light.
Offering more light than necessary is equally as bad as offering low light to plants. Both can be lethal! The following table should help you out:
| | |
| --- | --- |
| ​Plant Type | ​Light Needed |
| ​Low-light plants | ​60 lumens/gallon |
| ​Average-light plants | ​110 lumens/gallon |
| ​High-light plants | ​150 lumens/gallon |
So, rather than prioritizing the number of LED bulbs or the size of the LED bulbs, you should give priority to light intensity or lumen count.
How Many Hours of Light are Needed for Aquarium Plants?
Different plants require a different amount of light and the amount of light is also dependent on seasons.
So, you can get a specific answer after choosing the species of your desired plant.
For example, Amazon Sword demands 2-watts per gallon and full spectrum (5000K to 7500K) light for 10 to 12 hours every day.
On the other hand, Anubias demands 2-3-watts per gallon and full spectrum (5000K to 7500K) light for 8 to 9 hours every day.
You can't simply follow a generic rule in this regard.
If you want to see your planted aquarium thrive, make sure to study the plants and their individual light requirements.
Conclusion
So, who is the winner today? I would say that both Finnex Planted+ 24/7 LED KLC Aquarium LED Light and Current USA Satellite Freshwater LED Plus Light for Aquarium take first place.
Third-place goes to COODIA Aquarium Hood Lighting!