Choosing the best filter for a turtle tank is not a simple task. Designing a turtle tank and a regular fish tank are two completely different things. Furthermore, only a handful of manufacturers design filters and tanks which are designed explicitly for the turtles.
But don't worry, there are some tips you can follow to get the best filter for your turtle tank. Just follow this guide, and you'll soon be an expert on this topic!
​8 Best Filters for Turtle Tanks in 2020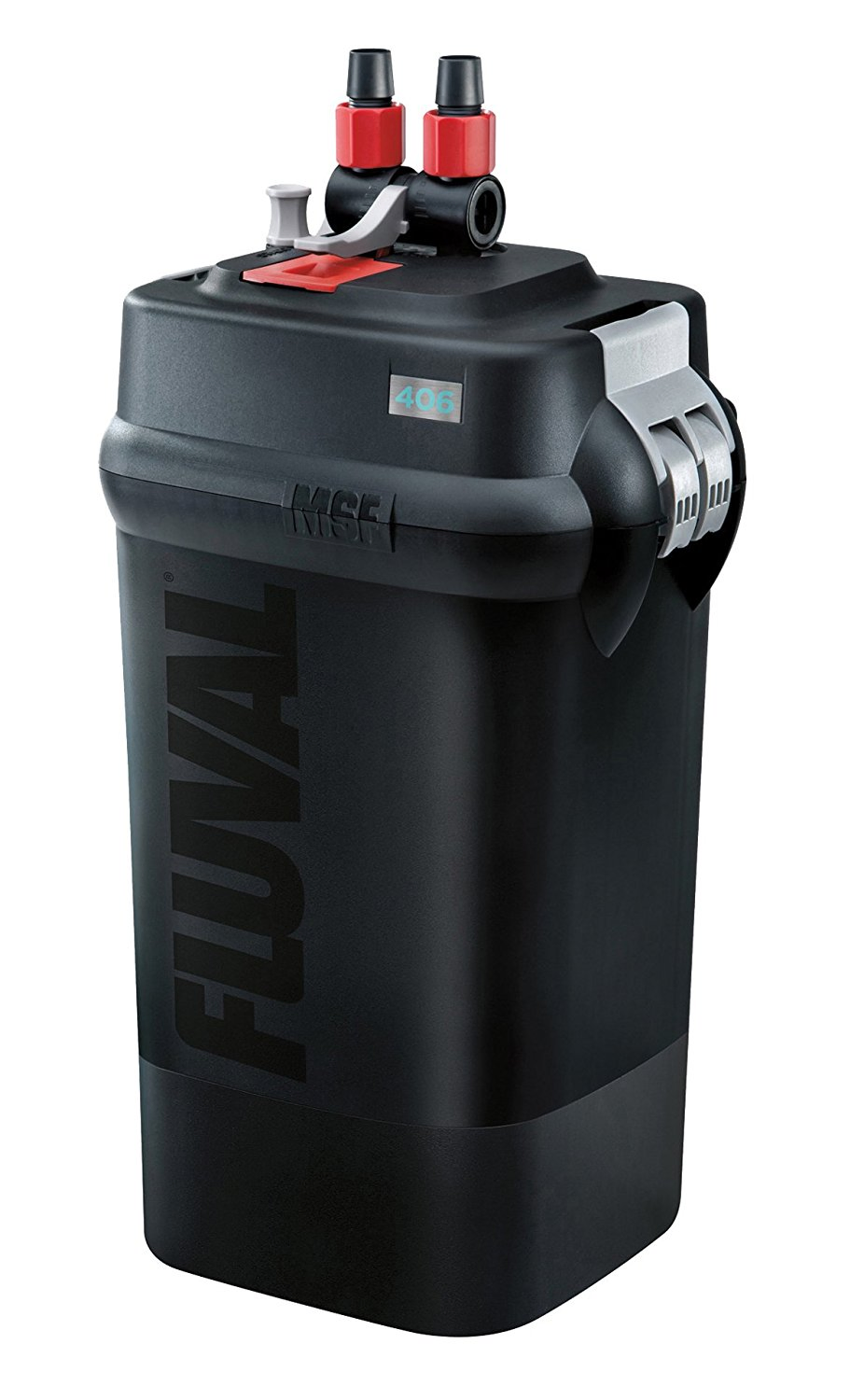 ​When it comes to canister filters, Fluval offers some of the best models on the market. Their model 406 is clearly a superior product which offers a balance between features and value.
Not only does it offer one of the finest filtration experiences, but it is also silent and feature-rich. After looking reading forums and user reviews, I haven't found a single negative aspect to this filter.
Notable Features
​​- Offers 383 GPH flow rate for superior filtration– Has a sound damping impeller design for quieter operation– The square-shaped canister can hold 35% to 50% more water compared to round canisters– The inlet tube contains a clog-proof intake strainer – The drip loop system prevents water from dripping in the inlet tube – Has patented features such as Aqua Stop Valve and Rim Connector Assemblies– Suitable for both freshwater and saltwater aquariums– Maximum tank size is 100 gallons
Pros
​Superior flow rate

​High durability

​Many great features

​Great filtration quality

​Easy installation
Cons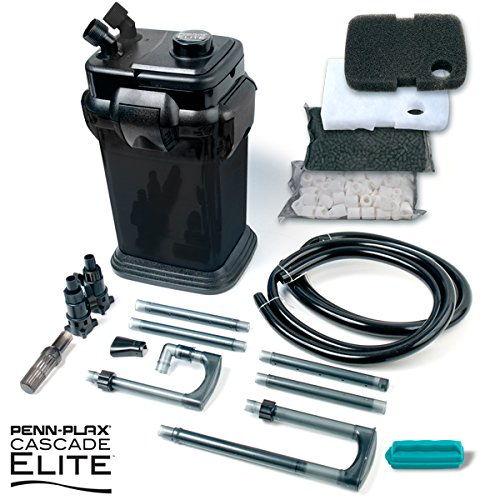 ​Penn Plax's Cascade Canister offers almost identical features to the Fluval 406, but it lacks some of the more impressive features.
But don't get me wrong; this model is very popular and has a lot of intriguing and positive features. Some consider it to be the best canister filter for a turtle tank.
Other than some instances of durability issues, this filter is practically bullet-proof!
Notable Features
​- ​Offers 350 GPH flow rate for superior filtration– Comes with 5 layers of media basket– The 360° rotational valves make installation easier– Comes with a huge range of filtration media – bio floss, bio-foam, ceramic rings, pro carb, and large magna sweep algae magnet– The push style priming button makes installation very easy– Available in eight different sizes and models– Suitable for both freshwater and saltwater aquariums– Can be used in 30 to 200-gallon tanks
Pros
​Great flow rate

​High-quality filtration

​A large number of filtration media options

​Easy to maintain

​Variety of models and options
Cons
​Some users have faced durability issues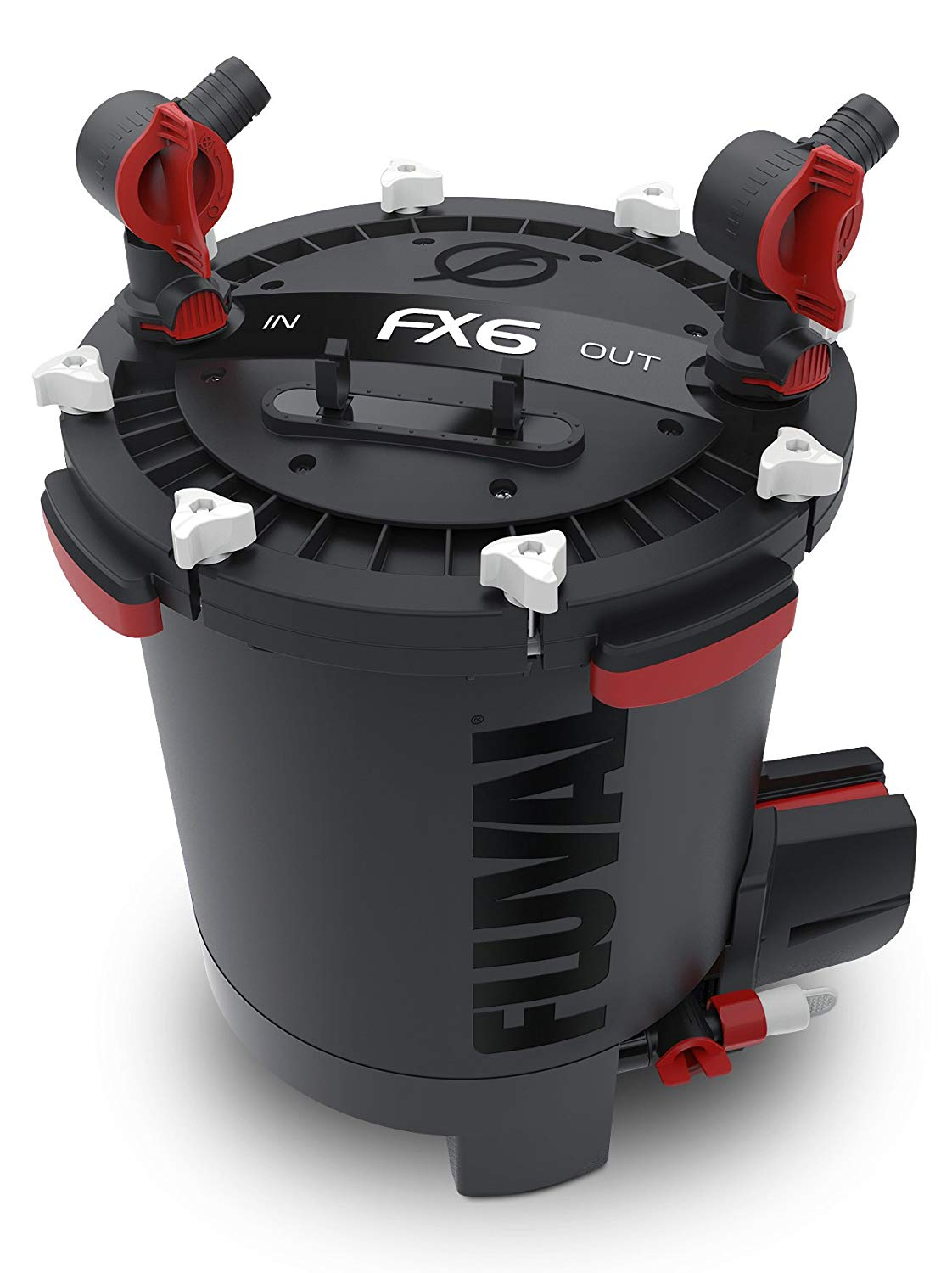 ​Fluval FX6 is the best filter money can buy. There is not a single filter on the market that even comes close to this masterpiece.
Its state of the art technological features and superior performance beat any other filter which is available right now.
So, why didn't I rank it in first place?
I have only one explanation – the price!
Notable Features
​​- Offers shockingly high 925 GPH flow rate for superior filtration– Incorporates microchip technology which analyzes and optimizes pump performance simultaneously– Self-starting mechanism– Smart pump has bucketless water changing technology– Offers complete leak-proof click style technology– The inlet tube has an anti-clog, telescopic strainer for seamless water flow– Vibration damping feet delivers quieter operation– Has a purge valve with a drain hose to ensure easier maintenance and canister flushing– Suitable for very large 400-gallon tanks
Pros
​Can sustain massive sized tanks

​Best on the market regarding filtration technology

​Almost silent performance

​Custom media layering options

​A true smart machine

​Ultra-durable
Cons
​Very expensive

​Heavy and bulky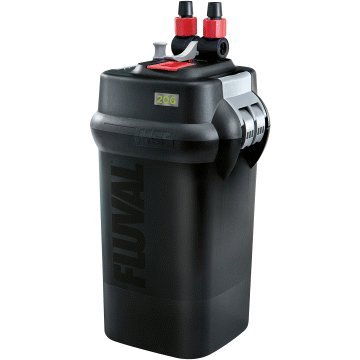 ​As I have said, Fluval has reached a different height on the canister filter market. Fluval 206 is just another version of the Fluval 406 which is at the top of my list.
It even has all the same features. As it is a smaller and less powerful variant, it stands in fourth position.
But mark my words, this is the best canister filter for small tanks.
Notable Features
​​- Offers 206 GPH flow rate for superior filtration– It has a square-shaped canister which can hold 35% to 50% more water compared to round canisters– Includes four layers of filtration media – foam pads, polishing pads, carbon layer, and BioMax – The inlet tube contains a clog-proof intake strainer – Comes with patented features such as Aqua Stop Valve, Single Motion Lift Lock Clamps, and Rim Connector Assemblies– Suitable for both freshwater and saltwater aquariums– Maximum tank size is 45 gallons
Pros
​Superior filtration

​Robust body

​Four layers of media

​Feature-rich

​Easy installation and maintenance
Cons
​Can hold only 45 gallons of water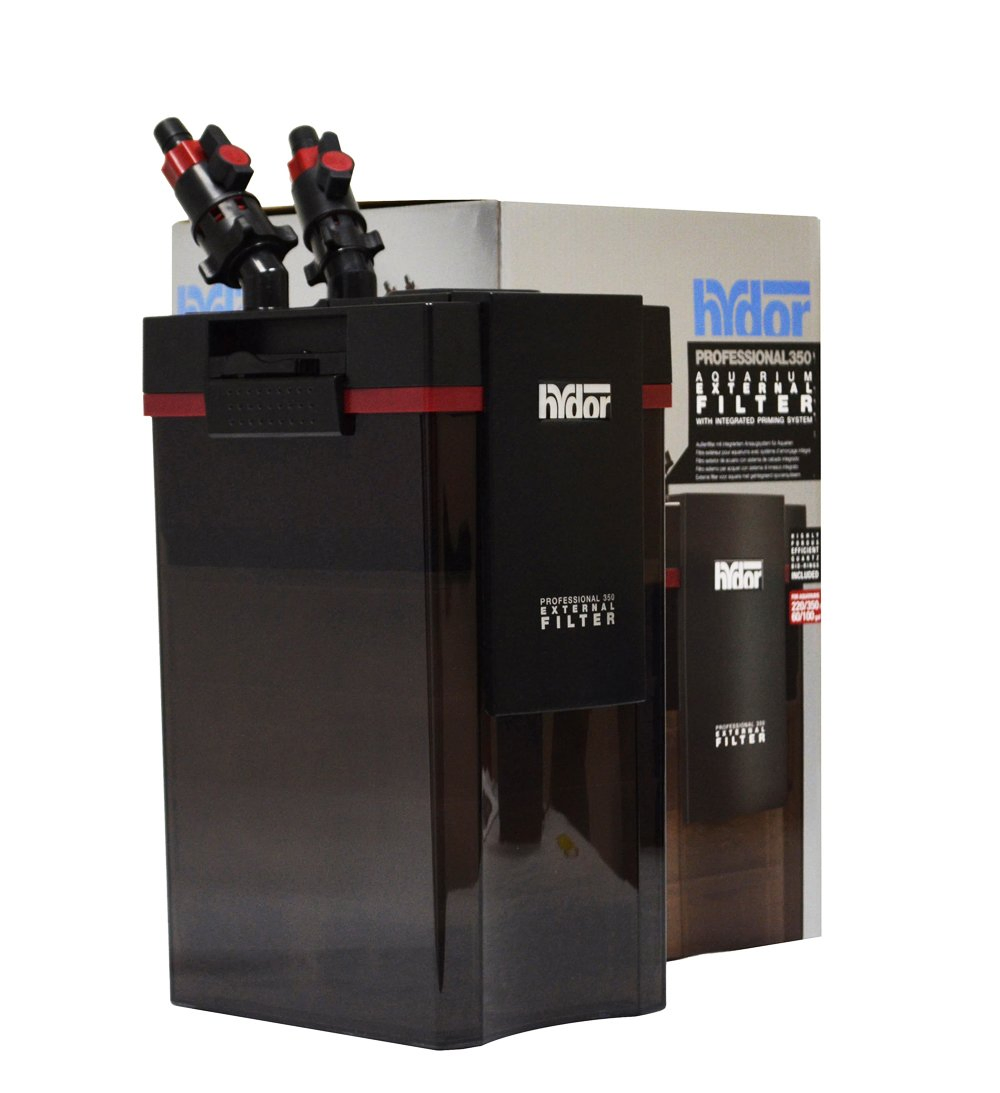 ​Hydor Professional External Canister Filter from the United States is one of the most popular models on the market. It doesn't have has many eye-catching features as the previously mentioned models, but it has a solid build with almost no negative side.
Only a handful of unlucky users have complained about a dripping problem. Other than that issue, this filter is a solid gem!
Notable Features
​​- Offers 280 GPH flow rate for superior filtration– Simple Integrated priming technology– Telescopic inlet tube for water insertion– Offers three levels of filtrations– You can stack up to five trays of filtration media– Available in five sizes (20 to 150-gallon tanks) and models– Suitable for 100-gallon tanks (the 350 model)
Pros
​Simple design principles

​Superior filtration

​Convenient design and beautiful appearance

​Easy to install and maintain
Cons
​Some users have complained about water dripping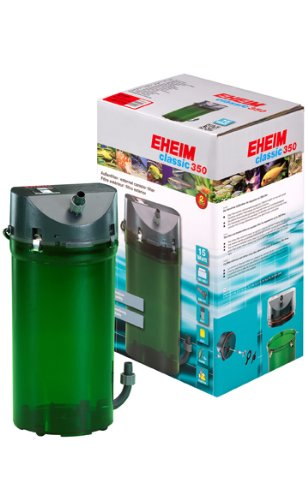 ​Are you looking for a solid classic design which perfectly suits your needs? EHEIM Classic External Canister Filter should be on your shortlist in that case.
Just like the previous model, this filter covers all the basic features. Sadly, it doesn't have gimmicky features to make marketing easier!
But the leak-proof technology is certainly a feature to look out for.
Notable Features
​- ​Offers 164 GPH flow rate– The permo-elastic silicon sealing on top of the pump ensures leak-proof design – All necessary accessories included– Two types of filtration media are included – EHEIM Mech & Substrat Pro– Suitable for tanks up to 95 gallons– Available in three different models and sizes
Pros
​Effective filtration quality

​Leak-less design

​Almost silent

​Energy -efficient
Cons
​Low flow rate

​The ceramic impeller has durability issues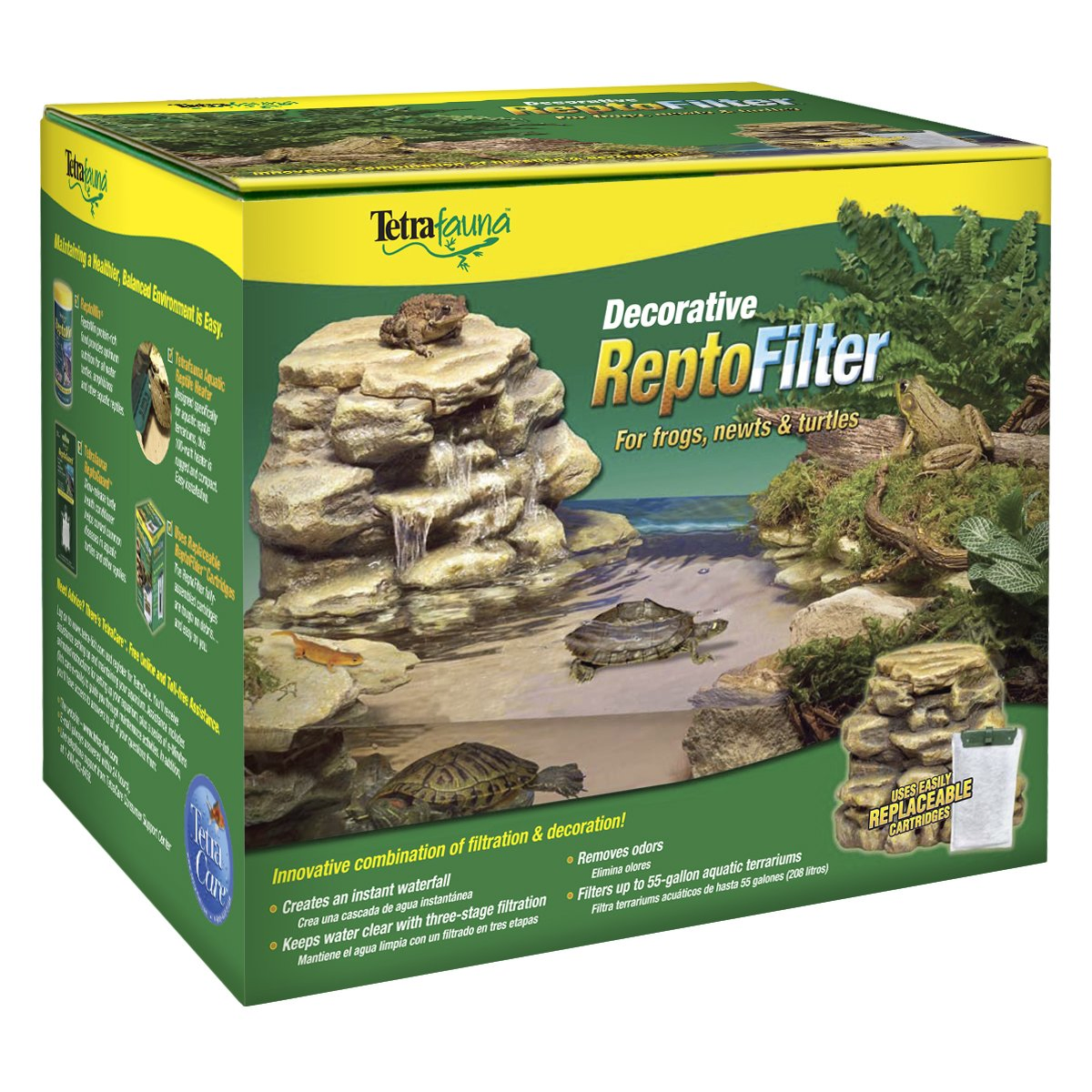 ​Up to this point, all the filters I've mentioned have been specifically designed for fish. But not this one!
Tetra Decorative ReptoFilter is a special filter that the manufacturers have designed exclusively for turtles and other similar reptiles.
The best part of this filter is the way it looks. It mimics the natural habitat of a turtle. Trust me, it is the best turtle filter in terms of appearance that you'll find on the market!
Notable Features
​​- A combination of waterfall and filter gives it a very appealing and realistic look– The rocky waterfall acts as a basking platform– Specially designed for turtle habitat– The dual-lid function keeps turtles out – Comes with reputable three-stage Tetra Whisper filtration quality– Offers 90 GPH flow rate– Suitable for 55-gallon tanks
Pros
​Designed specifically for turtle habitats

​Aesthetically pleasing with a great focal point

​Superior filtration

​Budget-friendly
Cons
​The water inlet is too large

​Very low flow rate

​Suitable for only small tanks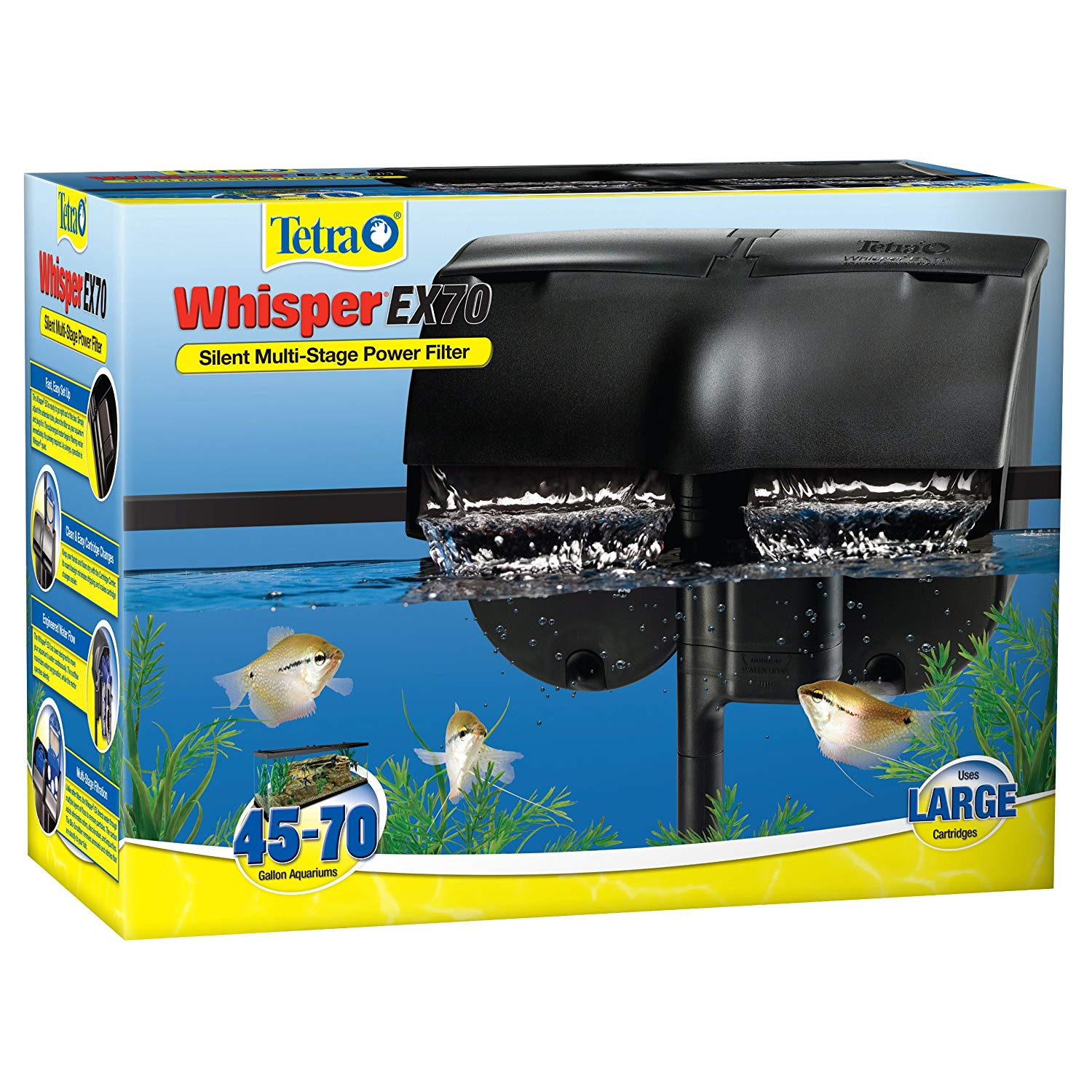 ​Due to the nature of a turtle's habitat, you should use a canister filter. I have mentioned why I don't like having an HoB type filter in my turtle tank in the guide section below.
But I would call Tetra Whisper EX Silent Multi-Stage Power Filter an exception to this rule. As the water inlet of this filter can reach the very bottom of the tank, and due to a staggering flow rate, I changed my mind.
This is cheap and is one of the best filters you can get for your turtle tank.
Notable Features
​​- Comes with timestrip technology which tells you the exact time to change the carbon filter – Has multi-stage filtration with floss and bio scrubber– It's an HoB type power filter that can reach the minimum level of water in the tank– Priming-free quick setup– Simultaneous break-free water flow– Offers 340 GPH high flow rate– Available in four models– Suitable for up to 70-gallon tanks
Pros
​Priming-free quick installation

​Simple and convenient

​Very good flow rate for its size

​Filter cartridge carrier offers cleaner maintenance

​Designed especially for turtle tanks

​Budget-friendly
Cons
​Mediocre filtration compared to canister filters
​The Best Filter for Turtle Tanks Buying Guide
​Tank Size and Flow Rate
Turtles require a larger space in which to swim freely and bask in the warmth. That means the strategy you follow for choosing a fish tank will not apply here. A good strategy is multiplying the inch-count of the maximum size of the turtle by 10. Let me clarify.
Suppose you have a turtle that will reach a maximum size of 10 inches. Despite the current size of your turtle, you will choose a 100-gallon tank. Some brands will suggest a larger size when going to shop for a turtle tank. You can also follow their suggestion.
But why would you need such a big tank?Turtles produce a huge amount of fecal waste, which can degrade water quality.
In addition, they will feel less stress if they have a larger living space. Another important thing that you should consider is the flow rate and gallon per hour (GPH) rate.
A turtle tank requires a higher GPH rate compared to fish tanks – it must be approximately 3 times more powerful.
For example, if your typical 100-gallon fish tank uses a filter with a 100 GPH flow rate, your turtle tank's filter should have about a 300 GPH flow rate!
As I have said, you need both a bigger tank and a filter, which is 3x more powerful. Keep this in mind when buying your turtle tank filters.
Durability
Turtles live for a very long time. Some breeds can even outlive you! Rather than buying more than one tank, you should invest in a robust tank at the very beginning. The same thing can be said about filters.
Remember, buying a durable and robust filter is a good investment. If you settle for a cheaper and less durable filter, it will be a financially foolish purchase.
That's why choosing a filter from a good brand with a long warranty period should be your main concern.
​Types of Motor
A good motor in a filter essentially means that it will last for a long time. Furthermore, a powerful and stable motor will make the filter operation quieter.
You may not think about it that much, but having a monotonous buzz constantly running can become a painful experience.
There are several types of motor which different manufacturers use in their tank filters. There are:
– Direct Drive motors, ​– Linear motors, ​– Servo motors, ​– AC Brushless motors, ​– DC Brushed motors, and ​– Stepper motors.
​Make sure to enquire about the type of motor in the filter from the manufacturers.
Furthermore, the more powerful a motor is, the more water it can pump.
​Maintenance of the Filter
Due to the nature of the living style of turtles, you will need to clean the tank quite frequently. It can soon become a painful responsibility.
So, make sure you choose a filter that is easy to clean. There are some fine filters on the market which offer multiple features for easier cleaning.
For example, Fluval External Filter 406 offers lift locking clamps, quick-change mechanical media removal, and instant priming features for easier maintenance.
Pay close attention to these small features – they can be very helpful in the long run.
Kinds of Filtration
Before you make up your mind, you should learn a little about different filtration systems. The filtration system filters out different kinds of waste in order to offer cleaner and more habitable living conditions for turtles.
So, what kind of waste will these filters clean?
There are three major types of waste that a filter can remove from the tank:
​Category 1 – Solid waste such as dirt, uneaten food, rotten waste, debris, and turtle feces Category 2 – Toxic materials such as ammonia, nitrites, nitrates, etc. Category 3 – Microorganisms, carbon contents, chlorine, and phosphates
​Basically, you need a filter to clean these types of waste from the tank. Due to the nature of the waste, you will need different stages of filtration to cleanse the water.
A good filter can offer three stages of filtration:
​​- Mechanical filtration– Biological filtration– Chemical filtration
​Mechanical Filtration
This stage of filtration uses a trapping media such as a sponge or an aquarium floss for trapping all the solid waste. They try to pick up the category 1 waste.
You need to look into the product description to identify the type of mechanical filtration media which a filter uses. Some brands use advanced media such as foam-made sponges, while others use old-school polyester stuffing.
The quality of the sponge determines the price of the filter.
​Biological Filtration
I personally think that the biological filtration stage is a clever use of beneficial bacteria colonies for detoxifying the tank.
The biological waste rots and produces ammonia, nitrites, and nitrates during different stages of the nitrogen cycle. You cannot stop the production of these biological toxins. They are inevitable.
But different bacteria species consume these toxic elements. Therefore, filter manufacturers create biological media which helps different beneficial bacteria to create a colony. When polluted water passes through this layer, the bacteria consume the biological toxins.
This happens via either aerobic or anaerobic denitrification processes.
​Chemical Filtration
This is the final stage of the filtration process. In this stage, different chemical compounds react with the chemical toxins and neutralize them.
Basically, during this stage, cleaning agents improve water chemistry. You will need this stage of filtration in order to remove bad odors from the water.
A lot of companies use activated charcoal to conduct chemical filtration.
In this stage, the filtration system tries to get rid of the category 3 waste, which I mentioned above.
​Types of Turtle Filters
There are four types of aquarium filters on the market. A fishkeeper can choose any of the four types of filters for his or her aquarium.
However, this is not the case if you are keeping turtles in your tank. Only a few types of tanks are suitable for turtles.
There are four types of filter which you can use in a turtle tank:
​​- Internal Filters– Canister Filters– Hang-on-Back (HoB) Filters – Undergravel Filters (UGF)
​Internal Filters
As the name suggests, these filters are placed inside of the tank. These filters cleanse the water "internally." This is an underwater filter for the turtle tank.
Being small and convenient, a lot of fishkeepers prefer this variety. You can simply hide these small filters behind any rock and maintain aesthetics.
However, due to this feature, you cannot have them in your turtle tank!
Even the most powerful internal filters can only support a 20 to 30-gallon tank.
There is another issue with these filters. No matter how good a brand claims to be, a filter is never totally silent. There will always be a humming noise in the tank.
Due to this noise issue, fish and turtles tend to stay away from the filter's periphery. Therefore, a large portion of the tank remains unused.
I would advise against this type of filter.
​Hang-on-Back Filters
HoB filters are frequently the go-to option for fishkeepers. These filters are very easy to use and maintain. You just need to hang these filters on the back of the wall.
They are also very easy to dismantle and clean.
However, they are NOT the preferred turtle tank filter!
Due to the nature of the placement of these filters, the water level in a tank must be very high. This placement allows the suction inlets of the filter to siphon the water through the filter. There are two reasons why you can't keep the water level this high in a turtle tank –
1. It will drown the basking pit or platform2. Turtles might escape from the tank
There is another negative issue of using an HoB filter in a turtle tank. Unless you buy an expensive one, an HoB filter will have a low GPH count.
A filter with a low GPH count is not a good turtle tank filter.
​Undergravel Filters (UGF)
This type of filter has suction inlets beneath the gravel or the substrate layer. Therefore, the gravel tends to serve the role of an additional filtration layer.
Furthermore, beneficial bacteria colonize the gravel layers. A large number of filtration tasks are carried out by the gravel.
This is the main reason behind the popularity of UGFs.
Many aquarists also dislike UGFs for this very reason! As the water gets sucked down to the gravel layer, a large amount of fecal wastes gets stuck to the gravel.
In addition, the siphon inlets often get jammed with solid waste, which can be very difficult to clean.
To mitigate this issue, some fishkeepers have reverse-engineered the mechanism. With the reverse flow mechanism, the outlet sucks in water, and it gets pushed through the inlet.
It's a smart solution, but still, a lot of aquarists have reported an issue of jamming.
As turtles produce a significant amount of fecal waste, UGFs may be the worst option for you.
Canister Filters
You might have lost all hope as none of the filters seem to be a good option for a turtle tank. Luckily, canister filters are the perfect thing for turtle tanks!
Canister filters are very large and powerful. They are external filters, so you can hide the whole device behind your tank platform.
They offer the highest GPH count (flow rate), are very durable, suitable for large tanks, and offer the highest grade of filtration.
It seems as if these filters were designed to be used in turtle tanks. It's the best filter system for turtles.
However, there is one small issue.
Canister filters are expensive!
But you can think of this as a valuable investment. A good quality canister filter will serve you for many years.
Turtle Tank Filter FAQ
​How do I set up canister filters for a turtle tank?
The turtle tank filter setup is quite easy.
Firstly, you need to place the filtration layers sequentially.
If your filter uses ceramic rings, you should put it in the first stage.
Then, you need to add a mechanical filtration layer. Basically, you will add the sponges. To offer better filtration, you should use different types of sponges.
I personally use the following layering strategy (I call it sandwich layering):
​​ – 1 coarse sponge​ – 2 medium sponges​ – 1 fine sponge
After setting the mechanical layer, you should use two layers of the biological filtration layer.
Remember, solid waste should not reach the final layer as it will hamper the biological filtration system.
If you see solid waste gathering in this layer, you should add more sponges to the mechanical layer.
The best canister filter for turtles should contain enough space for multiple layers. Now you are all set for the tubing stage.
You should definitely follow the guidelines suggested by the manufacturers as they tend to have a special tubing mechanism.
The basic gist of the tubing strategy is inserting a tube for water suction and another tube for the water outlet.
Make sure there are no leaks in the tubes. You are almost ready.
Before you start the filter, you must prime it (filling the empty tubes with water). Some filters have a self-priming option.
If it has a self-priming feature, that's good. Otherwise, you must do it manually. But you cannot skip this process!
​Can you use a fish filter for a turtle tank?
Yes! But you must ensure that it can offer the desired GPH rate. If the GPH rate is too low, you can buy a more powerful one or install more than one filter.
In reality, only a handful of manufacturers produce filters which are specially designed for the turtles.
More: Best Filter for Betta Tank
How often should I clean my turtle tank filter?
It depends on the size of the tank and the efficiency of your filter. If you have a large tank and a very powerful filter, you can follow a bi-monthly or monthly schedule.
Conversely, if you have a weak filter and a small tank, you must clean it more regularly. You may even need to clean it twice a week!
The best strategy to follow is observation. After using the filter for 15 days, check its condition, and inspect the filtration media.
If it seems clean, you can jump to a once monthly inspection cycle.
More: Best Filter for Goldfish tank
Should I use undergravel filters?
I would suggest that you avoid them! Undergravel filters don't do a very good job in turtle tanks.
You may need to wash the yucky turtle poo off the gravel regularly. Turtle poo can also clog the water inlets very quickly. ​
If you have already purchased a UGF, you should follow the reverse flow strategy and change the inlet and outlet tubes.
​Conclusion
It's time to announce today's winners!
Fluval External Filter 406 takes the top position. Penn Plax Cascade Canister Aquarium Filter and Fluval Canister Filter, FX6 Filter come in second and third place.