Keeping turtles in your aquarium is one of the most peaceful hobbies you can have. These animals are jolly and fun-loving, and they will be your friend for a very long time. Many of them will even outlive you as they have a life expectancy of 100 years!
If you are planning on starting the hobby of keeping turtles, you will first need to buy the best turtle tank.
However, finding the best turtle tank is much more difficult than choosing a fish tank.
Follow me through this guide, and you will learn everything you need to know about them!
​A List of the Best Turtle Tanks in 2020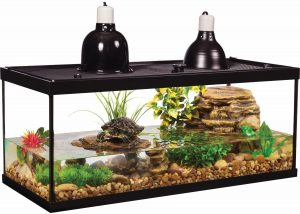 ​Tetra, one of the market leaders in the aquarium industry, has created this marvel. Tetra Aquarium Reptile Glass Kit with Two Dome Lamps is a perfect kit for new turtle enthusiasts as it comes all the necessary devices that you might need.
Not only the tank is sturdy, but also the supplementary devices have superior quality. For example, the Tetrafauna(R) Decorative RetroFilter is one of the best filters that you can use in a turtle tank.
If you are looking for a perfect 20-gallon turtle tank, it should be on the top of your list. For the turtle tank setup, it has all the accessories.
Notable Features
​​- It's a special 20-gallon special turtle tank– Comes with the robust Tetrafauna(R) Decorative RetroFilter which has three-stage filtration media powerful enough to serve 55-gallon tanks– Contains two 5.5" dome lamps, a 60-watt bulb for heating, and a 13-watt UV-B lamp– Comes with an abundance of decorative options
Pros
​Superior quality
​Specially designed for turtles
​Powerful filter and heater
​Durability
​Silent operation
​Newbie-friendly
Cons
​The basking platform is a bit short and can be flooded if you use 20 gallons of water
​The lid quality is not the best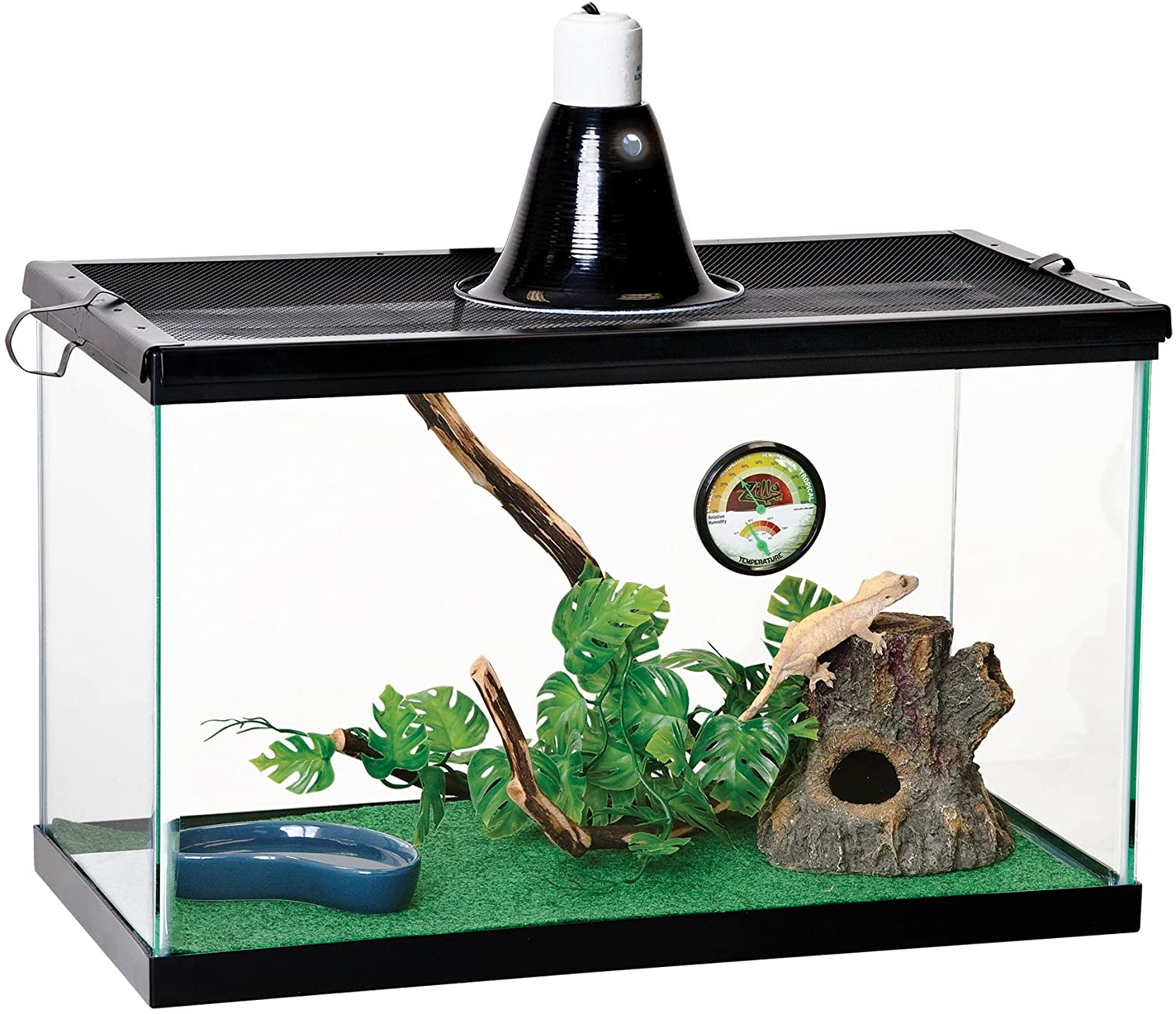 ​Zilla Reptile Starter Kit is more suitable for land turtles as opposed to aquatic ones. It creates an ideal habitat for tropical turtles. It's a perfect home for a Russian Tortoise or Greek Tortoise.
The humidity and temperature gauge allows you to analyze the current conditions in the tank.
In addition to the large dome lights, there is a night light that creates a soothing environment for your turtles in the night.
However, you can't have aquatic turtles in this tank as it is designed for desert dwelling and tropical land turtles.
Notable Features
​​- It is a size 10 aquarium which has a fresh air screen cover– Has two 5.5" Reflective Dome Lights on the top– The black night incandescent and spot bulbs can set a soothing mood for turtles– Humidity and temperature gauge helps you monitor living conditions– Comes with a brown terrarium liner– The mesh lid on top allows fresh air to enter the terrarium
Pros
​Superior lighting with UV-A and UV-B bulbs
​Contains a bottom heating mat
​Temperature and humidity monitoring feature
​Suitable for land turtles
Cons
​Can't be used for keeping aquatic turtles
​​Requires additional devices in order to make it a proper habitat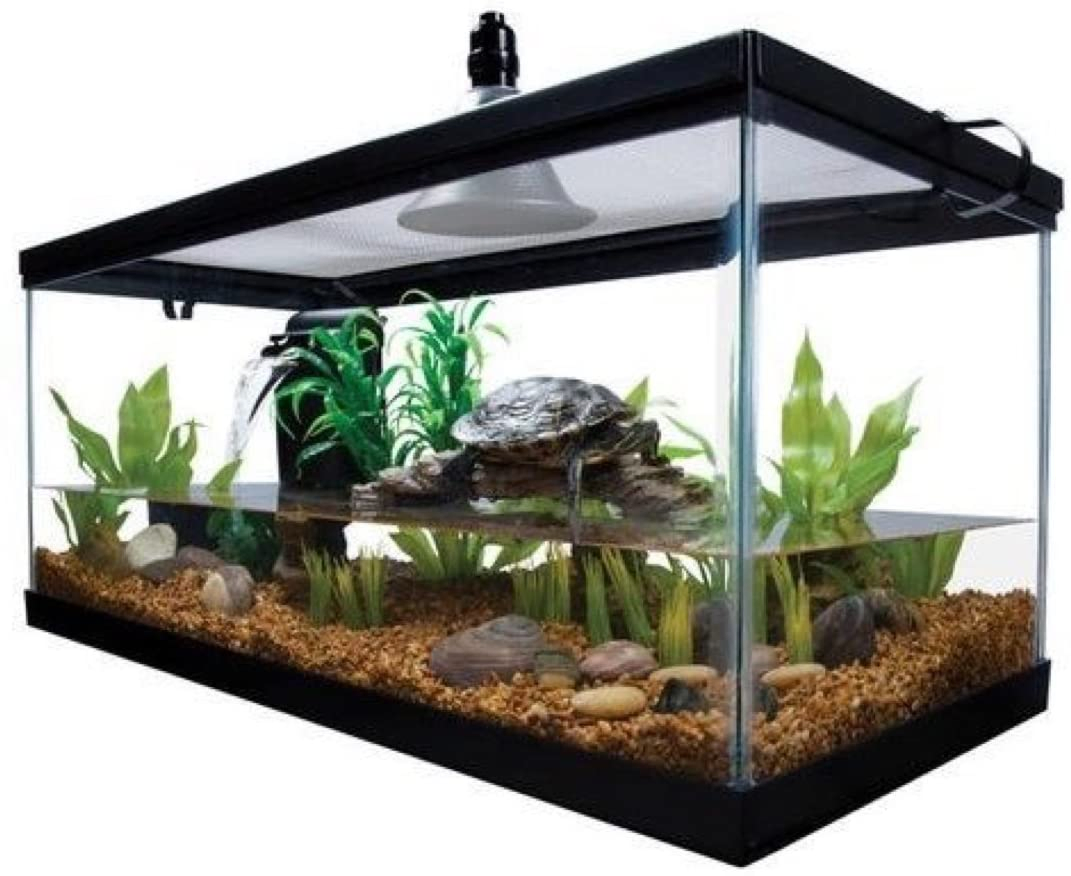 ​STSSLTD Reptile Habitat Setup Aquarium Tank Kit is a perfect example of a beginner-friendly setup.
This is a fairly small tank which only holds 10-gallons of water, but it is the complete package. You will be getting a screen lid and heating lamp which sit on top of the basking platform.
The filter is also powerful enough to clear out dirt and debris without making much noise. As a bonus, you get an e-book with your purchase.
Notable Features
​​- It is a 10-gallon aquarium made of glass and plastic– Has two Tetra Whisper 2-10i filters– Comes with a powerful 60-watt basking platform heater– The screen lid makes the tank more breathable
Pros
​Sturdy construction
​Comes with two filters
​Easy to assemble
​Has a powerful heating bulb
​Budget-friendly
Cons
​You may need to buy additional devices
​Some users have encountered issues with the heating lamp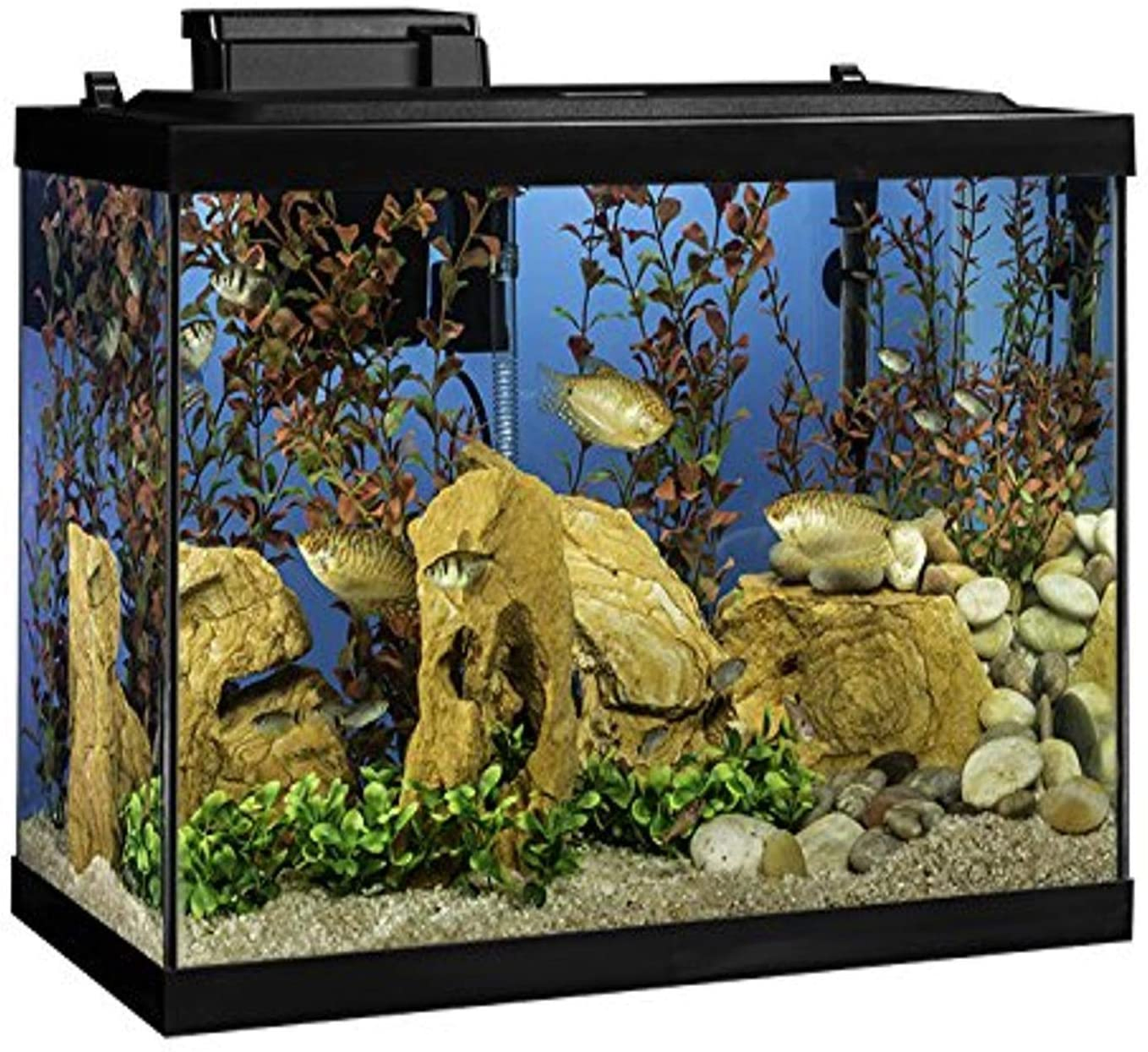 ​Once, again I am talking about Tetra as they are truly the premium option among turtle tank manufacturers.
Tetra 20 Gallon Complete Aquarium Kit is basically a fish aquarium which you can use for turtles as well. However, you will be completely satisfied with this kit.
It comes with a premium quality lighting setup, heater, and filtration system which provide the perfect turtle aquarium setup.
​Notable Features
​​- It' is a 20-gallon tank made of scratch-resistant glass– The top lid is made of powerful LED panel to mimic daylight – Has a 100-watt Tetra HT 20 Heater which offers the optimum temperature – Comes with Tetra Whisper 20 filter which is both silent and powerful– Comes with four artificial plants which your turtles won't be able to damage– Contains a boxwood plant mat
Pros
​Sturdy build with scratch-resistant glass
​Powerful lighting setup, heater, and filter
​Silent operation
​Perfect size for beginners
​Contains fusion lights
Cons
​It is an aquarium tank designed primarily for fish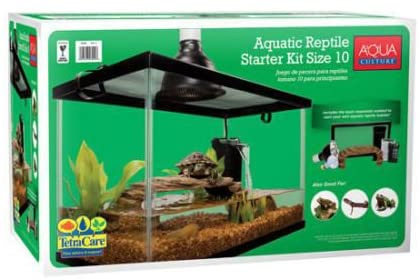 ​This is yet another budget-friendly option which offers a visually pleasing appearance. The first thing you will notice about Aqua Culture 10 Gallon Aquarium Starter Kit is its basking platform.
The basking platform has a stepper style build so that your little turtle can easily climb up to it.
There is a negative side to the starter kit though. You will have to upgrade to a larger tank in a few years as your turtle grows.
Notable Features
​​- 10-gallon reptile special tank– Has gradual steppers towards the basking area– Comes with several hiding places to relief stress– Contains a Tetra Internal filter and 60-watt dome-style heating lamp
Pros
​Superior build quality
​Excellent accessories
​Affordable
​Aesthetically pleasing
​Small in size, doesn't take up much space
Cons
​The light setup is quite poor quality
​Holds very little water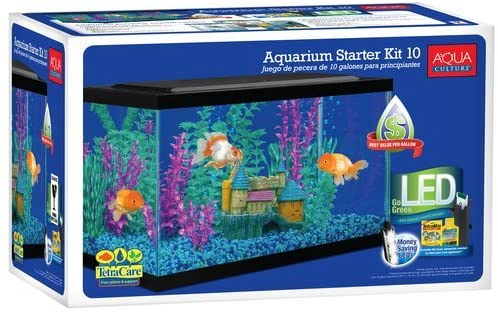 ​Aqua Culture 10-gallon Aquarium Starter Kit is exactly the same as previous tank, but this one is designed mostly for fish. Both tanks are made by the same manufacturer – Aqua Culture.
However, it can also be used for turtles too. All you need is a basking platform and voila! You can surely get an aquarium rock from another seller. This Aquarium also good for Betta fish
Notable Features
​​- 10-gallon tank– Has Tetra Internal filter for better filtration– Comes with a powerful LED lighting setup– Made of plastic– Comes with complimentary Tetra ReptoMin food
Pros
​Affordable
​Superior build quality
​Crystal clear
​Good accessories
Cons
​No basking platform
​Some buyers have complained of leaking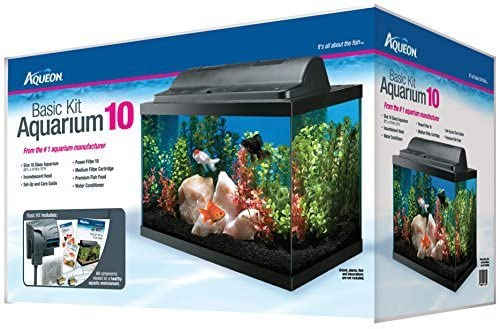 ​Aqueon is another renowned tank manufacturer. Their Basic Kit Aquarium has a lot of fans online and is a nice beginner-friendly kit.
You will get all the basic accessories with this turtle tank kit, and they're all great quality. However, you will need to buy a basking platform for this one as well.
Notable Features
​​- It is a 10-gallon glass aquarium with black trim– Comes with Aqueon QuietFlow Power Filter and filter cartridges– The deluxe fluorescent hood contains a fluorescent bulb, two incandescent bulbs
Pros
​Robust construction
​Beginner-friendly kit
​Affordable
​The accessories are of decent quality
Cons
​No basking platform
​Very small
​Generally not the best quality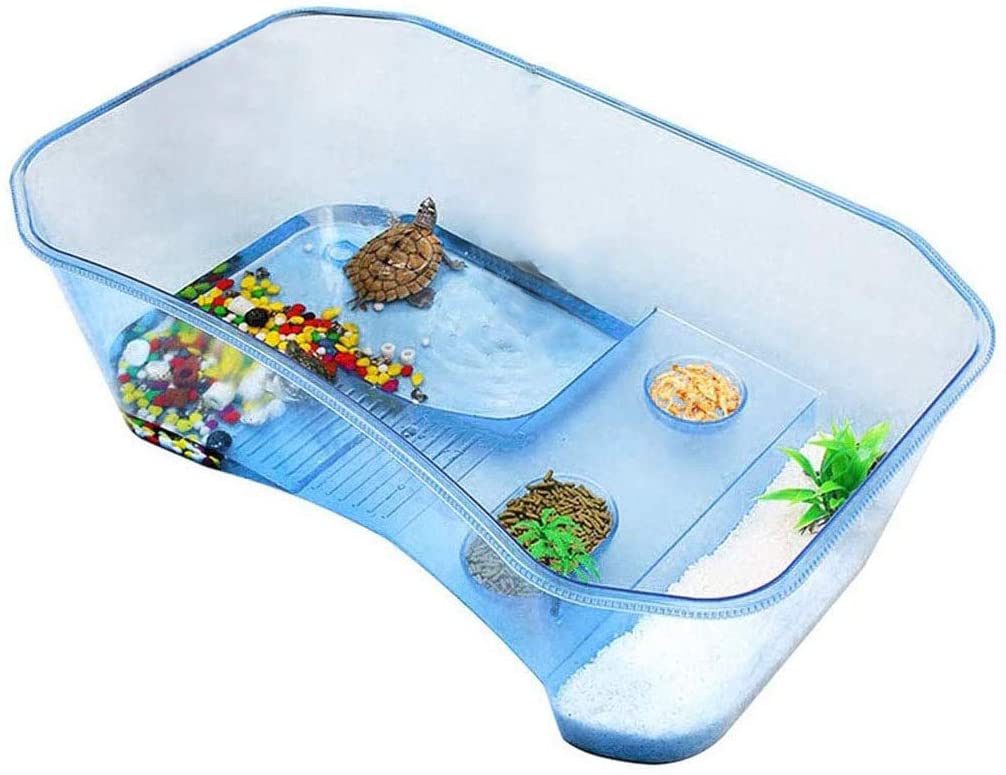 ​Let's talk about a different kind of turtle habitat now. The Hamiledyi Turtle Habitat Terrapin Lake Reptile Aquarium Tank is a complete plastic-made terrarium which is great for a turtle.
The manufacturers have segregated the whole tank in different sections and it follows the terrapin lake design philosophy.
However, you will need to buy all the accessories separately as it has an unimaginably low price tag.
Notable Features
​​- A 5-gallon tank– Completely plastic design– Segmented into five zones to fulfill six distinct functions– Has a slip-proof ramp leading towards the basking area
Pros
​Specially designed for turtles
​Serves multifunctional purposes
​Transparent design
​Very lightweight
​Extremely budget-friendly
Cons
​You will need to purchase accessories separately
​Doesn't have a lid
​Holds too little water
An Advanced Buying Guide to The Best Turtle Tank
​Tank Size
Turtles are playful, and they will swim, play hide and seek, bask in the light, and eat. As you can imagine, turtles need more space when compared to fish. Otherwise, they will feel cramped and become stressed.
A good strategy for figuring out your required tank size is multiplying the shell size by ten.
Sounds confusing?
Let me clear some things up.
If your turtle is 2 inches long, you should get a 20-gallon tank. Similarly, if the same baby turtle grows up to 10 inches in length, the optimum tank size is a 100-gallon tank.
A smart strategy is studying the species of turtle you want to buy beforehand. How big would it become once their reaches its full size?
In this way, you can plan ahead and get a large tank right at the start. You will not need to spend money twice. Remember, a bigger tank is always better for turtles.
More: Best Tank for Goldfish
Basking Space
Turtles often come out of the water and bask in the warmth and they love breathing fresh air. This is one of the identifying traits of the turtles.
This means that your turtle tank should have a docking space where they can bask. Remember, a basking space is of crucial importance for turtles. You can't just have a tank full of water.
It's good practice to keep the basking space in one corner or side of the tank. To achieve a better result, I suggest placing the light one foot above the basking area.
​Dual Temperature Setup
To create a perfect living space for turtles, you should also pay close attention to the temperature setup.
Being a cold-blooded animal, they don't produce heat to keep their body warm. Therefore, it's up to you to offer a different temperature to meet their needs.
I would suggest you follow a dual temperature setup. Divide the tank into two temperature zones – a warm zone and a cold zone.
​The basking space should have a higher temperature. The ideal temperature is around 90°F to 95°F. The other side of the tank should be colder. Here, the optimum temperature should range from 75°F to 85°F.
These temperature ranges are suitable for mimicking daytime. Once you turn off the lights and heaters, the overall temperature of the tank should range from 70°F to 75°F. This creates a nighttime environment.
​UV Light Availability
In the wild, turtles bask in the direct sunlight. As you have the tank in your home, you can't provide them with sunlight.
To mimic natural sunlight, you should get a lighting setup with UV-A ad UV-B lights. Furthermore, the UV light should light the basking area directly.
Why do the turtles need UV lights?
​​- UV-A keeps them happy, enhances their mood which helps them eat and breed– UV-B strengthens their shells and bones– Light increases their overall body temperature
​More Powerful Filters
Turtles tend to make the water dirty quicker than fish. Therefore, you will need a more powerful filter or multiple numbers of moderately powerful filters.
The general rule of thumb is choosing a filter which is three times more powerful than a typical aquarium filter.
For example, if you have a 30-gallon turtle tank, go for a filter which is suitable for a 90-gallon tank or three filters suitable for a 30-gallon tank.
Your filter should also be capable of performing mechanical, chemical, and biological filtration. You can never compromise when it comes to filter choice.
For a turtle tank, canister filters are the best option as they are the most powerful option among all filters.
​Ease of Connecting Filters, Heaters and Other Components
One trait of a good tank is its functionality. As you have seen, you will need to install a lot of devices in order to create a comfortable living place for your turtles.
Therefore, a tank should be able to house all of these devices. I am talking about a filter, a heater, and other similar components.
​Proper Nutrition
Having a pet turtle means you need to offer them a balanced diet full of all the necessary nutrients. You need to create a balanced diet plan consisting of commercial pellets, live or frozen fish, and fresh vegetables.
How can you create a balance between all the foods?
Experts suggest offering 25% commercial pellets, 25% fish or proper insect, and 50% fresh fruits and vegetables.
If you have herbivore turtles, you can mix the diet with different types of mineral-rich fruits and vegetables.
​Tank Decoration
You must create a natural-looking environment for your turtles. You can decorate the tank with rocks, woods, moss, and other plants.
Try to design the two sides differently so that they can easily understand the differences between the warm and cold zones.
However, you must pick the plants for your turtle tank with great care. Turtles can be quite aggressive occasionally. They can uproot the plants from the substrate or damage the decorations quite easily.
Therefore, the plants or the greens should be able to tolerate heavy damages!
Durability Is Important
Turtles live a long life – they can live up to 40 to 50 years. Therefore, your tank should have the durability to house turtles for a long period of time.
This means that you can't have a cheap tank for your turtles. Even if you are on a tight budget, you should take time and save up the money. Otherwise, you will have to buy a new setup after just a few years.
Rather than buying a new tank twice, it's better to invest just once and buy a superior product. You should have all the necessary accessories ready.
Type of Turtles
Before making a rash decision, take some time to study turtles.
There are approximately 350 species of turtles in the world. Certainly, you can't just keep any kind of species in your tank.
You can keep about 10 to 20 types of turtles in an aquarium.
The following table should help you choose a suitable turtle:
​A List of Turtles Suitable for Aquariums

​Name of Turtle Species

​Origin

​Size (Adults)

​Life Expectancy

​African Aquatic Side-neck Turtle

​Eastern and Southern Africa

​6-9 inches

​25 years

​Central American Wood Turtle

​Central America

​8 inches

​20 years

​Painted Turtle

​North America

​10 inches

​55 years

​Caspian Pond Turtle

​Middle East

​9 inches

​25 years

​Red Ear Slider Turtle

​North and Central American

​12 inches

​50-70 years

​Reeve's Turtle

​Eastern Asia

​9 inches

​10-15 years

​Eastern Box Turtle

​Eastern United States

​6 inches

​100 years

​Mississippi Map Turtle

​Mississippi Valley

​6-10 inches

​30 years

​Russian Tortoise

​Russia, Eastern Iran, Northwest Pakistan, and Afghanistan

​8-10 inches

​40 years

​Russian Tortoise

​North Africa, Southern Europe, and Southwest Asia

​5-8 inches

​100 years
​You must understand that not all species of turtles live in an aquatic environment. Some are land turtles.
This is why some experts have divided turtles into two categories:
​​- Land Turtles
​- Aquatic Turtles
FAQ
​What is the Best Turtle Tank Size?
You should always buy a tank based on the size of your turtle. If you get a baby turtle, make sure you know the maximum size of the species of the turtle when it is fully grown.
For example, a baby African Aquatic Side-neck Turtle can be 1-2 inches in size, or even smaller.
However, upon reaching adulthood, they can measure up to 9 inches.
So, you should buy a tank which complements the 9-inch length of the adult African Aquatic Side-neck Turtle.
How do You Select the Right Size for Your Turtle?
As I mentioned earlier, according to the rule of 10x multiplier, the gallon count should be 10x time the inch count of the turtle.
Let's follow the example from the previous section.
Assuming that you have an adult African Aquatic Side-neck Turtle, the optimum size of the tank for a 9-inch turtle would be 90-gallon.
​Where You Can Buy the Best Turtle Tank?
Always opt for buying a superior quality tank. Some species of turtles can outlive you, so you are creating a home for your turtle which will last for at least 20 to 30 years.
You can't expect such longevity from a cheap tank.
I suggest you buy a tank from a reputable brand that you fully trust. You can buy a good quality tank from your local pet shop or dedicated aquarium shop.
My personal suggestion is that you buy the tank from online giants like Amazon.
Why?
​They have the largest collection of tanks, so you can choose any tank of any size. Your local shop might not have a huge collection or a suitable tank dedicated to turtles.
What Does a Turtle Need in Its Tank?
Turtles need require a number of essential devices in their tanks. Here is a good checklist that you would want to have fof what you need to have in your turtle tank:
​Do Turtles Get Lonely?
No, they are not known for creating social bonds with others. In fact, they feel more comfortable living alone.
Even if you keep more than one turtle in a tank, they will stay away from each other and have plenty of individual space.
That being said, you should not handle your turtle too much, either. It might stress them out. Just leave them alone and let them enjoy their divine serenity!
What Is the Natural Habitat of a Turtle?
Turtles require both land and water. In the wild, they live near shallow coastal water with a large body of water nearby.
Naturally, they bask in the warmth of the sun to absorb heat then jump in the water when they feel it is necessary. As staying in the water for too long can damage their outer shell, they often come out of the water to dry off.
​Is Tap Water Safe for Turtles?
Generally, it's okay to use tap water in a turtle tank. However, if you think that tap water is contaminated with too much pollutant, you should check the water quality.
If the water is too harsh for them, you can use a good water conditioner. This should make the water more habitable for the turtles. ​
​More: Check the Best Water for Betta here
​Do Turtles Need Rocks in Their Tank?
Not necessarily.
However, they need a raised dry platform which they can use to bask in the light. You can make a basking site with any kind of platform.
Whether you keep rocks in the tank or not is totally up to you.
Do Turtles Need Light at Night?
No, you will not need to give light at night to your turtles. As you are trying to mimic their natural environment, you must offer darkness just as you create light to mimic daylight.
​How Often Should I Clean My Turtle Tank?
​Turtles create a lot of waste compared to fish. Therefore, you must take extra steps to clean the turtle tank.
It's a good practice to use a net to take large debris out of the tank every day. In addition, you should change 25% of the water every week.
You should also clean the tank every 15 days. However, the frequency may change depending on the quality of your aquarium filter.
​Conclusion
​Today's winner in the best turtle tank race is Tetra Aquarium Reptile Glass Kit. If you have a land turtle, then choose Zilla Reptile Starter Kit 10. These two are the best options you can find for your turtles.