Having a substrate in a planted tank is a must. Without substrate, the plants can't grow in your aquarium. There are now so many substrate options available. While the options make our lives easier, things can also get very confusing.
For example, have you ever wondered what the best substrate is for a planted tank?
Well, of course, you have! All of us who have planted tanks in our living rooms go through this situation.
Let me tell you something: you can't just take some soil from your garden and place it in your tank. Things don't work like that.
Choosing a good substrate is the first step towards creating a beautiful planted tank.
So, let's jump in and find out more about the best aquarium substrates.
Top 9 Best Substrates for Planted Tanks in
1. Carib Sea Eco Complete Planted Black Aquarium Substrate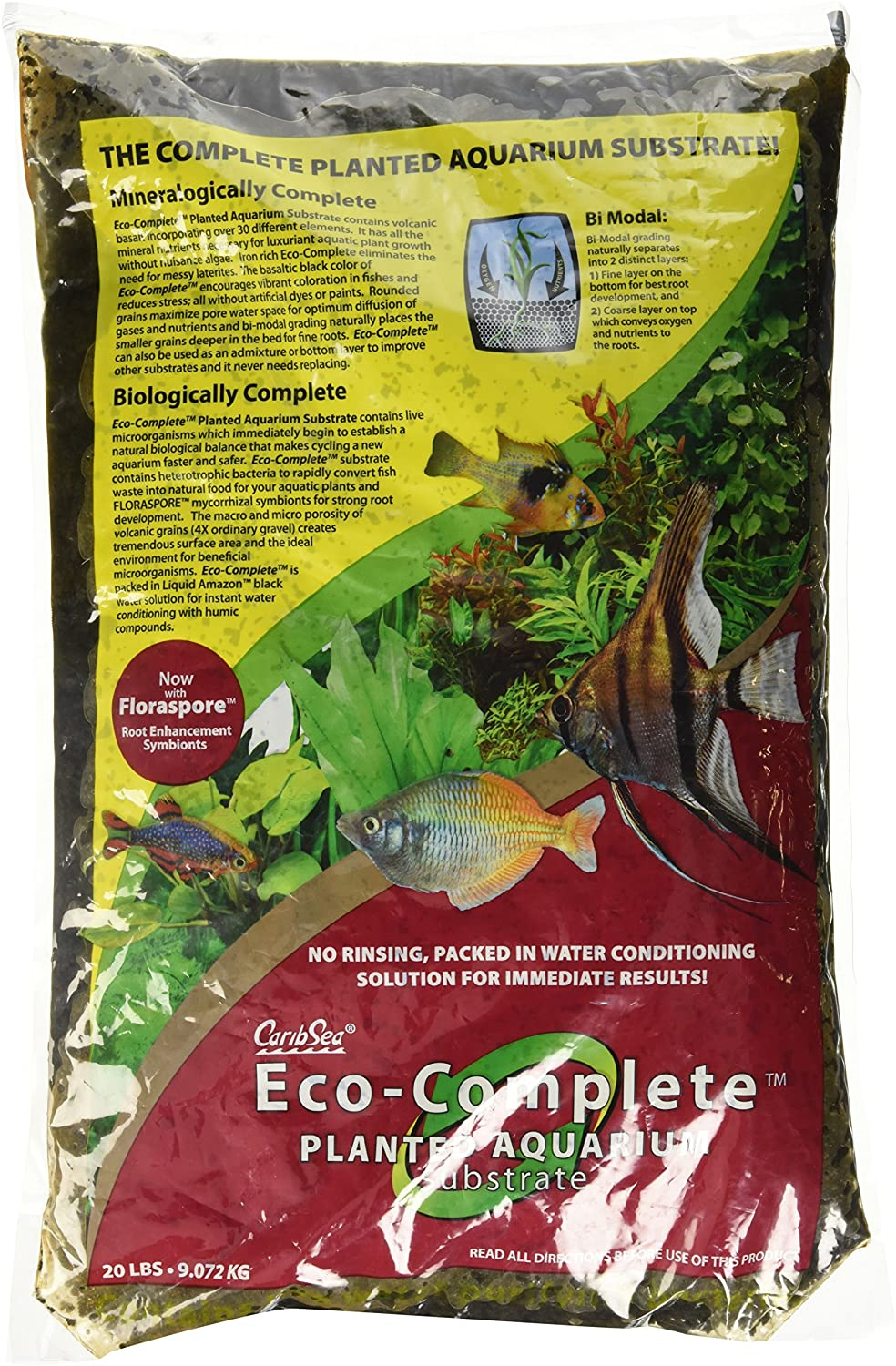 I have three planted tanks in my home, and I have been using Carib Sea Eco Complete Planted Black Aquarium Substrate in all of them.
It's the most complete substrate that I have seen. No other product on the market has so many practical features.
And trust me: I have used a lot of them.
It contains a wide variety of essential minerals, live organisms, and symbionts. Your plants will have vibrant natural coloration. If you are planning on creating the best aquascape, look no further.
Notable Features
​- ​Contains volcanic basalt with over 30 essential minerals– Bi-modal grading automatically puts smaller grains in the bottom layer– Iron-rich composition eliminates the need for laterites– Contains live microorganisms that create a natural ecosystem– Contains heterotrophic bacteria that converts fecal waste at a rapid speed– Comes with Floraspore™ mycorrhizal symbionts that encourage the plant roots to become stronger– Comes with Liquid Amazon™ black water solution that treats water instantly
Pros
​Volcanic basalt ensures lush green coloration
​Mineralogically and biologically complete
​Ensures stronger roots
​Comes with water conditioner
​Contains beneficial bacteria
Cons
​Isn't suitable for saltwater aquariums
​2. Seachem Flourite Black Clay Gravel – Stable Porous Natural Planted Aquarium Substrate – Best Organic Soil for an Aquarium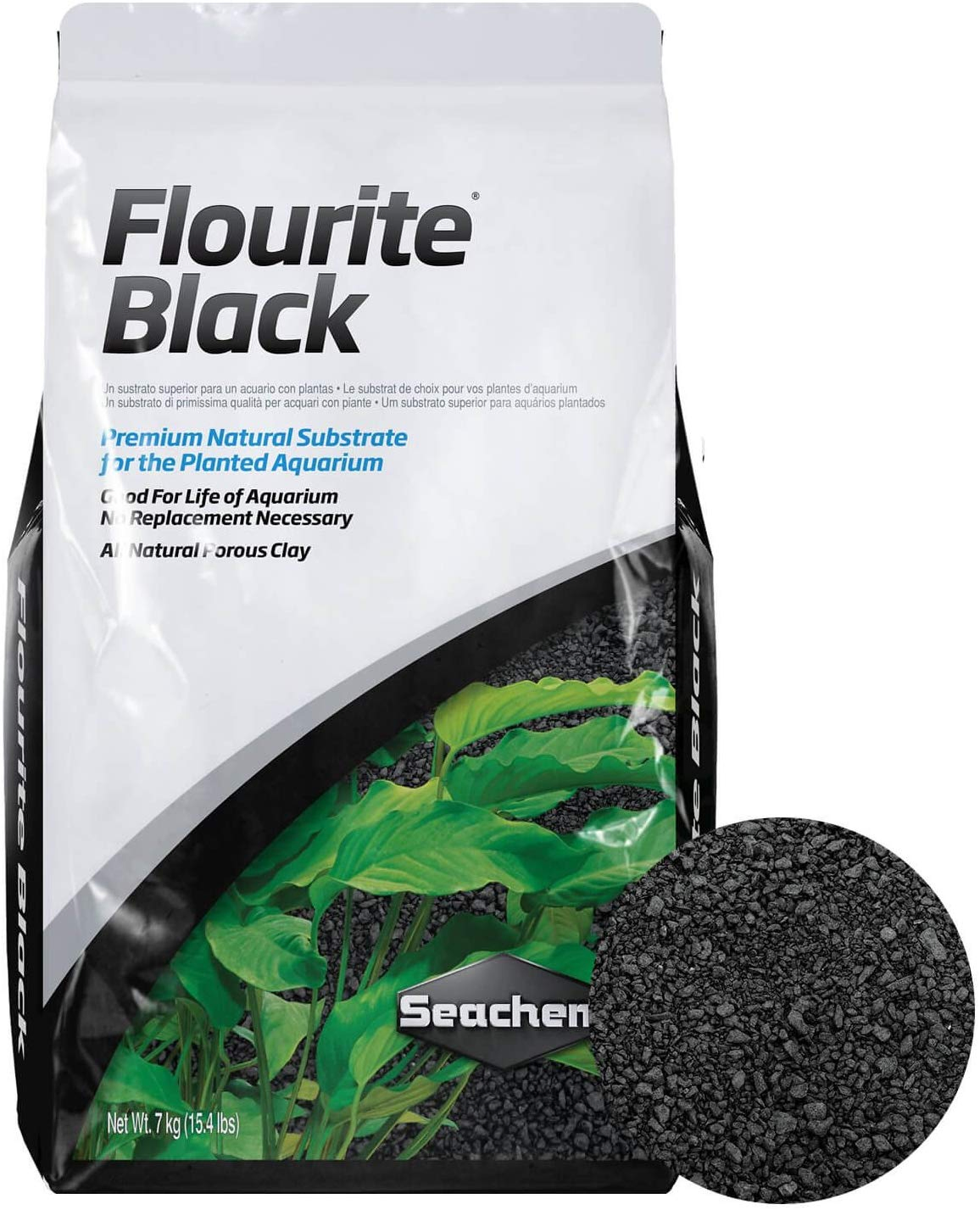 If you are looking for organic clay material as your substrate, Seachem Flourite Black ClayGravel is the perfect option.
Seachem doesn't use any kind of chemicals to process this substrate. It's a substrate collected
from nature and delivered to your doorstep.
Yes, there are no eye-catching features on the packaging, but the label stating that it is "natural clay" is sufficient.
However, there is one downside to this product. As it is a natural product, it will contain a lot of dust, so you will have to treat it before use.
Notable Features
​​- A complete natural product – Is a black fracted porous clay gravel– Can be used as a standalone aquarium bed; doesn't require additional gravel modifierssuch as laterite– Not chemically coated or treated, so it doesn't affect the pH level– Compatible with all kinds of under-gravel filters
Pros
​Completely natural
​Designed for planted aquariums
​Exotic coloration
​Standalone complete substrate
Cons
​Needs rinsing before initial use and causes temporary cloudiness in aquarium
​Not suitable for saltwater aquariums
3. Fluval Plant and Shrimp Stratum – Best Volcanic Soil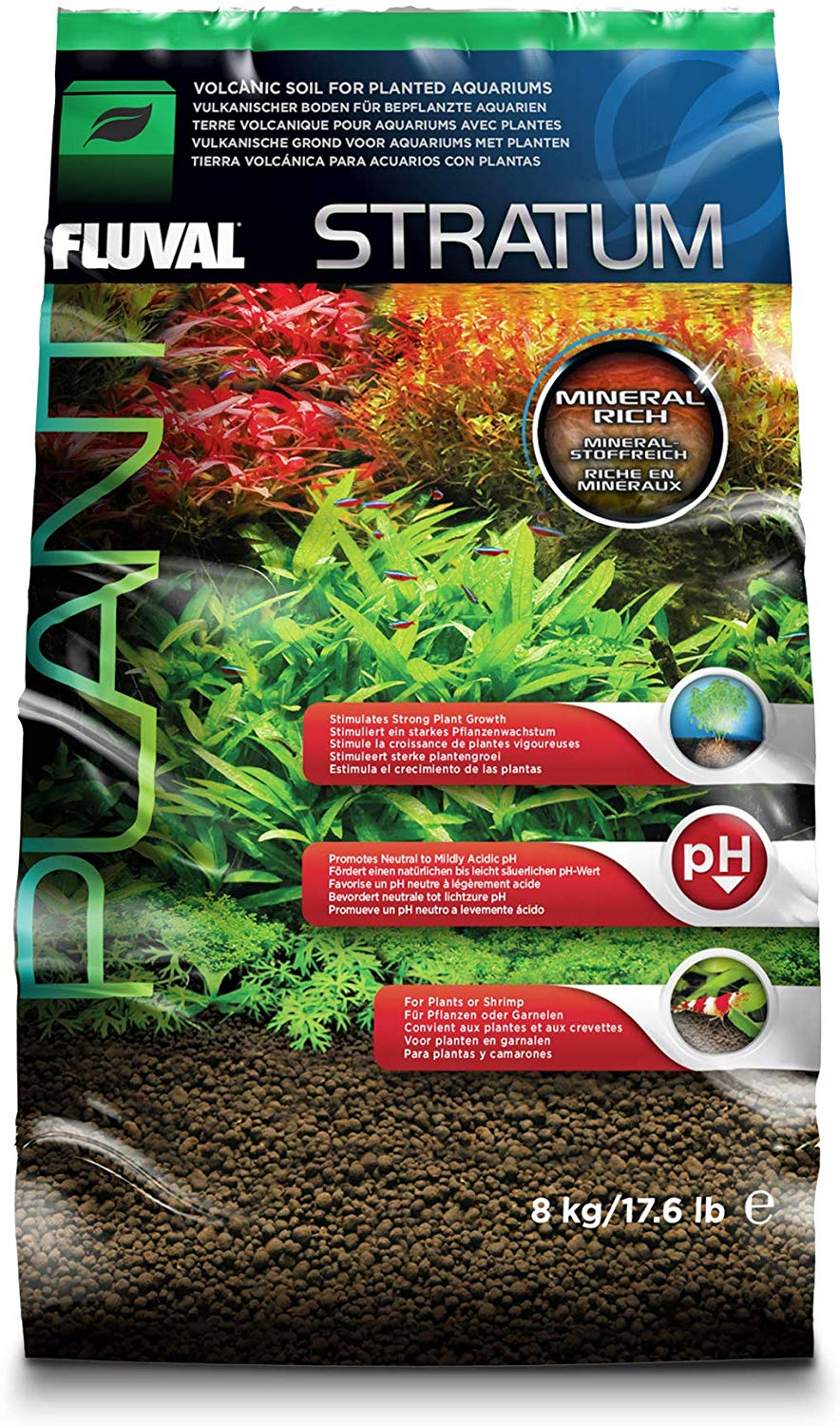 I am personally biased towards volcanic soil. This is because volcanic soils contain an abundance of essential minerals which you don't find in regular soil.
Fluval Plant and Shrimp Stratum collects the volcanic soil from the foothills of Mount Aso in Japan – the largest active volcano in Japan.
The high concentration of macro and micro minerals makes the substrate quite desirable.
Notable Features
​​- Volcanic soil collected from Mount Aso in Japan with an abundance of essential minerals– Plant roots can reach very deep and collect micro and macro minerals– The grains have light, non-compacting, and porous structure– Welcomes nitrifying bacteria to the aquarium– Promotes neutral to mildly acidic pH– Comes in three different sizes
Pros
​Natural volcanic soil design
​Rich in minerals
​Helps to control natural discoloration
​Stimulates stronger growth in plants
Cons
​Not suitable for saltwater aquariums
​4. Mr. Aqua N-MAR-066 1 L Fine Pet Habitat Water Plant Soil – The Perfect Organic-Inorganic Balance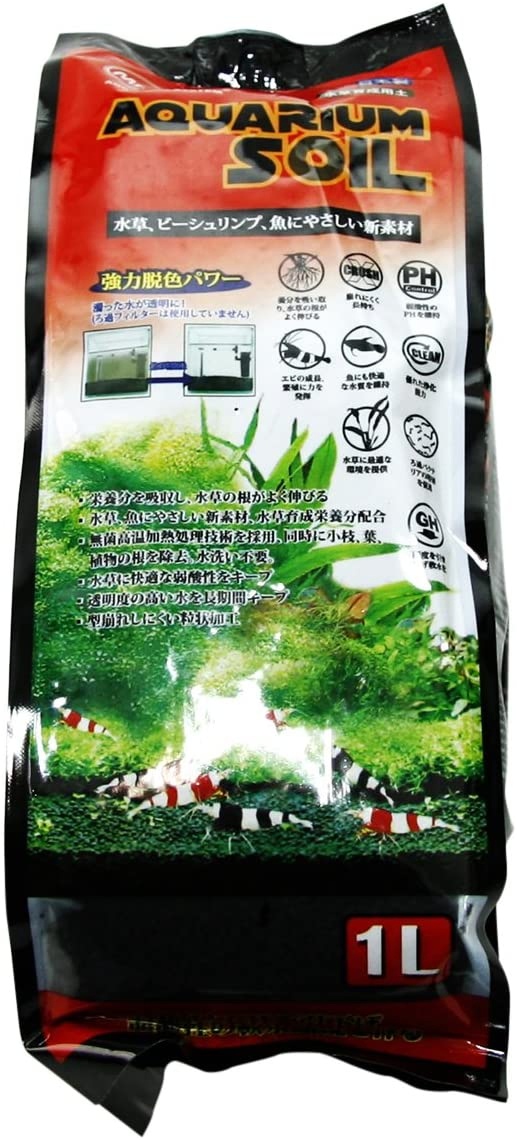 Mr. Aqua N-MAR-066 comes all the way from Japan. It has a perfect balance of organic and inorganic materials.
One of the major features of this product is that it helps to purify the water. Furthermore, you can use this substrate for a long time without worrying about having to change it.
However, the substrate can be a bit dusty, so make sure to rinse it well before use.
Notable Features
​– Made from both organic and inert ingredients to ensure complete nutrition– Long-lasting substrate supports you for 12 to 18 months– Enhances the water quality and prolongs water changing cycles– Plant roots can easily penetrate the porous granular structure– Acts as a buffering agent to soften water and maintain 6.6 to 6.8 pH– Purifies stained water from driftwood
Pros
​Combination of both organic and inorganic nutrients
​Works as a water purifier
​Enables roots to become stronger
​Long-lasting
​Keeps the pH level low
Cons
​Dusty, requires rinsing before use
​Small packaging
5. UP AQUA Sand for Aquatic Plants – Best Sand for a Planted Aquarium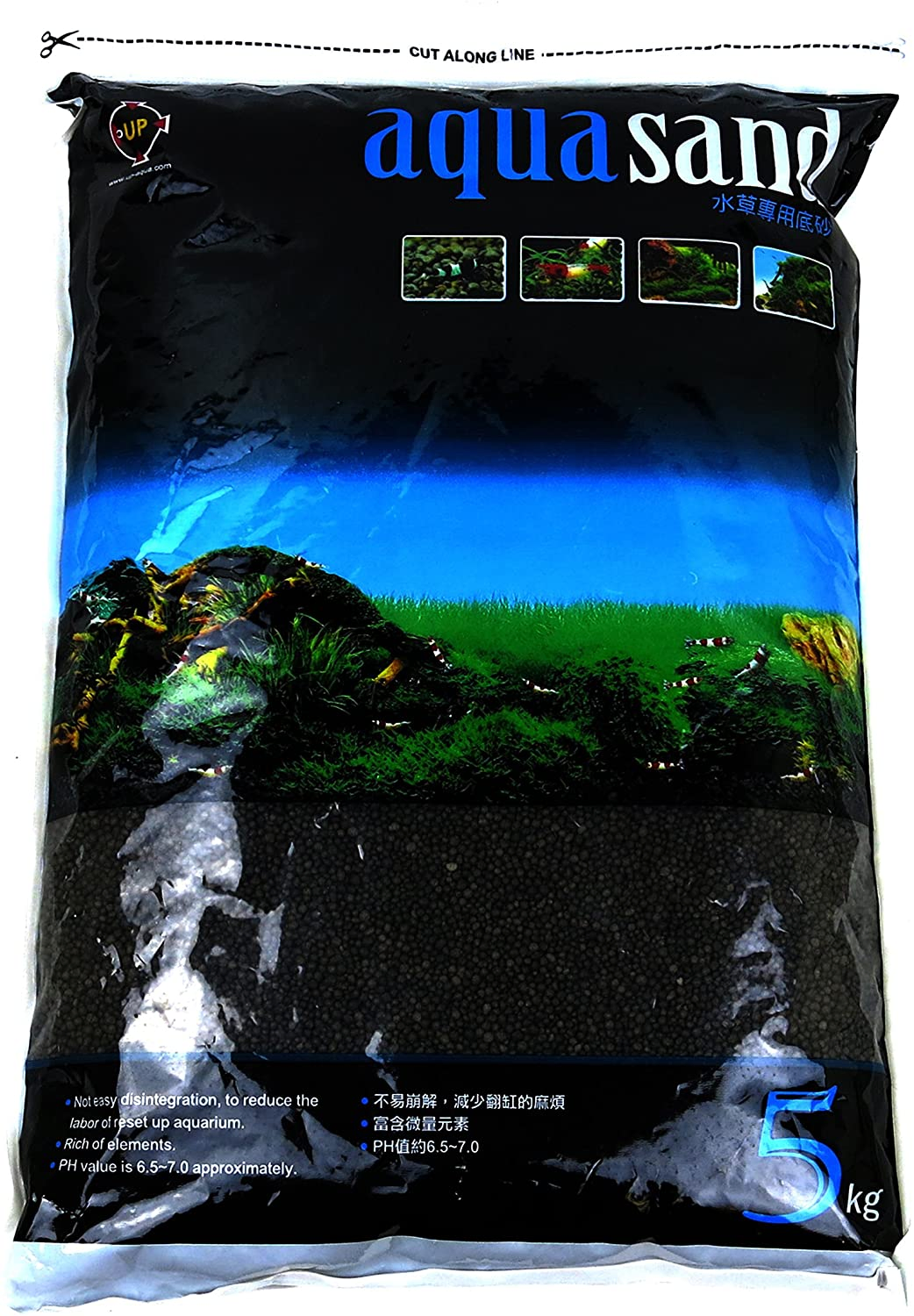 UP AQUA Sand for Aquatic Plants is the best sand for a planted aquarium. The dustless formulation makes the substrate very appealing.
The shiny black coloration makes it look very appealing too. It also doesn't crumble very easily, thanks to the integration technology.
However, some users have complained that the substrate loses its pure dark black color after a while.
Notable Features
​​- Dustless formulation that doesn't cloud the water– A complete standalone substrate rich in minerals and nutrients– Has a light, round, and porous texture which strengthens the roots of the plants– Controls the pH level, keeping it within the 6.5 to 7.0 range– Long-lasting formulation
Pros
​Great porous texture
​Rich in minerals
​Keeps the pH level at a minimum range
​Consistent grain size
Cons
​Loses its beautiful black color after a while
​Poor packaging quality
6. ADA Aqua Soil Amazonia Powder Type – Best Soil for a Planted Aquarium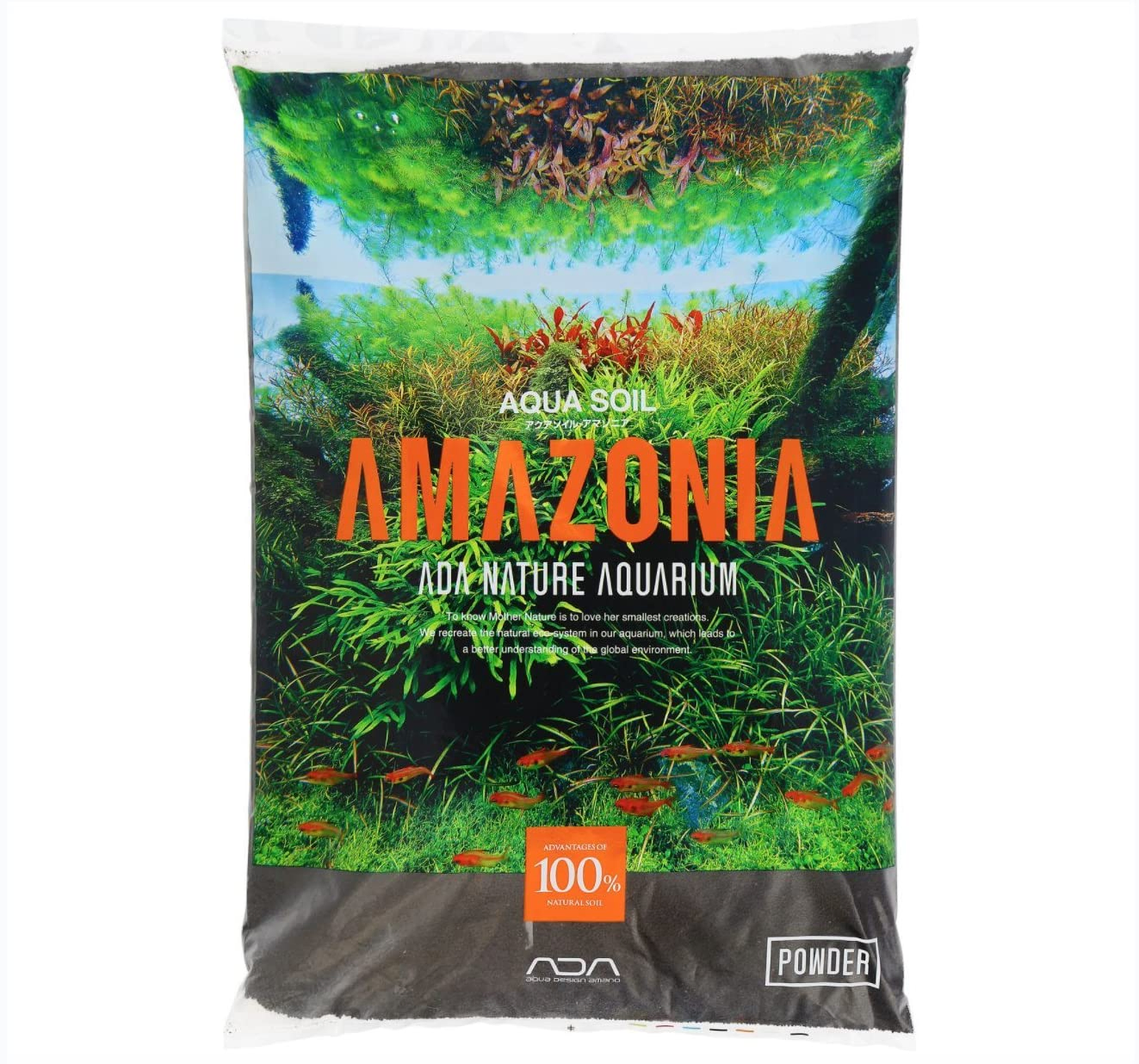 ADA Aqua Soil Amazonia Powder Type is extremely popular among serious hobbyists and aquarium experts. Takashi Amano's obsession with this product has made people fall for it.
Rather than having large grains, the soil granules are very fine in this substrate. This means two things – the plant roots can have a better grasp, and ammonia can leech out slowly.
Notable Features
​​- Sourced from Japanese plant-based black soil which is processed through decomposed leaf mulching– Comprised of rich organic elements that promote growth among aquatic plants– Minimizes the pH and water hardness level– Equal and fine-sized grains ensure equal distribution that works perfectly for nano aquariums– Powder type grains help you to create a miniature landscape with carpeting plants
Pros
​Natural organic black soil
​Ensures robust plant growth
​Easy for plant roots to propagate through the soil
​Complete standalone soil
Cons
​Hardy plant, so you must keep its growth in check if you don't want it getting too big.
​May initially disrupt the pH level
7. Ultum Nature Controsoil Freshwater Planted Aquarium Substrate – Normal Black – Best Cheap Aquarium Substrate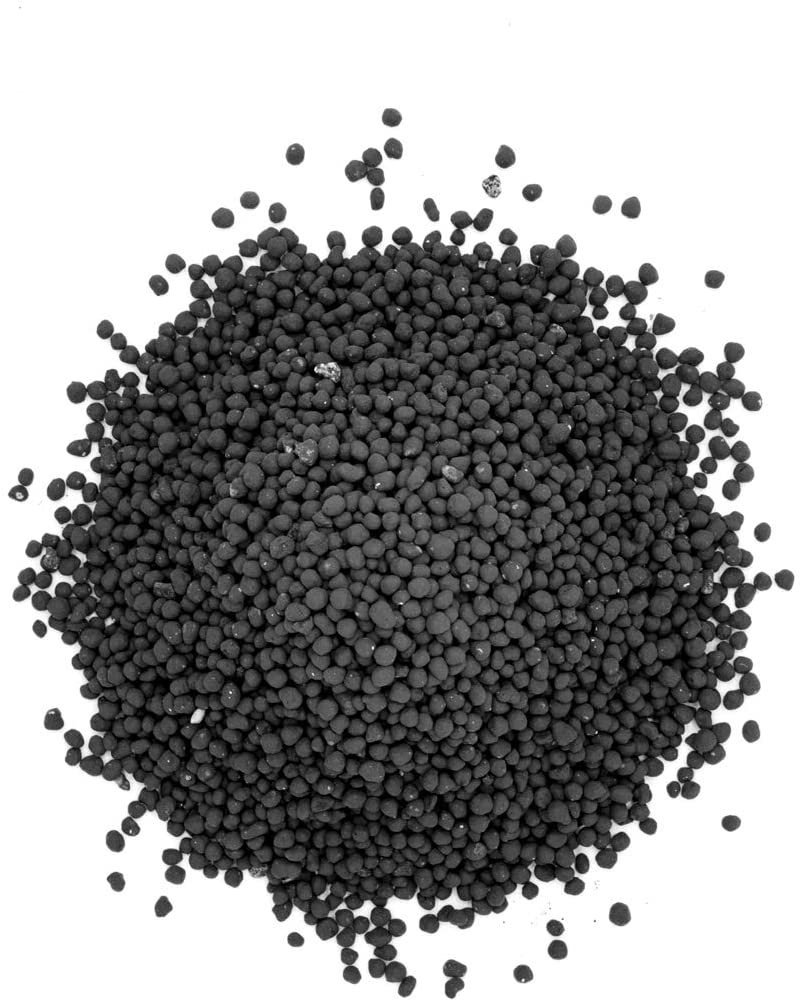 Again, I am featuring a substrate which contains Japanese volcanic ash. However, this one is a little different to the others.
The main component of Ultum Nature Controsoil Freshwater Planted Aquarium Substrate is andisols. These volcanic soils have a high concentration of glass and amorphous colloidal materials.
Notable Features
​​- Andisol-based substrate which comes from Japanese volcanic ash – No rinsing required and actively absorbs impurities when it comes into contact with water– Promotes and accelerates the growth of beneficial bacteria– Reduces the water hardness level (kH) and buffers water towards a slightly acidic pH level– Optimum granule size increases oxygen exchange rate and provides nutrients for plants– Comes in three granule sizes – extra fine, fine, and normal– Comes in two colors – black and brown
Pros
​Rich in nutrients
​Promotes beneficial bacteria growth
​Balances pH and kH levels
​Increases oxygenation rate
Cons
​Not suitable for saltwater aquariums
​Small packaging
​8. Carib Sea ACS00832 Peace River Gravel for Aquarium, 20-Pound –The Best of Both Worlds!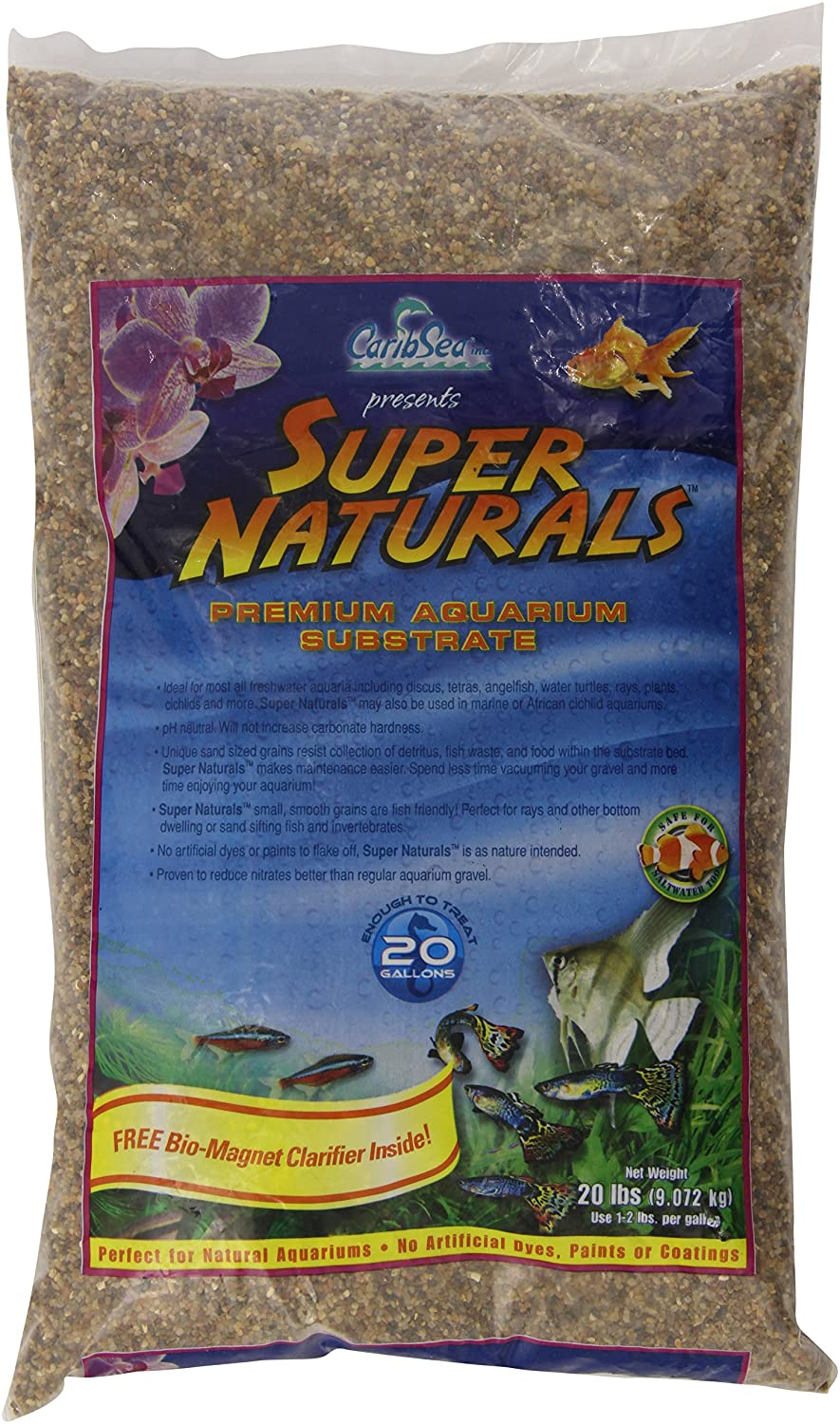 If you are looking for natural sand or gravel for a planted aquarium, Carib Sea has the perfect product for you –  Carib Sea ACS00832 Peace River Gravel for Aquarium.
You will feel that gravel from the natural riverbed of the Amazon is in your tank.
The perfect size of the grains ensures that detritus doesn't build up on the substrate.
Notable Features
​​- Gravel imitates Rio Negro's dark and brooding jungle and sunny Sri Lankan beaches– Suitable for both freshwater and saltwater aquariums– Contains uniform sand-sized grains that don't trap fecal and food waste– Contains small and smooth grains which don't harm the fish in any way– Actively reduces nitrites and nitrates– pH neutral formulation– Doesn't contain any paint or dye
Pros
​Nutrient-rich gravel that imitates riverbeds
​Doesn't trap different waste
​Doesn't affect the pH level of the water
​Suitable for both freshwater and saltwater aquariums
​Doesn't contain harmful additives
Cons
​Can make the water brown and cloudy
​9. Spectrastone Shallow Creek Regular for Freshwater Aquariums, 5- Pound Bag – Free from Toxins!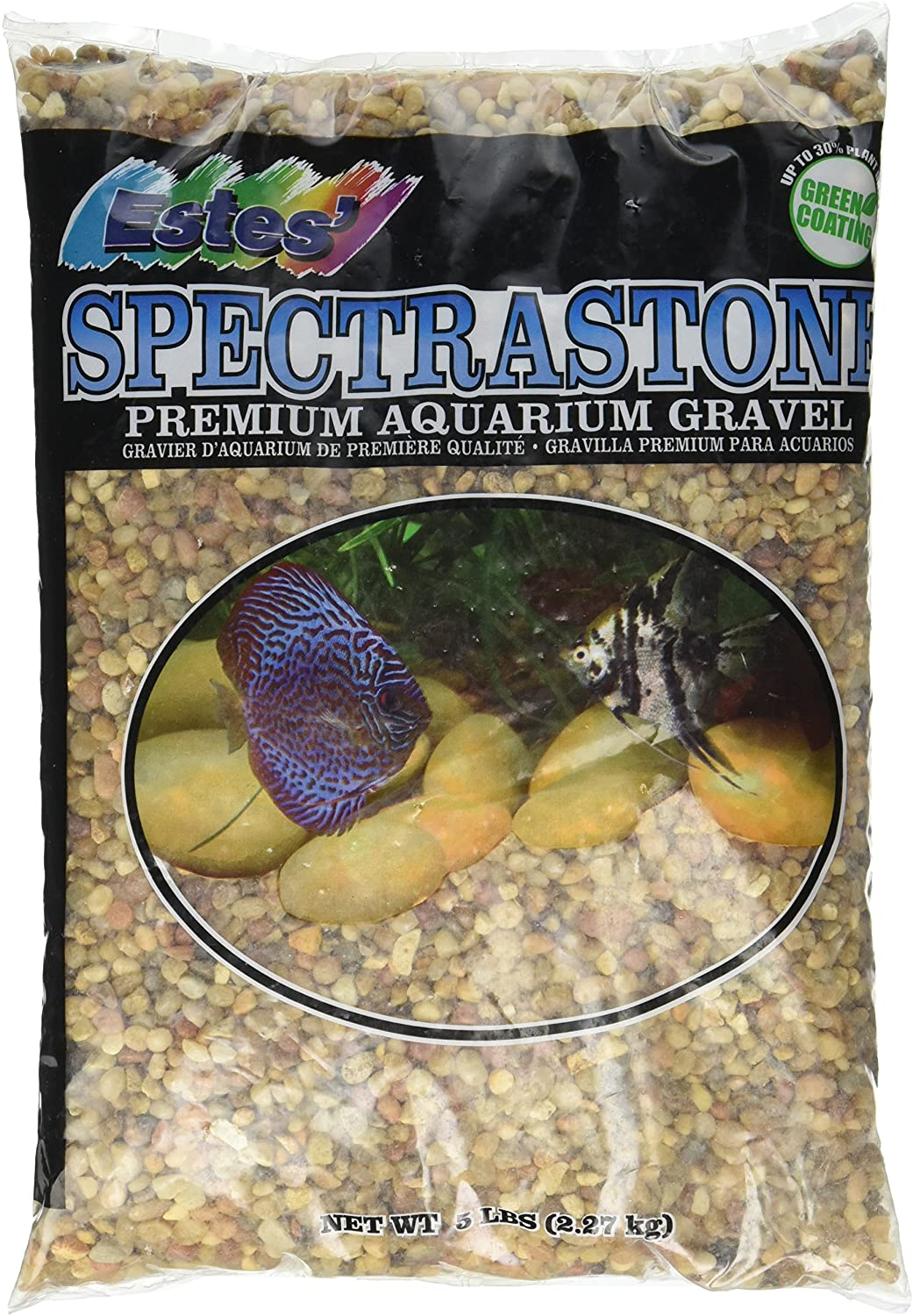 Spectrastone Shallow Creek Regular for Freshwater Aquariums is the last product on my list today, and it is free from any kind of toxic chemical.
The coating of the gravel is plant-based polymers and that doesn't affect the water chemistry in any way.
However, it lacks the presence of essential minerals.
Notable Features
​​- Made from aquatic pebble gravel which is much smaller than regular gravel​- Doesn't affect the pH level of the water​- The "Green Coating" is free from all kinds of harmful toxic materials​- Composed of inert stones with a plant-based polymer coating​- Suitable for freshwater aquariums
Pros
​Completely harmless towards fish and plants
​Made from inert stones
​pH neutral
​Plant-based green coating
Cons
​Not suitable for saltwater aquariums
​Doesn't have rich minerals to strengthen plants
Benefits of Substrate in an Aquarium
Don't live under the impression that substrate in an aquarium only serves aesthetic purposes. For planted aquariums, having a substrate is a must.
No plant can grow on a plain and smooth glass surface.
Roots go deep in the substrate layer and find essential minerals and other important elements.
In short, you can't have a planted aquarium without having a substrate layer at the bottom of the tank.
Also, the substrate layer helps to keep fecal waste, food waste, and other such materials at the bottom of the tank. Otherwise, these harmful materials would float around in the water, slowly degrading its quality.
After a while, this waste mixes with the substrate materials and helps to supply nitrogen to the plants. So, you can say that the substrate layer helps to create an ecosystem within the aquarium.
Many fish such as Lake Malawi Cichlids enjoy digging within the substrate layer. These fish even build sandcastles during the mating season in order to attract females.
So, as you can see, certain fish rely on the substrate layer for behavioral reasons.
If you are trying to keep your fish stress-free, you must create living conditions which complement their natural living conditions.
Do fish live in a cold plain glass environment in nature? No!
A pond bed, riverbed, or even ocean bed is not bare. You will find them covered in pebbles, mud, sand, and other natural minerals. This means that fish are more comfortable living in an environment which has a substrate layer.
So, why shouldn't you have a substrate layer in your tank?
Next is the issue of having a balanced pH level. The contents of the substrate layer maintain a balance of the pH level in the water. In addition, the layer also controls the water chemistry, even if you accidentally add something harmful to the water.
I think you are now well aware of the importance of having a substrate layer in your tank.
Types of Substrate for Aquarium Plants
Adding simple clay from your garden will not qualify as adding a substrate layer to your aquarium.
Things are much more delicate here.
That being said, you should know about the different substrate types which you can use in a planted tank, as there are many types of substrates.
These are some of the most notable types:
​​- Aquarium Gravel- Aquarium Sand- Coral Sand- Marble Chippings- Marbles- Aquarium Soil- Topsoil- Laterites and Fluorites
Aquarium Gravel
A lot of people think that an aquarium substrate is nothing but gravel. It's true in many cases as
gravel is the most popular option as an aquarium substrate.
Gravel is the go-to option, mainly due to the simplicity of its usage and it serves the purpose efficiently.
Also, gravel doesn't disrupt the lives of fish and plants as they are mostly neutral.
However, you can't just pick some nice-looking gravel off the street and put it in your fish tank. Street gravel and aquarium gravel both have significant differences.
Most aquarium gravel is treated and has soft edges. These soft edges ensure that your fish
don't get hurt when swimming freely.
There are hundreds of options as aquarium gravel comes in different shapes and sizes.
You can buy special aquarium gravel at your local aquarium shop or pet shop. However, I prefer getting help from online shops as there is a greater variety and more options.
​Learn More: Best Substrate for Betta Fish
Aquarium Sand
Sand is another popular option. Some fishkeepers use this together with gravel, while some choose to use it as a standalone substrate material.
Sand is great for creating a beach vibe in your tank; there is no other option which will serve you better.
As well as marine fish, there are other breeds which love to burrow within the substrate. Sand is great for these fish too.
However, there is a major downside to using sand as a substrate. Sand can clog up the filter or make the water cloudy as the grains are very small.
Coral Sand
The next type is called coral sand.
As you can guess, coral sand is more suitable for marine aquariums. Coral sand is made up of calcium carbonate grains.
It serves two purposes – decoration and maintaining pH balance.
Calcium carbonate is a base, and it can help you reduce the acidity level of the water. Over time, the coral sand or calcium carbonate will dissolve in the water.
Soon, the decaying calcium carbonate will increase the alkalinity level of the water. So, if you are suffering from a low pH level in your aquarium, you can try adding coral sand to your tank.
Learn More: Best Substrate for Goldfish Tank
Marble Chippings
Marble chippings will serve the same purpose as coral sand. Marble chippings are also calcium carbonate.
However, they are heavier and less porous compared to coral sand.
People use marble chippings as a substitute for coral sand, mainly due to its cheaper price tag.
Nevertheless, marble chippings can't help you to decrease the acidity level in the water that much.
Marbles
Many people use marbles in their tanks for decorative purposes. The magnificent crystallized spheres increase an aquariums beauty.
However, as a substrate, I would choose another material.
There are huge gaps between each marble piece. These gaps often trap food waste. Also, beneficial bacteria won't be able to colonize the marbles.
I would only recommend using marbles if you have another substrate material in the tank as well. The only practical use of marbles is increasing the tank's aesthetic appeal.
Aquarium Soil
Aquarium soil is the best aquarium substrate for plants. You will see noticeable growth in your aquarium plants from the very beginning.
Typical aquarium soil is made up of:
– Essential minerals- Organic matter- Precipitated inorganic components- Microorganisms
As you can imagine, these components will ensure the healthier growth of aquarium plants. Some brands label their soil as aquatic compost, but basically, they are the same thing.
A great strategy is to use aquarium soil for the bottom layer of the substrate level with gravel and rocks for the top layer.
As we are only talking about planted tanks today, aquarium soil should be at the top of your priority list. No other substrate will benefit your plants more than soil.
Topsoil
Topsoil is nothing more than the natural soil from your backyard. Basically, the top two to seven inches from the surface of common soil is known as topsoil.
Topsoil has the highest quality of nutrients which help different plants to grow. So, can you use this in an aquarium?
Yes, you can.
Topsoil can be a cheap and effective solution if you are on a tight budget when designing your aquarium.
You will also need to invest more in an aquarium filter as the water might become a bit cloudy. As it is collected from nature, the volatility will always be an issue with topsoil.
So, you can use garden soil for your aquarium but you must take the necessary precautions.
Laterite and Fluorite
Laterite and fluorite are two clay-based materials which you can use in a planted aquarium.
Laterites have a rusty red coloration due to their high iron-oxide concentration. There is also some aluminum content.
Fluorites, on the other hand, are made of calcium fluoride. They are actually shiny crystals with a blue and greenish hue.
However, laterites and fluorites aren't very good as a planted aquarium substrate as they are very hard and can damage the roots of plants.
What is the Best Substrate for a Planted Aquarium?
It's simple, the soil which has the highest resemblance to natural soil is the best soil for a planted aquarium.
In that sense, aquarium soil and other soil-like substrates are the best options for you. If you can manage the cloudiness and pH imbalance, topsoil is also a great option.
If you are looking for a commercial option, then I would recommend Carib Sea Eco Complete Planted Black Aquarium Substrate.
I have been personally using this substrate for my three planted tanks, and the results are amazing. All my plants have grown at a steady pace and haven't faced a single issue.
The only downside is that you can't use this in a saltwater aquarium.
How Much Substrate do you need for a Planted Aquarium?
Almost all new fishkeepers ask this question. Even I struggled to find the optimum quantity. After a lot of research, I found that there is no definite answer.
There are a number of factors which play decisive roles in this case:
​– Tank size(check 10-gallon Tank)- Tank type- Fish type- Plant type– pH level- Capability of the filter
To achieve optimum thickness, I use the 1 lb per gallon strategy. Based on this strategy, one pound of substrate in one gallon of water creates a one-inch thickness.
For example, you will have to use 20 lbs of substrate in 20 gallons of water in order to create 1" of thickness. Or, using 20 lbs of substrate in 10 gallons of water, will create a 2" thickness.
How to Apply Substrate in a Planted Aquarium?
Applying substrate in a planted tank is a very simple procedure. There are only two steps.
Step 1: Distributing Substrate
First, you must pour the substrate into the tank. You can either go for the simple equal thickness distribution strategy where the substrate thickness remains constant throughout the tank, or you can be creative about it. You can go for a mountain-terrain theme and create high and low spikes with the substrate level.
Step 2: The Waiting Period
Next, you must add water to the tank. After adding water, you should wait at least a week.
This is because most commercial substrates contain different minerals and chemicals. These chemicals often try to create a habitable environment for different beneficial bacteria.
Due to water chemistry volatility, adding fish or plants at this stage will be very risky.
After a week or so, the water will become much less volatile and will be habitable for both fish and plants.
Once you are finished with the waiting period, add any decorations you want, such as rocks and logs. Now your tank is ready for planting.
Can I Use Topsoil in A Planted Tank?
Of course, you can!
Topsoil contains a high quantity of minerals and other beneficial components. However, you must take some precautions.
Firstly, you shouldn't use topsoil as the only layer of your substrate. As topsoil is made up of micro granules, the small particles will float around and make the water cloudy.
Therefore, you should add a layer of gravel on top of the topsoil layer. This will prevent the topsoil granules from floating around.
Next, you might want to use water conditioners. The topsoil content is likely to vary from place to place. It's quite common for topsoil to disrupt the pH balance.
Other than these two issues, there is nothing wrong with using topsoil in a planted tank.
How Deep Should the Substrate Be in A Planted Aquarium?
Although there is no maximum level for the amount of substrate in a tank, there is a minimum level.
No matter what, the substrate layer must be at least 1" in thickness. Some suggest opting for 2" to 3" thickness, and I support their opinion as this seems to be a good planted aquarium substrate depth.
At the end of the day, the decision is totally yours.
Conclusion
So, which product holds the title of the best aquarium substrate for plants?
Yes, you have guessed it, the winner is Carib Sea Eco Complete Planted Black Aquarium Substrate for offering so many useful features.
And, we have two runners-up today – Seachem Flourite Black Clay Gravel and Fluval Plant and Shrimp Stratum.
Let me know your opinions in the comments section below.