One of the biggest rookie mistakes of a new fishkeeper is choosing the wrong aquarium. At times they go for a huge tank and fail miserably to maintain it.
If you are new to the scenario, you should start from small. So, your first tank should be a 10-gallon fish tank. These tanks are small yet not too small. But they are really easy to maintain.
Today, I will teach you how to choose the best 10 gallon fish tank. As you are new, you should get one that comes with all the supplementary equipment.
Once you have mastered this tank, you can select your own tank with a better set of equipment.
Let's begin!
​Name of the Product

​Equipment Included

​Rating

​Price

Aqueon 100527256 Fish Tank – Best 10-Gallon Tank

1. 10 Gallon Glass Aquarium2. Low Profile Full Hood with White Led Lighting

​​3. ​Quietflow 10 Led Pro Power Filter​​​

​​4. ​50w Preset Heater At 78°F Constant Temperature​​​

​​5. ​Stick-On Thermometer​​​

​​6. ​Water Conditioner​​​

​​7. ​Fish Food​​​

​​8. ​Fish Net

9. ​Advanced Guide​​​ ​​

Marina LED Aquarium Kit – Best Budget 10-Gallon Tank

1. ​Marina Glass Aquarium​​​​2. ​Marina Slim S15 Clip-On Filter​​​

​3. ​LED Lighting Module with Canopy​​​

​4. ​Fluval Aqua Plus Water Conditioner​​​

​5. ​Fluval Cycle Biological Supplement​​​

​6. ​Fish Net​​​

​7. ​Fluval Max Fish Food​​​

​8. ​Care Guide​​​

1. Radius Curved Corner Glass Aquarium​2. ​Cascade 3000 Internal Filter​​​

​3. ​Clip-On LED Lighting​​​

​4. ​Padding Mat​​​

​5. ​Hinge-Style Plastic Lid​​​

Hagen HG Fluval Flex Aquarium – Unique Design

1. ​Fluval 9 Gallon Flex Glass Tank​​​​​2. ​39 White-RGB LED Lights​​​

​​​​​3. ​Dual-Channel Three-Stage Filter​​​

​​​4. ​​Honeycomb Style Rear Compartment

1. ​All Glass Aquarium AAG09008 tank​​​​​2. ​Eco Hood Combo​​​​​​​ ​
1.​Tetra Playmobil 10 Gallon Crystal-Clear Glass Tank​​​​​2. ​LED Hood and Lighting System​​​

​​​3. ​Tetra Whisper Power Filter With Medium Filter Cartridge​​​

​​​4. ​50-Watt Tetra HT Submersible Heater​​​

​​​5. ​Tetra AquaSafe Plus Water Conditioner​​​

​​​6. ​A Care Guide​​​

​​​7. ​Reversible Aquarium Backgrounds​​​

​​​8. ​A Free Toy – Tom, the Aquatic Scientist​​​

​​​9. ​Tom's Pretend Lab​​​

Aqua Culture 10-gallon Aquarium Starter Kit – Beginner Friendly

1. ​Aqua Culture 10 Gallon Aquarium​​​​​2. ​A Low Profile Hood​​​

​​​3. ​LED Lighting Setup​​​

​​​4. ​Tetra Internal Filter​​​

​​​5. ​Tetra Food​​​

​​​6. ​AquaSafe Water Conditioner​​​

​​​7. ​TetraCare Enrollment​​​
Top 7 Best 10 Gallon Fish Tank in 2020
Aqueon is a well-known brand that is famous for its superior products. If you are new in the fishkeeping scene, you might take the full benefit from the aquarium kit that Aqueon offers.
Aqueon 100527256 Fish Tank is offering you eight essential elements for your aquarium setup. With all these pieces of equipment, you will barely need anything else.
Actually, other than live plants, you will need nothing.
The best part is that you will be getting an advanced setup guide that will teach you to set up the aquarium from scratch. So, there is nothing to worry about. All you need to do is to follow the step by the step instruction manual.
Notable Features
​- The LED-equipped hood offers three modules for brighter illumination
– Comes with a 50W preset shatter-proof heater that is fully submersible
– QuietFlow 10 is one of the best power filters for small tanks like a 10 gallon
– You will be getting all the top-notch pieces of equipment that will support you greatly
– The filter is certified to offer 100 gallons per hour flow rate
– Glass construction offers scratch-proof technology
Pros
​Complete beginner-friendly setup kit
​Includes all the important pieces of equipment
​Comes with a setup guide
​Easy to setup
Cons
​The preset heater is not suitable for all fish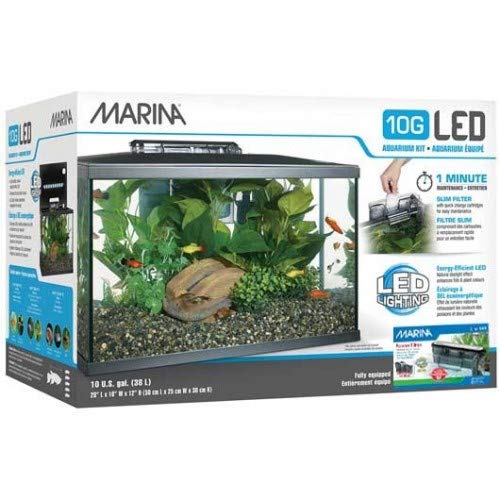 Marina is another big name in the industry that offers a quality product at an affordable price point.
Just the kit from Aqueon, they have stuffed all the important pieces of equipment that a new hobbyist might need.
However, not all the products in the Marina LED Aquarium Kit comes from Marina. For example, the food and the biological supplement is from Fluval – another big name.
I think this is an excellent move as they are showing a commitment that they will deliver only fine quality products.
Still, I think they could have included a heater and a thermometer.
Notable Features
​- Marina S15 Clip-on filter offer quick cartridge change option
– The LED lighting can mimic the brightness of a broad daylight
– The care guide suggests you the best pieces of advice by experts on setting up and maintaining the aquarium
– Biological supplements encourage helpful bacteria growth in the tank
– The fine soft mesh of the fishnet protects the delicate fins of your fish
Pros
​Has a biological supplement that promotes friendly bacteria
​Comes with a setup guide
​Easy to setup
Cons
​Doesn't include a heater and thermometer
More or less, all the glass aquariums offer typical boxed design – expect Penn Plax Curved Corner Glass Aquarium.
The curved corner aquarium serves more than the purpose of enhancing beauty. You will not suffer from leaky corners with this design philosophy. Also, you will get a better view of the elements in the aquarium.
The hinged style canopy is also a unique addition that is hard to find among other brands.
Moreover, you will be getting all the necessary pieces of equipment with the kit. All you need to get is the decorations like the plants and the aquarium rocks.
I think this is the best 10 gallon fish tank for a betta!
Notable Features
​- Offers a contemporary NEO design philosophy
– Clear lid allows more light entering the tank
– The mountable LED light offers comfort and flexibility
– The Cascade 3000 internal filtration is powerful yet quiet
– 3-piece glass construction offers leak-free performance
Pros
​Sleek and beautiful design
​Comes with a mat
​High-quality filter
​Leak-proof design
Cons
​The LED light doesn't have an on-off switch
​To open the lid, you will have to move the light away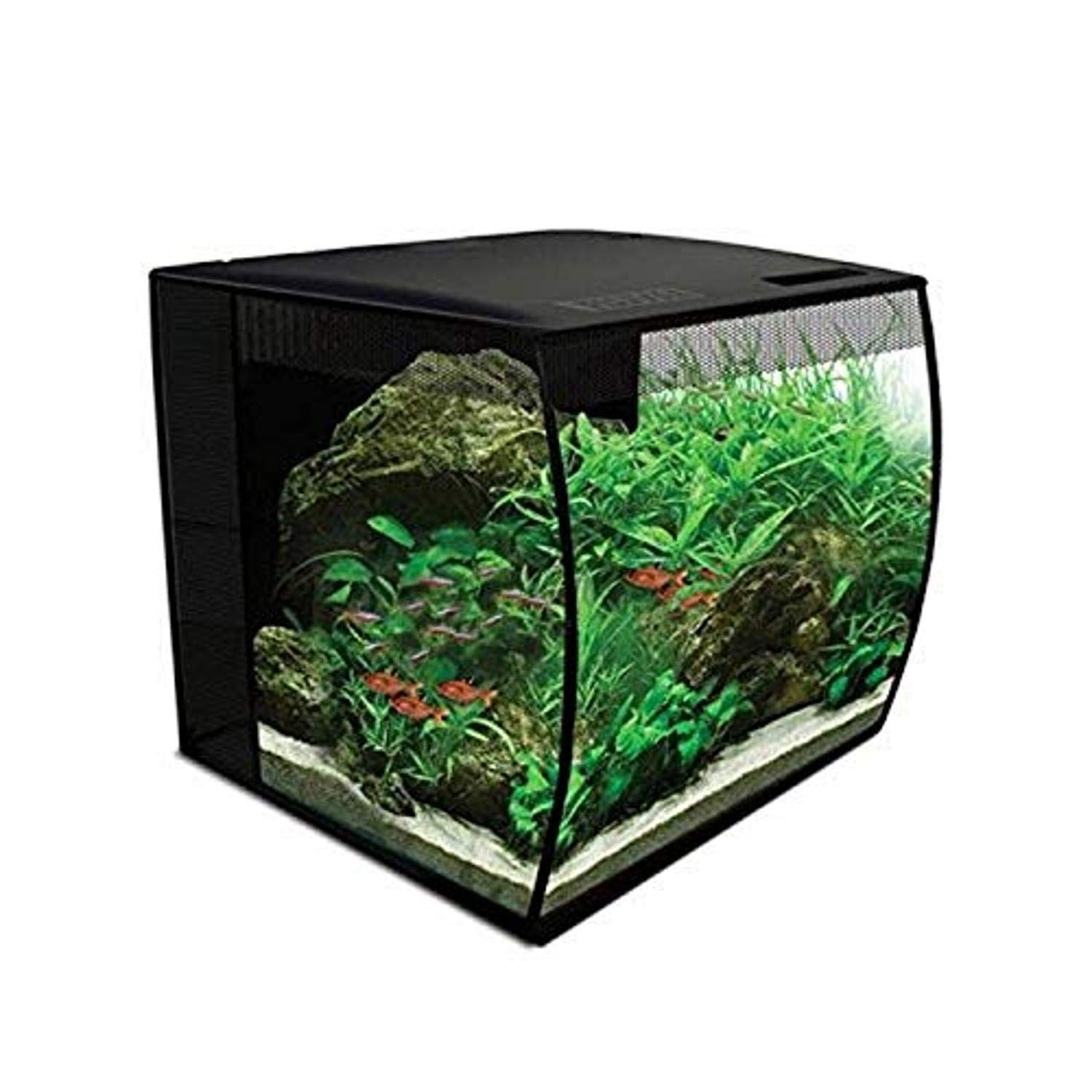 As we are on the topic, let's talk about another aquarium that follows the contemporary design philosophy.
Hagen HG Fluval Flex Aquarium offers the best-looking aquatic display with a 36 white and 3 RGB light setup. Furthermore, you can control the lighting mode with the FlexPad remote control.
The warmth of the 7500K light setup can help your plants grow at a steady pace.
What about the filter?
It offers a three-stage filtration that offers a multi-directional 61 GPH flow rate with a dual output channel.
You can also hide all the mechanical devices behind the honeycomb wrap so that they are away from the viewers' eyes.
If you ask me, this is the most spectacular looking glass tank on my list today.
Notable Features
​- Comes with 36 white and 3 RGB 1900 lux LEDs
– 7500K warmth allows the plants to engage in the photosynthesis process comfortably
– You can control the lighting moods with IR-sensor of the FlexPad remote
– The dual-channel filter uses foam, carbon, and BioMax for three-stage filtration
– Has a curved front part
– You can hide different components behind the honeycomb wrap so that the aquarium feels clean
Pros
​Superior LED setup
​Powerful filter
​Remote control lighting setup
​Aesthetically pleasing
Cons
​Doesn't include all the pieces of equipment like heater or thermometer
​Expensive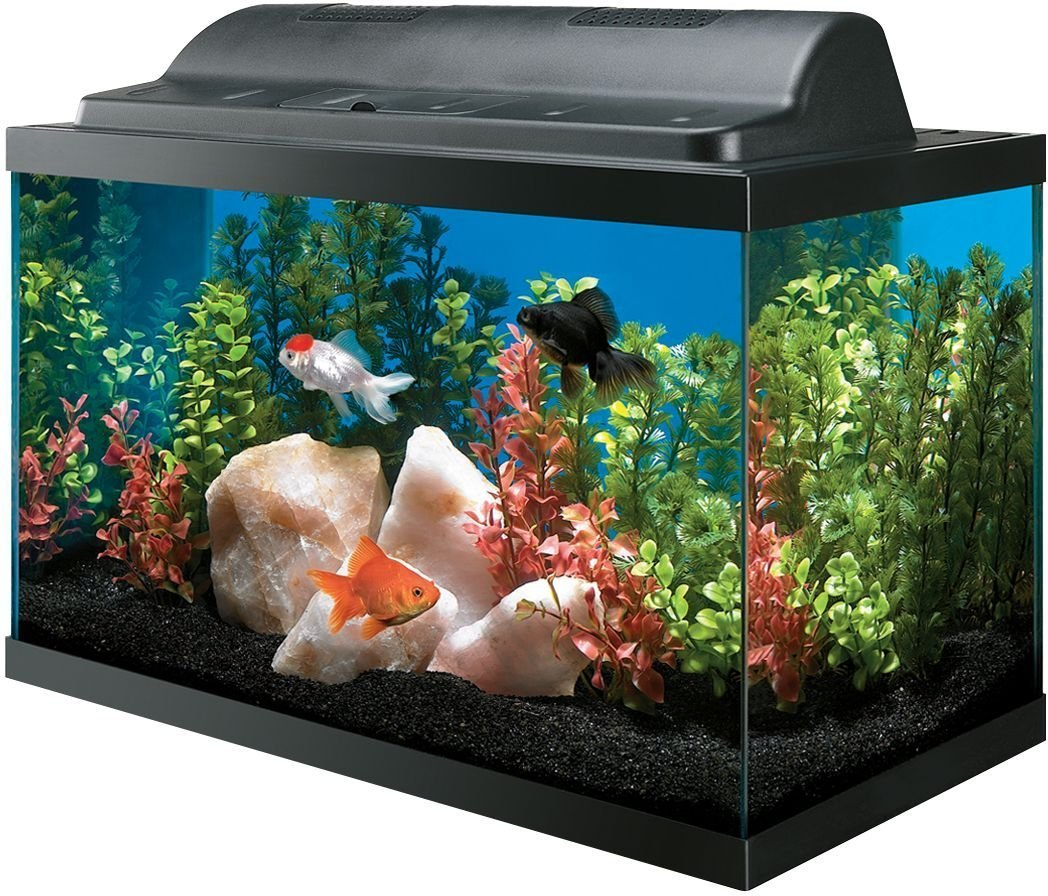 Finding an all-glass aquarium is a rare occasion. Only a few brands make such a marvelous aquarium. It follows the traditional rectangular glass tank design philosophy.
With the black Eco hood on the top, you will most certainly have all of your attention in the middle of the tank.
There is no doubt that All Glass Aquarium AAG09009 Tank is a great product, but you will have to buy all the other components separately.
The kit includes only the aquarium and the hood.
That's it!
Other than this fact, this product is rock solid.
Notable Features
​- All-glass design with black trim
– Simple easy-to-use design
Pros
​Simple, traditional design
​Sturdy construction
​Easy to use
Cons
​No component is included with the kit except the hood
​Cost hikes as you will have to spend money buying the supporting materials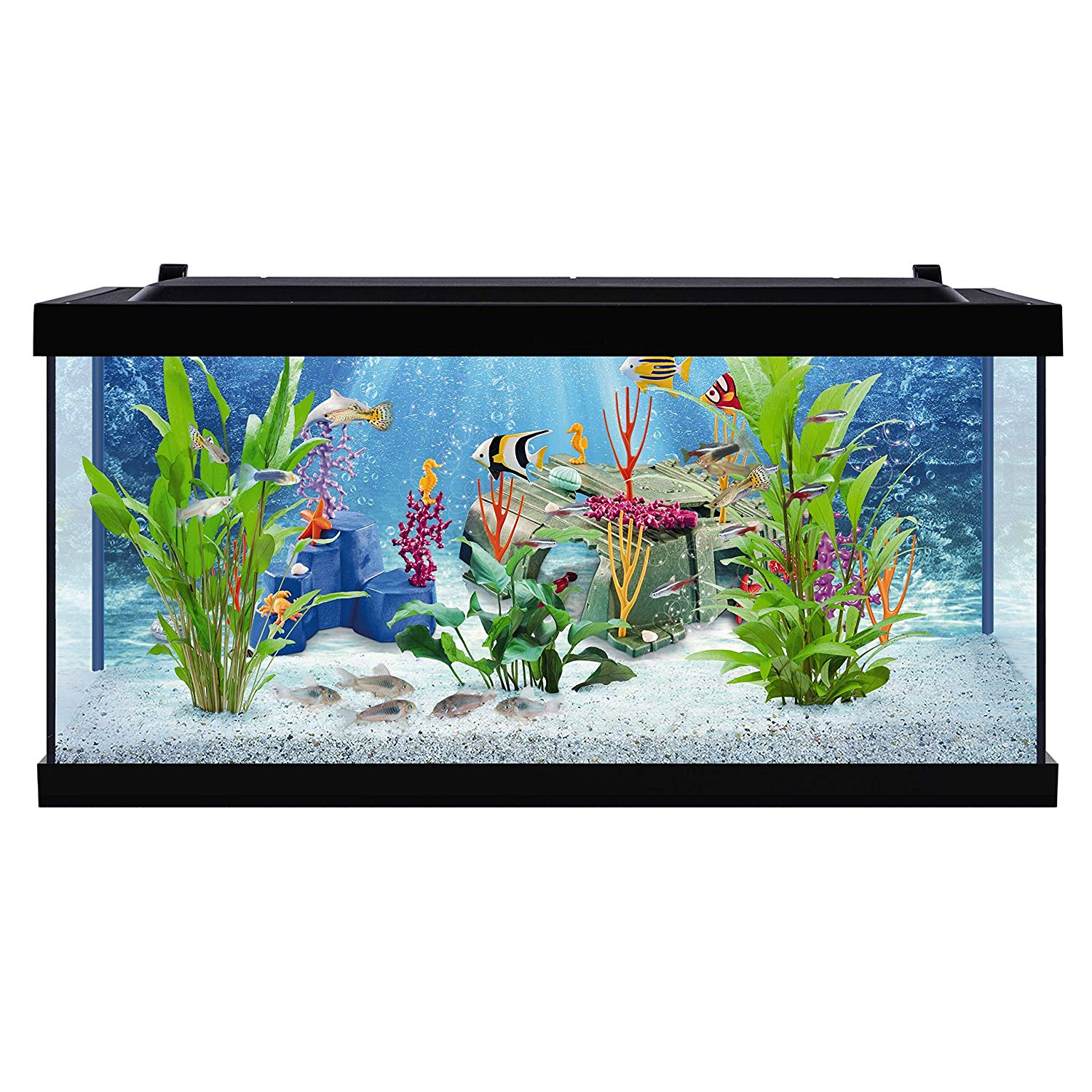 Tetra is one of the big players in the market. It was certain to come to my list today sooner or later.
Tetra Playmobil Explore is an aquarium kit that is oozing with enthusiasm and joy. You will have a playmate called Tom, who is a scientist working in a lab. Together, you will make the most spectacular looking tank.
Tetra is famous for offering superior quality water with its Whisper filters and AquaSafe water conditioners. With this kit, you will be getting both of the components.
The kit is loaded with features, as you will be getting all the important tools that you need to set up your first aquarium.
Plus, you can have a great time playing with Tom!
Notable Features
​​- Has mercury-less bright LED lights that you can turn on or off with a switch
– Comes with remarkable Tetra Whisper filters that are known for quiet operation
– Allows you to customize the look with the reversible aquarium background
– It's an all-in-one aquarium kit
– Comes with a fully submersible heater
Pros
​All-in-one beginner0frindly kit
​Easy to set up and maintain
​Has a joyful cartoony touch with the packaging
Cons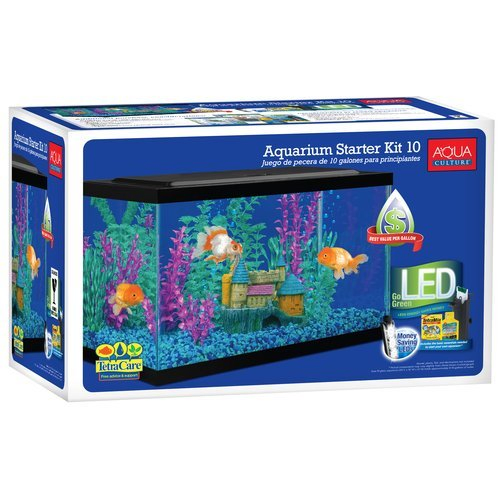 Okay, let's finish the product reviews with a simple, basic, and quality aquarium kit – Aqua Culture 10-gallon Aquarium Starter Kit.
It has all the necessary components that you will need to start your fishkeeping hobby. Aqua Culture is only providing the tank and the hood. They have collaborated with other brands in the market to assemble the whole kit.
The best thing about this aquarium is durability. I was surprised seeing the strength of this budget-friendly tank. I could never say the aquarium is cheap but a value champ.
Yes, the light setup is a bit mediocre, but that doesn't matter that much.
They have collaborated with Tetra to supply the filter, food, and water conditioner. Although, I was a bit sad seeing that it doesn't contain any heater or thermometer. Otherwise, I could have called it an all-round kit.
Notable Features
​- Follows the traditional design philosophy – squared box tank with low profile hood.
– Tetra internal filer is very powerful yet quiet
– Comes with a free sample of Tetra food and water conditioner
Pros
​Simple yet sturdy
​Offers free samples
​The glass is very durable
​Contains a fish care guide
Cons
​The quality of the lighting is inferior
​Doesn't have heater and thermometer in the kit
How to Get the Best 10 Gallon Fish Tank? The Buying Guide
Most of the new fish keepers who are getting excited about getting a new fish, choose a 10-gallon tank. You can call it a basic tank that can house one or two small fish.
In most cases, you will see a betta or a guppy in such a tank. They are the best fish for 10-gallon aquarium.
That's why sometimes, the 10-gallon tank is commonly known as the "betta tank."
Actually, you can have any kind of small fish in a 10 gallon tank.
If you want to find the list of coldwater fish for a 10-gallon tank, follow this complete list.
Choosing the best 10-gallon fish tank is quite easy. Just make sure you are considering the following factors –
Glass vs. Acrylic
While you are heading the stores for an excellent 10-gallon tank, the first thing that you need to decide is the construction material of the tank.
Mostly, you will find two choices – glass and acrylic. There are some cheap plastic options, but I would suggest you stay away from them.
Glass Tanks: The Traditional Choice
Traditionally, there were only glass tanks. There is nothing wrong with the glass build, but they are heavy and brittle. They can cause some nasty accidents.
However, there are a ton of positive sides of owning a glass tank. Glass will never lose the pure crystal clarity. Even all the other materials actually try to mimic the clarity of the glass tanks.
But the best feature of a glass tank is the evergreen color retention quality. An acrylic tank will turn yellowish over time.
Trust me; a yellow tank looks ugly, very ugly!
A glass tank was good enough. So, why did acrylic tanks come to being?
Acrylic Tanks: The Modern Choice
An acrylic tank tries to eradicate all the negative sides of a glass tank.
So, what was the biggest negative trait of a glass tank?
Durability issues.
On the other hand, an acrylic tank is shatterproof. So, you can sleep in peace with an acrylic tank in your home. You can also move the tank here and there if you don't like the position of the tank.
Why?
Because an acrylic tank is lightweight.
But on top of that, they are leak-proof. Acrylic molecules bond better together, which makes the corners leak-proof.
Also, the acrylic tanks have heat retention properties. This makes the tanks a better choice for tropical fish as they need to be at a constant temperature.
However, there are three negative sides of having an acrylic tank. Acrylic tanks have more plasticity so they can bend under pressure. Also, if you leave the tank under sunlight, it will turn yellow.
Lastly, acrylic tanks are prone to scratch. On the other hand, the glass tanks are scratch-resistant.
Also, after a few years of use, the acrylic tank will turn yellow automatically.
Price: The Critical Factor
A 10-gallon fish tank has become so popular because of the price tags. These tanks are cheap. So, it is the go-to option for the budget concerned buyers.
However, there are still some 10-gallon tanks that are expensive. For example, glass tanks tend to be pricier, and the acrylic tanks tend to be very cheap.
So, why should you bother getting a glass tank?
Because the glass tanks will last for years to come.
Moreover, you will need to plan for spending extra money if you are looking for additional features.
Always think of the size. Typical 10 gallon fish tank dimensions is 20″ x 10″ x 12″.
So, I would suggest you making a proper budget plan before you start shopping. There will always be a better and pricier version.
More: Best Salt for Reef Tank
What Devices Are Coming with the Tank?
If you are a new fishkeeper, you might think that a tank is all you need to keep a fish.
Boy, you are so wrong!
There are several things that you will need to have if you want to see your fish thriving. You can buy these devices separately, but a lot of aquarium kits sell them in bundles.
Take a look –
Aquarium Filter
This is by far the most important device that you will need. A filter cleanses the water by removing the debris and detoxifies the toxins coming from the fish.
Some filters serve the purpose of a wavemaker that creates a gentle wave in the tank to mimic the natural environment.
More: Your Guide to a Peacock Cichlid
Aquarium Lighting
An aquarium lighting serves two purposes – giving the fish a sense of day and night to help them maintain a cycle and help the plants with the photosynthesis process.
An aquarium light will also help you regulate the temperature so that your fish can live comfortably.
Tank Heater
Most of the fish are temperature sensitive. They display unique traits at different temperatures.
For example, Koi fish stops eating at a colder temperature while it eats five times a day at a warm temperature. On the other hand, tropical fish like betta or guppy prefer living at 78°F.
More importantly, the unsuitable temperature might cause different diseases to the fish. So, you must need a tank heater to regulate the temperature in the tank.
If you have a poor thermal control in the tank, it might even lead to disastrous accidents.
Never settle for a cheap or poorly designed heater.
Water Conditioner
No matter the source of the water, it will eventually get intoxicated. You see, the wasted food grain and fish poop rot in the water and produce toxic elements like nitrites and nitrates.
The water conditioner reacts with these toxins and detoxifies them. Some filters can eradicate the toxins from the tank, but none of them can perform as efficiently as the water conditioners.
Automatic Feeder
What will your fish eat during the days you are on vacation? It's not like that you can't leave your house just because you keep fish at your house.
Luckily, an automatic feeder can help you from the hassle. The automatic feeder releases a selected amount of food in the tank regularly.
Although, you can skip this device if you have plants in the tank.
Plants
Plants play a vital role in a tank. And no, they are not just another decorative item in the tank. Some people indeed use plastic or fake plants to enhance the beauty of a tank.
But live plants can serve as additional food for the fish. You will hardly need to supply natural greens in the tank if you have edible plants in the tank.
Moreover, you can mimic a natural habitat for your fish so that they can feel at home.
CO2 Diffusers
Typically, a CO2 diffuser is not a mandatory item. But if you have too many plants in the tank and only a few fish, you should get one for the tank.
With this device, your plants will get enough amount of CO2 to start the photosynthesis process.
If you don't have plants in the tank, you can skip this device.
As you can see, there are a lot of items that you will need to buy for your 10-gallon fish tank. You should buy most of these items separately. In this way, you can get the best products.
Not every single item coming from the same brand is perfect. So, getting a complete aquarium kit might not be the best option.
How to Set Up a 10 Gallon Fish Tank?
This is a very important question that bug the minds of the new fishkeepers. Despite the sound of it, setting up a 10-gallon fish tank is quite easy.
So, let's take a look at some common 10-gallon fish tank setup ideas –
The very first step is finding a suitable place for your tank. If you have got an acrylic tank, I would suggest you avoid any place with direct sunlight.
Casting direct sunlight will make the tank turn yellow. Also, you should get an artificial lighting system for your tank.
Whichever place you choose, avoid placing the tank on the floor. It should be placed on a table or a raised platform.
Once you have made up your mind and placed the tank, you will have to set up the filtration system. You should follow the instructions set by the filter manufacturer. Just make sure the open ends of the filter remain open.
Now, it's time to add the fish tank decorations.
You should start by adding the substrate level. You can use sand, tank soil, or gravel. Just make sure that the coarse materials are dirt-free.
Next, you should place the aquarium rocks. Try to be as creative as possible. These rocks give character to the tank. Think of the scenario that you want to create for the fish.
Soak the rock for a few days in water so that algae can grow on them naturally. This the best way to use the aquarium rocks.
Now, it's time to plant the plants. The type of plants depends upon your taste and the type of fish you are keeping there. Use forceps to plant each plant individually.
You are almost ready!
You can now place all the devices that you plan to use in the tank. I am talking about installing heater, lighting, CO2 diffuser, etc.
Now, fill the tank with water. You should wait a few days so that the tank gets settled. Add various supports so that helpful bacteria can grow naturally. Also, don't forget to check the pH level of the water.
Once everything feels perfect after a few days, you are ready to add fish in the aquarium. Don't make the mistake of tossing the fish right away to the tank.
Take the fish in a plastic bag full of water. Then, place it on the water of the tank. Now, gradually add tank water to the bag.
Once the temperature and the ingredients of the tank water and the plastic bag water syncs, you can put the fish in the tank.
Remember, a 10-gallon tank is very small. You should never crowd it with too many fish.
​That's it!
Conclusion
So, what is the best 10-gallon aquarium? Actually, all the kits that I have mentioned in my review today are worth a shot.
In fact, I had to struggle a lot to pick the winners today!
Still, Aqueon 100527256 Fish Tank beats others for offering a true all-in-one aquarium kit where all the pieces of equipment were solid and have high quality.
Then, there is a tie between Tetra PLAYMOBIL Explore Your Aquarium 10 Gallon Kit and Hagen HG Fluval Flex Aquarium for the second place. I think both of them deserve the second place!