Do you intend to have a planted aquarium? Then, you MUST consider getting a fine CO2 system for your aquarium with an aquarium CO2 regulator and a CO2 diffuser.
Without a good CO2 regulator, you may kill everything in your aquarium system. This could be either because of too much CO2 or too little.
The idea is to find a perfect balance.
In that case, a CO2 regulator is an absolute MUST!
Today, I'll help you choose the best aquarium CO2 regulator and I will review only the best regulators on the market right now!
IMAGE
PRODUCT
DETAILS
rating
price

Best Overall

Fzone Aquarium CO2 Regulator

Premium Option

S.T. International Aquarium 2-Gauge Professional CO2 Regulator

Budget Option

AQUATEK CO2 Regulator Mini

Bottle Pressure: 1500 PSI
Reduced Pressure: 200 PSI

MOD Complete Aquarium CO2 Regulator

Bottle Pressure: 1500 PSI
Reduced Pressure: 150 PSI

DoubleSun Aquarium CO2 Regulator

Bottle Pressure: 1500 PSI
Reduced Pressure: 150 PSI

U.P. Aqua Co2 Regulator for Aquarium

Bottle Pressure: 3500 PSI
Reduced Pressure: 140 PSI
The Ultimate List of Best Aquarium CO2 Regulators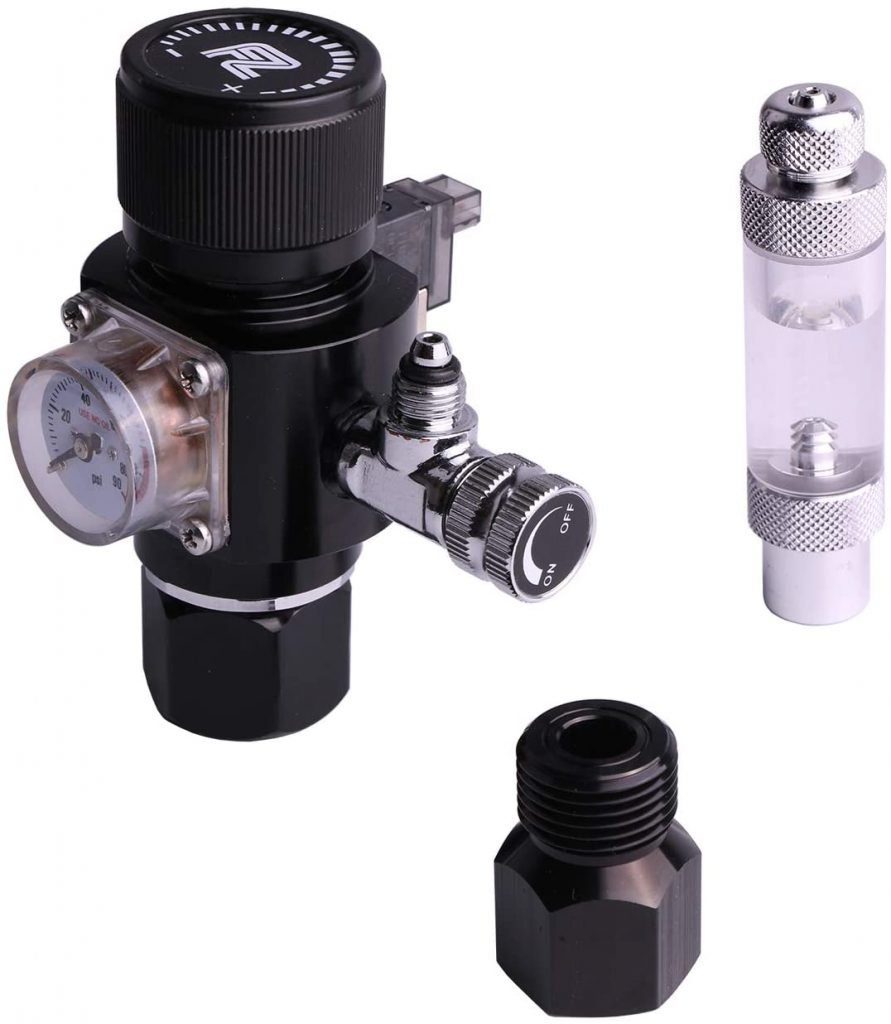 Fzone Aquarium CO2 Regulator is one of the few CO2 regulators on the market which offers triple-stage regulation. Most regulators only offer single-stage regulation, and only a few offer dual-stage regulation.
But triple stage regulation is a rare find.
Furthermore, this regulator offers the highest level of automation. So, considering all the facts, you can say that it's the best CO2 regulator for a planted aquarium.
However, there is a small issue. Some users have experienced an issue with leakage. If you find a leak in your regulator, you should contact the manufacturer and request a refund.
Product Profile – Fzone Aquarium CO2 Regulator
Type: Triple stage, single gauge
Build material: Aluminum alloy
Pressure: 0 to 60 PSI (working pressure)
Notable Features
Triple stage decompression
Fully adjustable CO2 pressure
12V solenoid (DC) with needle valve
Fully automated with ON/OFF timer feature
High precision: can output 1 bubble every 3 seconds
Comes with bubble counter and check valve to stop backflow
Compatible with regular disposable CO2 cartridges, paintball, and CGA320 cylinders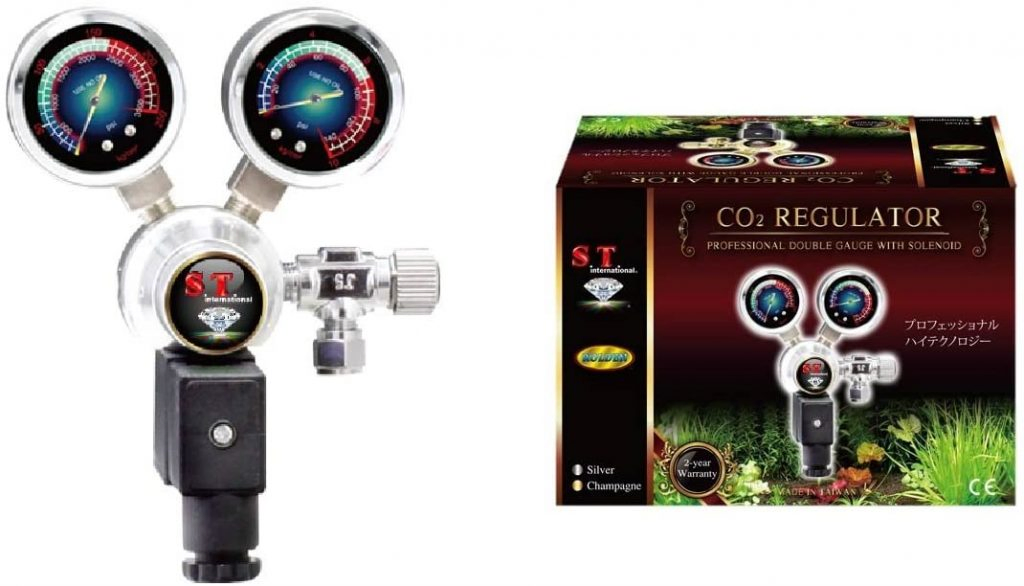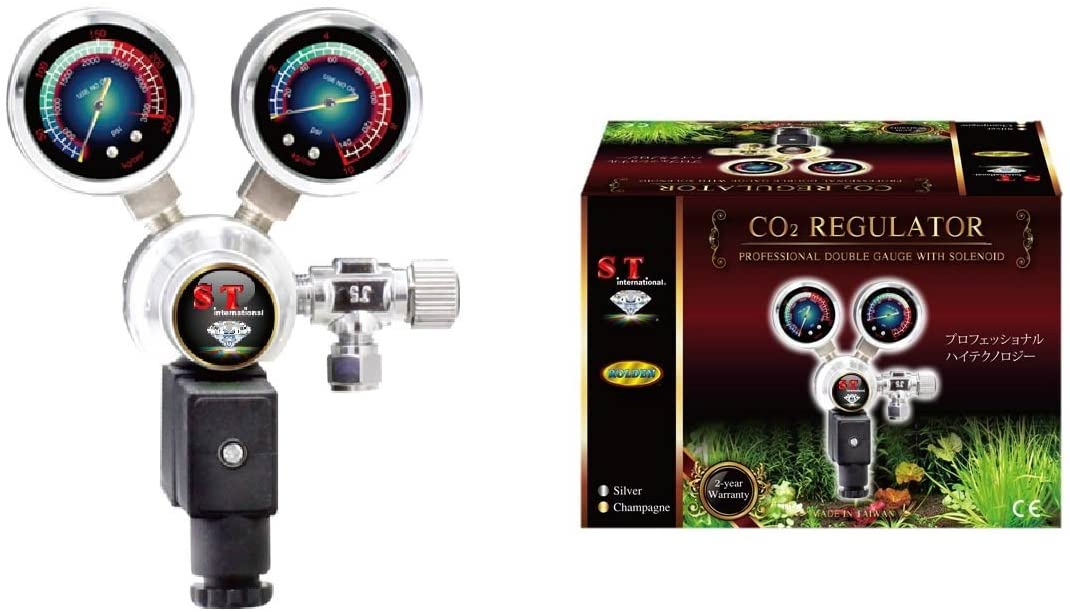 What is the absolute best aquarium CO2 regulator?
Well, if money doesn't matter to you, then the most likely answer would be – S.T. International Aquarium 2-Gauge Professional CO2 Regulator.
The main reason for this is the top-notch build quality. The heavy-duty brass is a very durable material which offers complete leak-proof operation.
Also, you will be getting a regulator which works almost silently without creating too much heat.
In addition, the CE and PSE safety certification is another thing to consider.
However, there are a few issues with the product.
Firstly, there is the issue of price, but that's not the worst thing about this regulator. There are hardly any instructions which come with it.
Also, the washers don't seem to fit the regular fittings, but overall, it's one of the best dual stage CO2 regulator aquarium.
Product Profile – S.T. International Aquarium 2-Gauge Professional CO2 Regulator
Type: Dual stage, dual gauge
Build material: Brass
Pressure: 0 to 50.286 PSI (working pressure)
Notable Features
Fully adjustable decompression pressure gauge
Dual-stage CO2 regulator
The regulator can be used with dispensable cartridges
Has pressure relief needle valve which offers full adjustability
Comes with high quality patented solenoid magnetic valve
Silent performance and low heat production
CE and PSE certification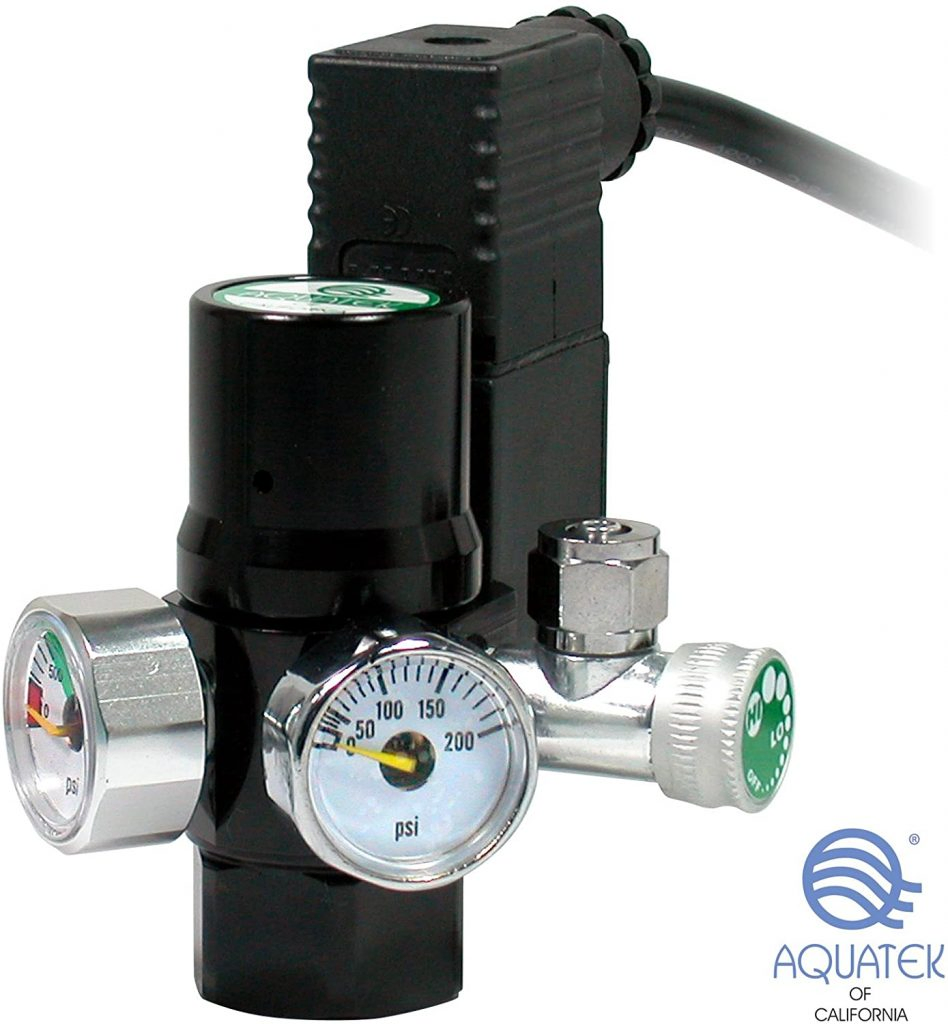 Okay, now that you are aware of the expensive option, let's talk about the budget king of CO2 regulators, the AQUATEK CO2 Regulator Mini.
You get all the attachments and features of a premium option without paying too much.
However, you might struggle with this due to the inconsistent output.
Product Profile – AQUATEK CO2 Regulator Mini
Type: Dual gauge
Build material: Plastic and steel
Pressure: Bottle pressure: 1500 PSI, Reduced pressure: 200 PSI
Notable Features
Cool touch solenoid
High accuracy needle valve
Comes with a bubble counter and integrated check valve
Matches with most CO2 atomizers and diffusers on the market
Auto-matches with all paintball tanks without an adapter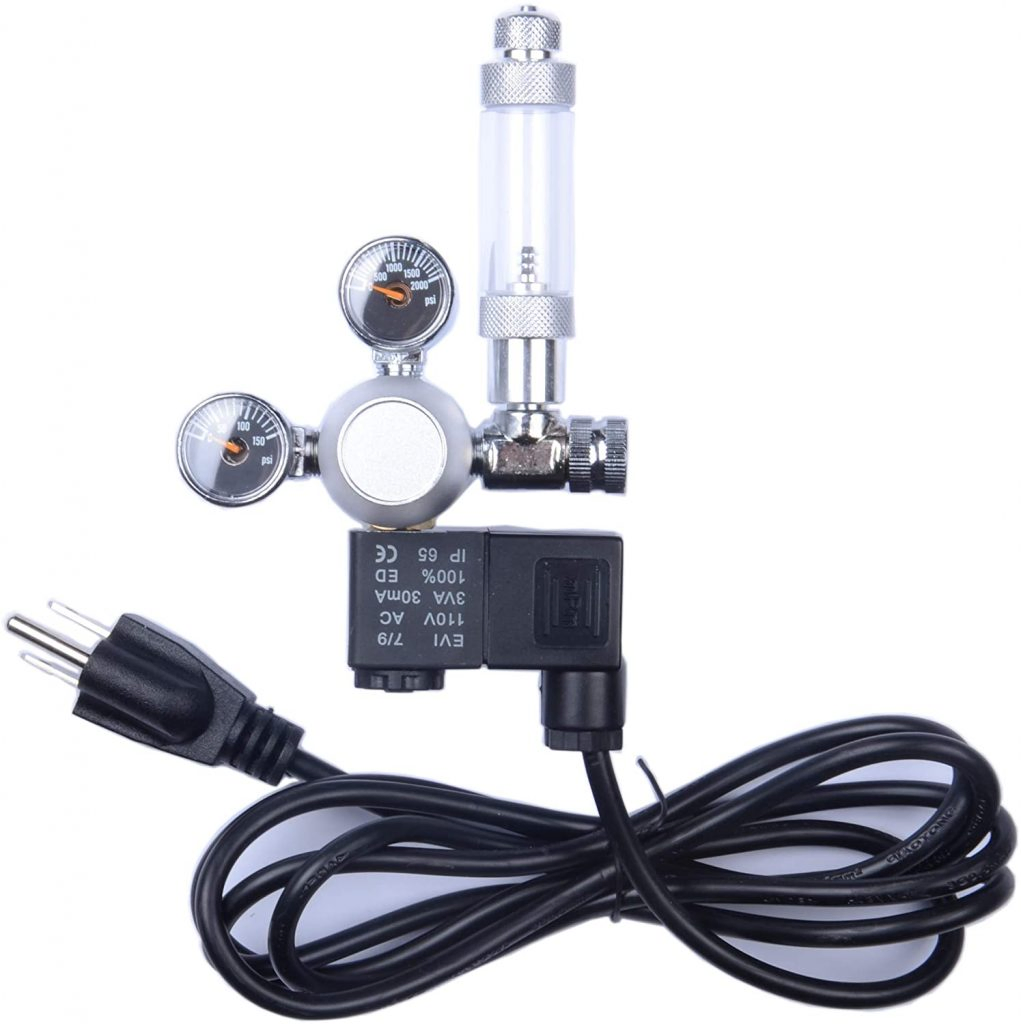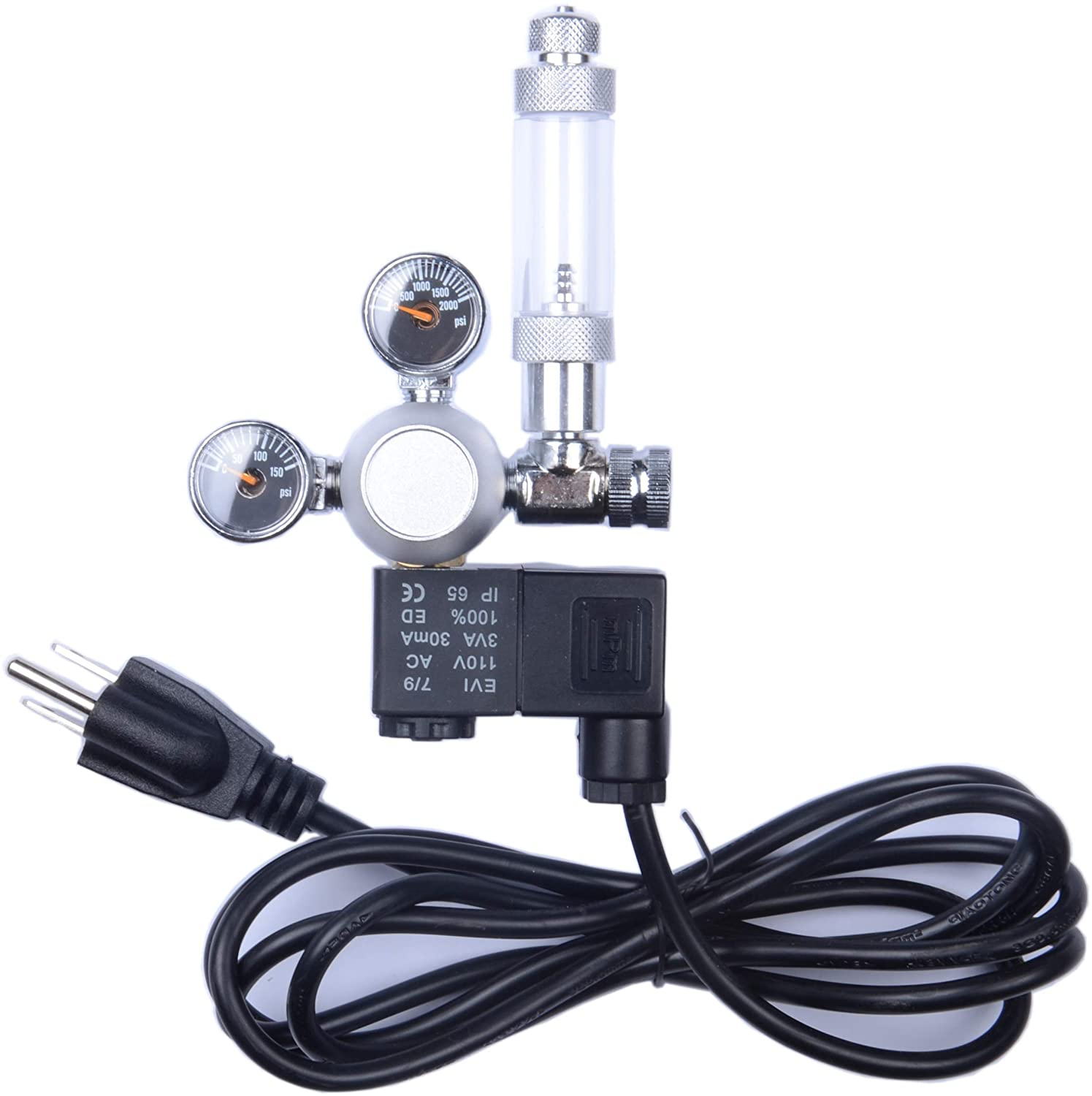 Listen here, there are two things which you should prioritize the most: build quality and precision.
You'll get both of these features with the MOD Complete Aquarium CO2 regulator.
I must praise the needle valve of this regulator. It has by far the best needle valve on the market.
But on the other hand, you'll need to compromise with the solenoid and the occasional issue of leaking.
Product Profile – MOD Complete Aquarium CO2 Regulator
Type: Dual gauge
Build material: Blue stainless steel
Pressure: Bottle pressure: 2000 PSI, Reduced pressure: 150 PSI
Notable Features
Fully adjustable output pressure
High precision needle valve
Comes with various attachments
Dual gauge display
Fits all US standard tanks
Comes with bubble counter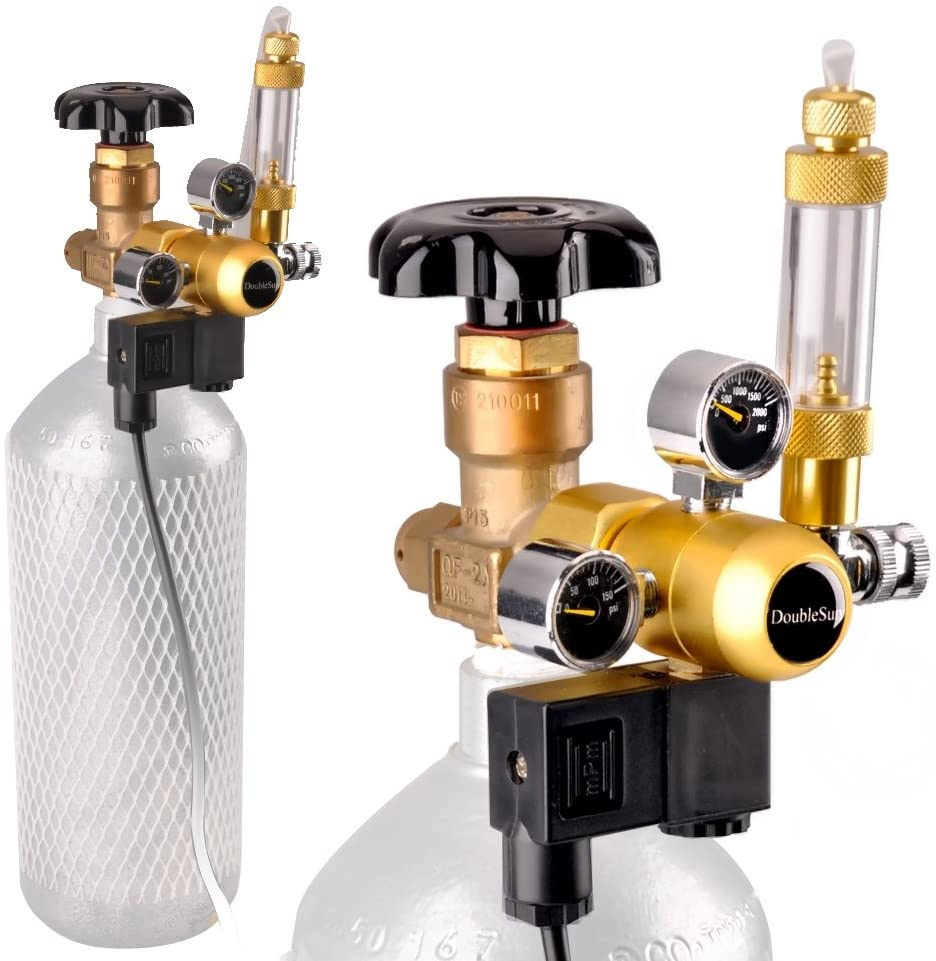 DoubleSun's Aquarium CO2 regulator has a huge following mainly due to its precision controls.
They can offer such high-quality precision because of the micro-adjust valve. This is a small valve which allows you to control CO2 flow more accurately.
It's a unique add-on which very few manufacturers offer.
The only negative thing about the regulator is that the bubble counter doesn't rotate.
Product Profile – DoubleSun Aquarium CO2 Regulator
Type: Dual gauge
Build material: Brass
Pressure: Bottle pressure: 2000 PSI, Reduced pressure: 150 PSI
Notable Features
High quality dual gauge configuration for better control
Superior sealing quality ensures leak-free usage
Has a micro-adjust valve for fine tuning the CO2 output
Comes with all necessary attachments with bubble counter and check valve
Superior solenoid build quality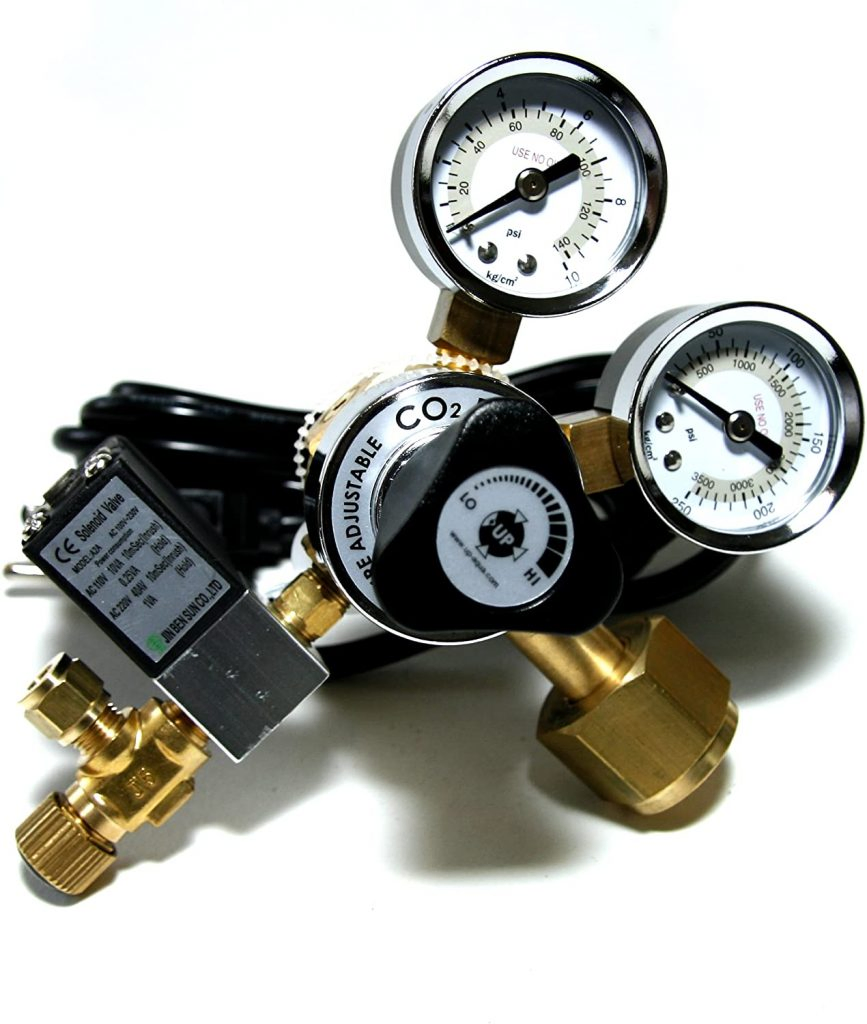 Not many people talk about the U.P. Aqua CO2 regulator but it's a steal at the price!
You get full adjustability, timer control, patented low-heat design, and heavy-duty brass construction.
Also, the pricing doesn't seem too much, and it's very affordable.
However, the system can break down if you don't follow the instructions properly, but otherwise, this is a fine automatic CO2 system for your aquarium.
Product Profile – U.P. Aqua Co2 Regulator for Aquarium
Type: Dual gauge
Build material: Heavy duty brass
Pressure: Bottle pressure: 3500 PSI, Reduced pressure: 140 PSI
Notable Features
Fully adjustable output pressure
CE and PSE safety certification
Patented low-heat producing design
Patented magnetic solenoid valve
Timer control
Connects to all US standard tanks CGA 320
How do You Choose the Best CO2 Regulator for a Planted Aquarium? Buying Guide
CO2 becomes a crucial factor in more intricate aquariums.
Plants require CO2 to participate in the photosynthesis process, but on the other hand, fish will suffer if the CO2 level increases.
What you need is the right balance.
From that point of view, a CO2 regulator is a must-have device for your planted tank.
However, choosing the best aquarium CO2 regulator isn't an easy task, especially, if you're building your first aquarium. Technical jargon can make the process even tougher.
So, let's focus on the important parameters.
Try asking these questions before jumping onto the conclusion.
More: Check Our Guide to Low light Plants
How Easy or Functional Is the Usability?
Almost all basic CO2 regulators follow a simple design principle. There are connecting tubes to pump the CO2 in the tank and control knobs to set the ideal CO2 level.
It SHOULD always be as simple as that. It's not rocket science.
You may need to experiment with the CO2 level for a few days in order to find the ideal value for your particular setup.
Can You Read the Gauge Data?
All you need to do with a CO2 regulator is to find the perfect CO2 pressure. It would be quite inconvenient if you couldn't see the gauge data.
The bottom line is that the CO2 regulator should have a pressure gauge which is easy to read.
Is the System Dual Stage?
There are two basic classifications of CO2 regulator: single stage and dual stage.
Basically, dual stage regulators are two regulators combined into one. The first stage keeps the pressure constant and the second stage helps you make smaller changes to fine-tune the CO2 level in the tank.
Obviously, a dual stage regulator will help you regulate CO2 with more finesse.
However, they can be pricey.
A single stage regulator offers better value and serves the main purpose, but a dual stage system offers consistency and reliability with a higher price tag.
The decision is yours.
Compatibility – Does the Regulator Complement the Whole System?
A regulator is a device which controls the CO2 flow from a CO2 cylinder to the tank. Therefore, it must sync with the cylinder and the atomizer or diffuser.
There are certain types of cylinders on the market – a 5lb cylinder, a 10lb cylinder, or a common paintball cylinder.
If you have a 5lb cylinder and buy a regulator which is only compatible with paintball cylinders, it won't do you any good.
You must therefore make sure to check the compatibility of the regulator with the cylinder type and size of your system.
Similarly, the regulator should fit with the atomizer or the diffuser.
What is Build Material?
You certainly don't want your CO2 regulator to fail within a few months. The sturdier the product, the longer it will serve you.
Popular material choices for regulators are:
Stainless steel
Brass
Aluminum
Cast iron
Among these options, stainless steel and brass offer the best durability. However, there are certain manufacturers which use aluminum alloy which is pretty sturdy too.
You should avoid cast iron altogether as it is prone to rusting.
What Accessories Come with the Product?
CO2 regulators should come in packaged options, as there are certain accessories which are crucial for proper operation.
Think of these accessories like your phone's charger. Without a charger, your phone would become obsolete in a few hours.
Here's the complete list of accessories:
Needle valve
Bubble counter
Solenoid valve
Gauges
Check valve
Washers
Needle Valve
Don't you want to know how much CO2 is entering your tank?
Of course you do.
This is the only valid parameter for controlling the CO2 flow in your tank.
A needle valve or pressure relief valve does exactly that for you. It controls the CO2 flow rate (CO2 bubbles per second) in the tank.
So, this is the most important add-on for your CO2 regulator. Make sure to buy a good one for your system if it doesn't come with a regulator, otherwise you'll be sorry!
Bubble Counter
A bubble counter is an extra item. It counts the number of CO2 bubbles entering the tank each second with a visual aid.
It's NOT an absolute essential as you are already monitoring and controlling the CO2 level using the needle valve.
However, if you want to be extra sure of what you doing, you should get one, because it helps you adjust the CO2 flow rate in an even more precise level.
Solenoid Valve
A solenoid valve is a special type of valve controlled with electromagnetic properties. Basically, it turns the CO2 regulator on and off with a timer.
Plants only require CO2 during daytime (lights on period). It can't partake in the photosynthesis process without light.
So, regulating CO2 during the dark period is a waste. It's also dangerous as the CO2 just sits at the bottom of the tank as plants don't use it.
A solenoid valve automatically opens and closes, depending on your preference, saving you from wastage and nasty accidents.
Gauges
Controlling the pressure (psi count) is one of the most important functions of a CO2 regulator. Typically, a regulator does this with the help of two gauges:
Low pressure gauge (active pressure gauge or reduced pressure gauge)
High pressure gauge (cylinder pressure gauge or bottle pressure gauge)
As you can see, different manufactures call these gauges by different names.
The CO2 pressure in the cylinder remains high, often more than 1000 psi, but such pressure is too much for the CO2 diffuser or the atomizer.
This is why the regulator reduces the active pressure to around 50 psi.
The low pressure gauge indicates active pressure which often sits from 30 to 200 psi. And the high pressure gauge indicates the cylinder pressure which sits from 800 to 2000 psi.
A regulator with both of these gauges is known as a dual-gauge regulator. However, don't confuse a dual-gauge regulator with a dual-stage regulator.
Both are very different.
Check Valve
The basic working principle of a CO2 regulator is to supply CO2 to the tank. However, in case of malfunction, the opposite can also happen!
The water from the tank can enter the regulator system and cause unwanted hazards.
The solution?
A check valve.
This makes the CO2 flow one-way so that water can't enter the CO2 system. If a regulator doesn't come with a check valve, you should buy one separately.
Never compromise on safety!
Washers
Installing a CO2 system means a lot of connections. If you're very lucky, your system will sync with every other part perfectly.
If not, you'll need washers to make the whole system airtight.
More: Best Coral Food
Why Do You Need A CO2 Regulator? The Benefits
CO2 regulators are often seen as secondary level add-ons for a planted aquarium.
Filters, heaters, and lighting systems are often given much more importance than having a decent CO2 system.
But if you have aquatic plants in your tank, the whole scenario changes. Having the optimum levels of CO2 and O2 in the tank then becomes essential.
The lives of aquarium dwellers depend on a good CO2 system.
For example, if the CO2 level increases drastically, it can potentially kill fish and other animals. On the other hand, if there is a scarcity of CO2, plants will start to die.
It's absolutely crucial to maintain the balance!
Let me tell you about three major aspects regarding the importance of a CO2 regulator.
Healthy Plants
How do plants get energy?
Yes, from the photosynthesis process. In this process, plants convert light energy to chemical energy (carbohydrate). This process is only possible if they receive CO2.
In an aquarium, plants get CO2 from fish and other living beings. But if the members of the aquarium can't produce enough CO2, the plants will start to die.
A CO2 regulator helps you control the external CO2 supply.
Without this device, plants will still struggle to find the optimum level of CO2.
Therefore, having a CO2 regulator is essential for creating a healthy planted aquarium system.
Healthy Fish
You need to remember one fact: a CO2 regulator doesn't supply CO2, it CONTROLS the flow of CO2.
Suppose you don't have this device, but you decide to buy a CO2 cylinder to supply CO2 to fight the shortage. The massive CO2 supply will soon degrade the water and your fish will start to suffer greatly.
If the amount of CO2 passes the danger level, they could die.
Also, an imbalanced CO2 level can also lead to an imbalanced pH level. Such water can cause various diseases to your fish.
Combating Algae Growth
Admit it, algae outbreak is the biggest nuisance in fishkeeping.
Whenever you create a healthy environment for your plants, you somehow end up with an algae jungle in your tank.
CO2 and ammonia are the two main reasons behind algae outbreaks in tanks.
With a regulator, you can provide the optimum level of CO2 flow in the tank to allow the plants to grow steadily without giving the algae chance to grow.
Therefore, a CO2 regulator comes in handy again.
More: Best Freshwater Aquarium Plants
What Are the Different Types of CO2 Regulator?
No, not all CO2 regulators are the same.
You are already familiar with single and dual stage regulators, and single and dual gauge regulators, but the classifications and types aren't limited to these. There are various other types of CO2 regulators on the market:
Grow Room Environment Regulators
These regulators offer the highest level of precision and accuracy among all types of regulator. You'll see most gardeners (like professional weed farmers) use them.
You CAN use them in aquariums too.
Hydroponics CO2 Regulator Emitter System
As the name suggests, these CO2 regulators are mainly designed for hydroponics. They are great for modulating CO2 with great precision in a hydroponics system.
However, you CAN'T use these in the aquariums as they are NOT suitable for smaller environments.
Day-Night CO2 Controller for Greenhouse
These regulators are perfect for large rooms and greenhouses. They are mostly used by professional gardeners and farmers. These regulators automatically increase the CO2 flow in the daytime and reduce (or stop) the flow at night.
As with the previous type, you CAN'T use these in your aquarium.
As you can see, you can't just buy any CO2 regulator for your aquarium. You must make sure that the CO2 regulator you buy is suitable for an aquarium and NOT for regular gardening.
How do You Use a CO2 Regulator in an Aquarium?
A CO2 regulator is a fairly simple tool to use. All you need to do is connect all the parts one after another.
As there are a lot of variants available these days, I suggest you stick with the instructions from the manufacturers.
If you want to learn the basics, follow these step-by-step guidelines:
Step 1: Connect to the CO2 Canister
Firstly, you will need to connect the regulator with the CO2 cylinder or canister. You will need to have the perfect connector otherwise there will be leakage.
The most common type of cylinder is a paintball cylinder. If you are buying from a reputable brand, it should include a paintball connector.
Make sure that there is no leak.
Step 2: Connect the Tubing
Now, one end of the regulator is connected to the CO2 cylinder and you will need to connect the other end to the tube which will provide CO2 into the tank.
After attaching the tube, you should attach a check valve to ensure one-directional CO2 flow.
Step 3: Connect to the CO2 Diffuser
The final connection is between the outlet pipe from the check valve and the CO2 diffuser. Some CO2 diffusers come with a bubble counter, and some don't.
If your system doesn't have one, you should buy a separate one.
Trust me, this helps.
A bubble counter will help you regulate the CO2 flow more efficiently.
After connecting to the CO2 diffuser, put it in the back of the aquarium. Actually, you can place the diffuser anywhere you please, but I personally prefer putting it in the back, away from observers.
Step 4: Test with Drop Checkers
It's essential to check the CO2 concentration in the tank. The best way to check this is by using a drop checker.
A drop checker is a simple device which helps you measure the quantity of CO2 with changing colors.
When CO2 enters the chamber in the drop checker, it reacts with the chemicals in the device and changes color.
The following chart will help you:
Drop Checker Color Matrix
Blue: Low CO2 concentration
Green: Balanced CO2 concentration
Yellow: High CO2 Concentration
The last step of CO2 regulator installation is assembling the drop checker in the tank.
It's quite easy.
Simply use the suction cups (the most common installation method) to attach the checker to the aquarium wall.
If you are using a particle counting tool, the ideal CO2 level ranges from 23 to 25 PPM in an aquarium.
Conclusion
So, what is the BEST aquarium CO2 regulator?
Fzone Aquarium CO2 Regulator comes in first place for having three-stage regulation and automation features.
Then, S.T. International Aquarium 2-Gauge Professional CO2 Regulator comes in second place with its STRONG build quality.
Finally, AQUATEK CO2 Regulator Mini comes in third place for being the budget king.