Getting aquarium lights is not a luxury but a necessity. If you are planning to have plants in the tank, then think of the lights as a must.
Among all types of lights, certainly LED prevails superiority above the others. With the LED lights being too popular, you can find an abundance of options available in the market.
So, how can you get the best LED aquarium lighting?
It's quite easy! You will have to understand what your fish and the plants need particularly.
Don't worry, to make things easier, I will be adding a buying guide for you guys.
Let's begin!
| ​Name of the Product | ​Suited for | ​Rating | ​Price |
| --- | --- | --- | --- |
| | ​Freshwater aquariums | | |
| | ​Freshwater aquariums | | |
| | ​Marine and Freshwater aquariums | | |
| | ​Marine and Freshwater aquariums | | |
| | ​Freshwater aquariums | | |
| | ​Freshwater aquariums | | |
| | ​Freshwater aquariums | | |
| | ​Freshwater aquariums | | |
| | ​Freshwater aquariums | | |
Why Should You Bother About Having LED Lights? The Benefits
Before we jump into the main topic, first, let's take a look at the benefits.
So, are the LED lights only about boosting the beauty of your aquarium?
No, definitely no!
You will need to have the lighting setup to help the photosynthesis process if you have plants in the aquarium. Moreover, you are creating a habitable space for your fish. If you leave you fish in a dark, gloomy space, your fish will certain become stressed or depressed.
So, if you want to see your fish thriving, you need to get a lighting system.
But why LEDs? Why not the other type of lights?
– LED is the most advanced energy-efficient lighting option. You can save 25% to 80%, depending on the type of LED light you are getting.
​- ​Typically, LED lights are cost-effective and offer great value.
​- ​You will be getting brighter lights. A 20W LED can offer 2000 Lumens while you will need a 100W iridescent light to get such lumen count.
​- ​An LED Can offer a wide spectrum of light intensity.
​- ​It's an environment-friendly option, it doesn't contain any toxic raw materials like some other lights.
– Most of the LED lights are water-resistant. So, they are safe to use in an aquarium.
Okay, now that you are getting interested in the LED lighting, let's check out the best aquarium LED lighting options available in the market right now.
9 Best Aquarium Lighting of 2020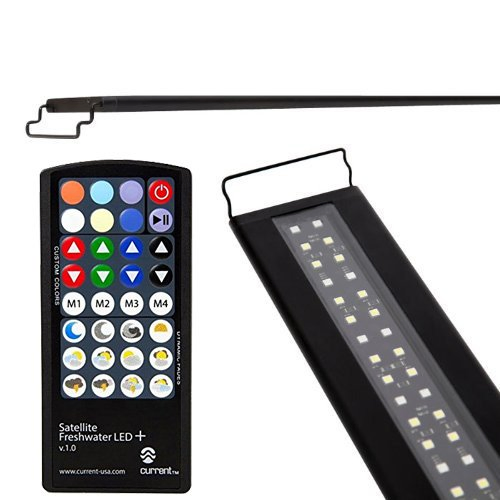 Current USA Satellite is by far the most popular aquarium light option among the fish keepers. Apart from having all the great features, you will be getting multiple modes.
It has sliding and docking legs for the easier installation process. The manufacturers also say that the light mimics the natural daylight. The lunar mode and the duck mod can really change the mood-setting.
Without a doubt, this is the best freshwater aquarium lighting.
Moreover, you can control the light with an IR remote control system that has customizable 32 buttons.
Notable Features
​- Has the standard 6500K warmth with 445nm blue light availability
– Has three cloud cover modes, two lunar modes, two storm modes, and one dusk mode
– Sleek aluminum build
– Orbit tank arm mounting system
– Complete color control
– IR remote control with 32 customizable buttons
– The adjustable size that fits any size of aquarium
– Programmable
Pros
​Loaded with features
​Water-resistant
​Eight color modes
​Programmable
​Standard light and color specification
Cons
​Not suitable for large aquariums (larger than 48")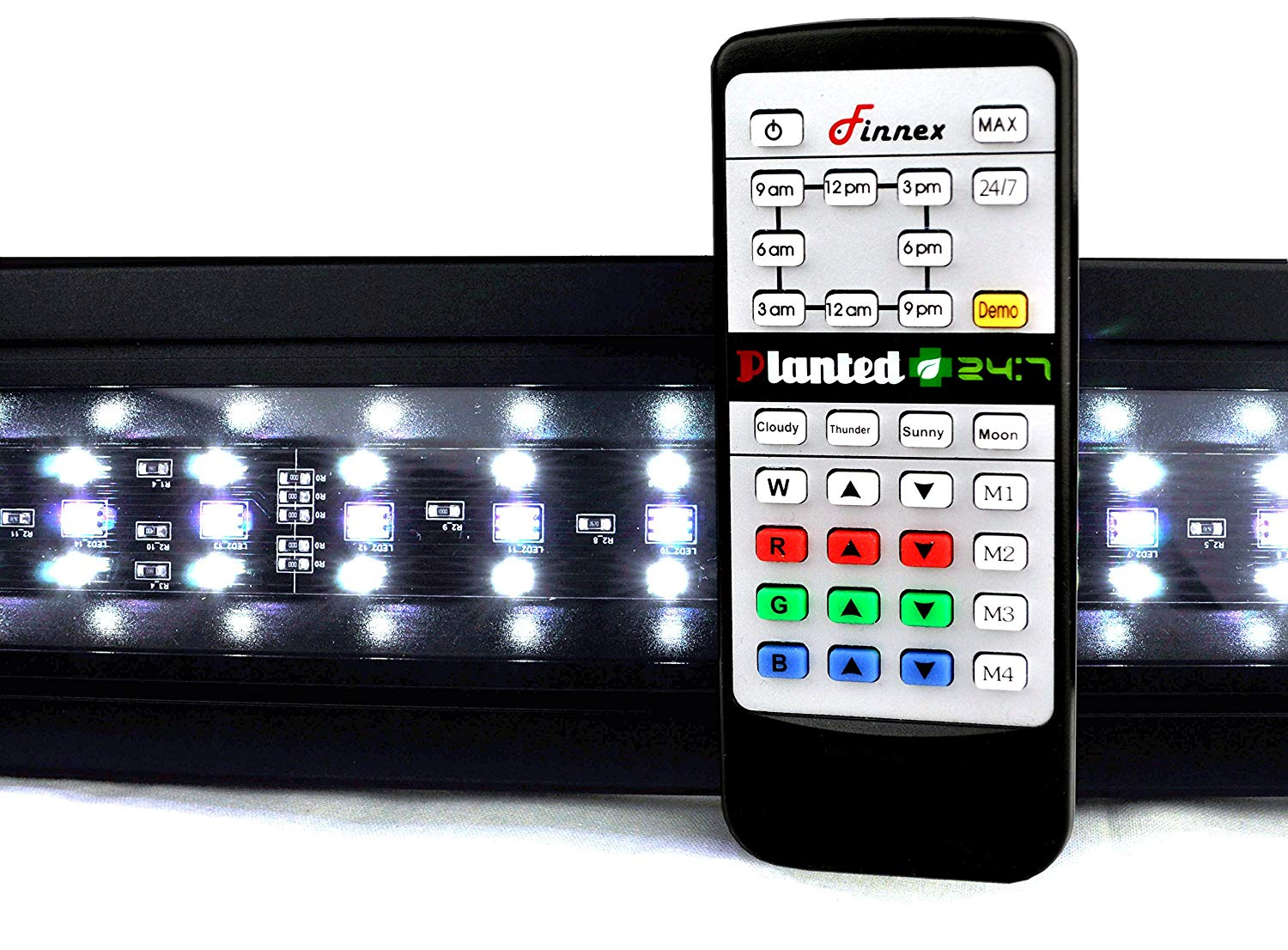 Finnex Planted+ is an aquarium light that understands your needs.
For example, this light has an automatic sunrise and sunset light setup. So, your fish and plants can enjoy the ambiance of warm, soft light in the beginning and at the end of the day.
This light setup can mimic the sunlight throughout the day. You can expect 7,000K warmth from this light being one of the brightest options.
Just like the previous ones, it can mimic the lights of thunderstorms, cloudy days, and even a starry night.
The multicolor blend can assure better growth for the plants as well. You can dim any of the colors and focus on any color that you want to focus on.
Notable Features
​- Has 7000K warmth with a multicolor blend
– Has a 24/7 feature that can mimic any time of day or night with lighting setup
– The light automatically changes color seven times a day to mimic the lighting tone of a day
– Programmable setup
– Fully customizable, users can dim any color of their choice
– The legs can move inwards to fit the smaller aquariums
– Comes with a water-resistant IR remote control
​Pros
​Superior quality lights
​High build quality
​Easy to install
​Fully automatic
​Has a water-resistant remote control
Cons
​The remote battery drains too fast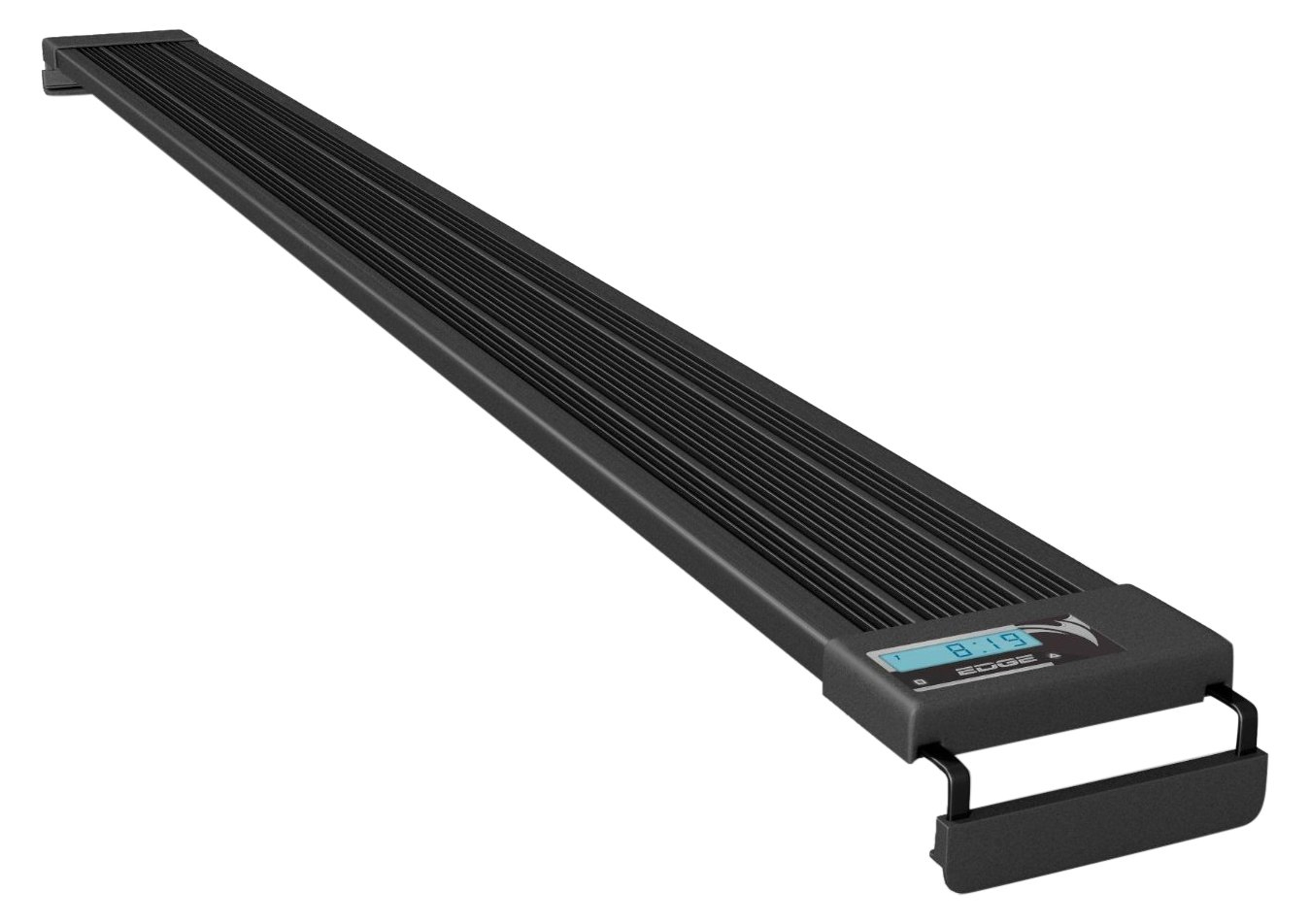 If you are looking for a bright LED, this is the perfect option for you. You will be getting 9000K warm light.
The design of Aquatic Life LED Aquarium Light Fixture looks sleek and has a LED timer display on the light. It displays their propitiatory "Three Channel Timer" technology. With this technology, the light controls the white LEDs, mixed color LEDs, and blue LEDs independently.
The best part is that you can control the lights with your smartphone.
Notable Features
​- Allows six colors dispersion at 120° angle so that you can light the whole aquarium with just 0.5 watts LED units
– The 3-Channel Timer allows to light different colored independently
– A smartphone can fully control WIFI Edge4-Channel integrated timer
– Allows more than one channel to unique color modes using reef edge channel options
– Automatic sunrise and sunset options
​– The reef edge frames fit perfect to all the tank sizes
Pros
​Easy to control and operate
​Superior full light spectrum
​Low power consumption
​120° light dispersion
​Wide variety of light simulations
Cons
​The build quality feels cheap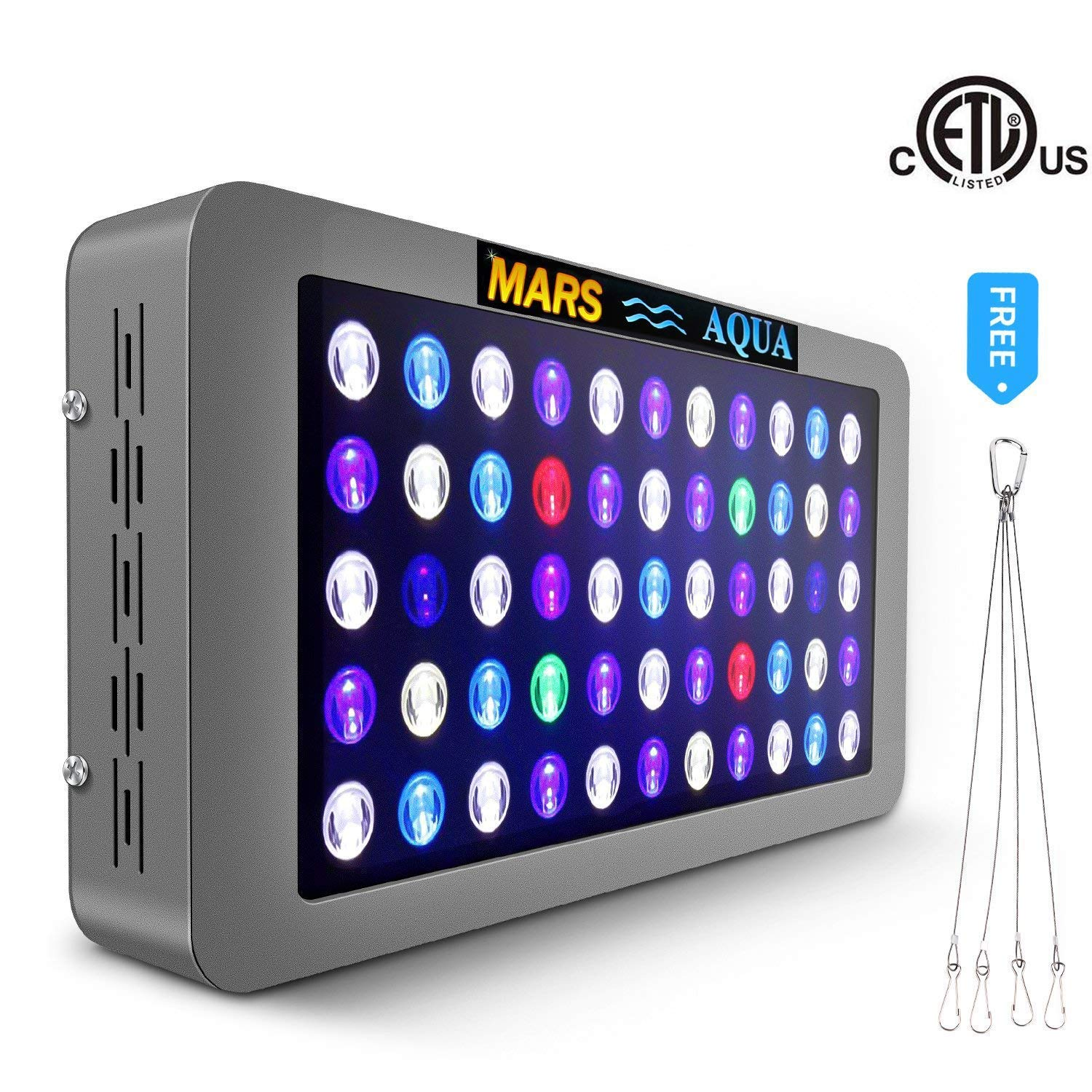 The best part of this LED light setup is transparency. The transparent LED lens allows 25% high light transmittance. As a result, the lights can reach up to one meter with lower luminous energy.
MarsAqua Dimmable LED Aquarium Light should be on your Wishlist because of another reason – the coolness. The lights are so cool that it will barely increase the temperature of the water.
How did they do so?
They have used copper that has extremely high heat conductivity. Moreover, two fans blow out the hot air from the lights.
The lights are very easy to control too. You can have total control over luminosity just by using two switches.
They are using 55 pieces of 3-watt Epistar LEDs that consume a maximum of 165 watts with an average power draw of 103 watts.
Notable Features
​- Day and night features available
– Adjustable luminosity
– A 25% increased transmittance allows light to reach up to 1m
– Has two cooling fans and copper wiring that allows a cooler operating temperature
– Universal cascade design can fit any aquarium
– Two channels brightness can be adjusted separately
– Has aluminum heat sinks for better heat dissipation
Pros
​Higher transmittance
​Better cooling system
​Easy to install
​Adjustable luminosity
​Bright lighting
Cons
​You will need additional fixtures if you have a large tank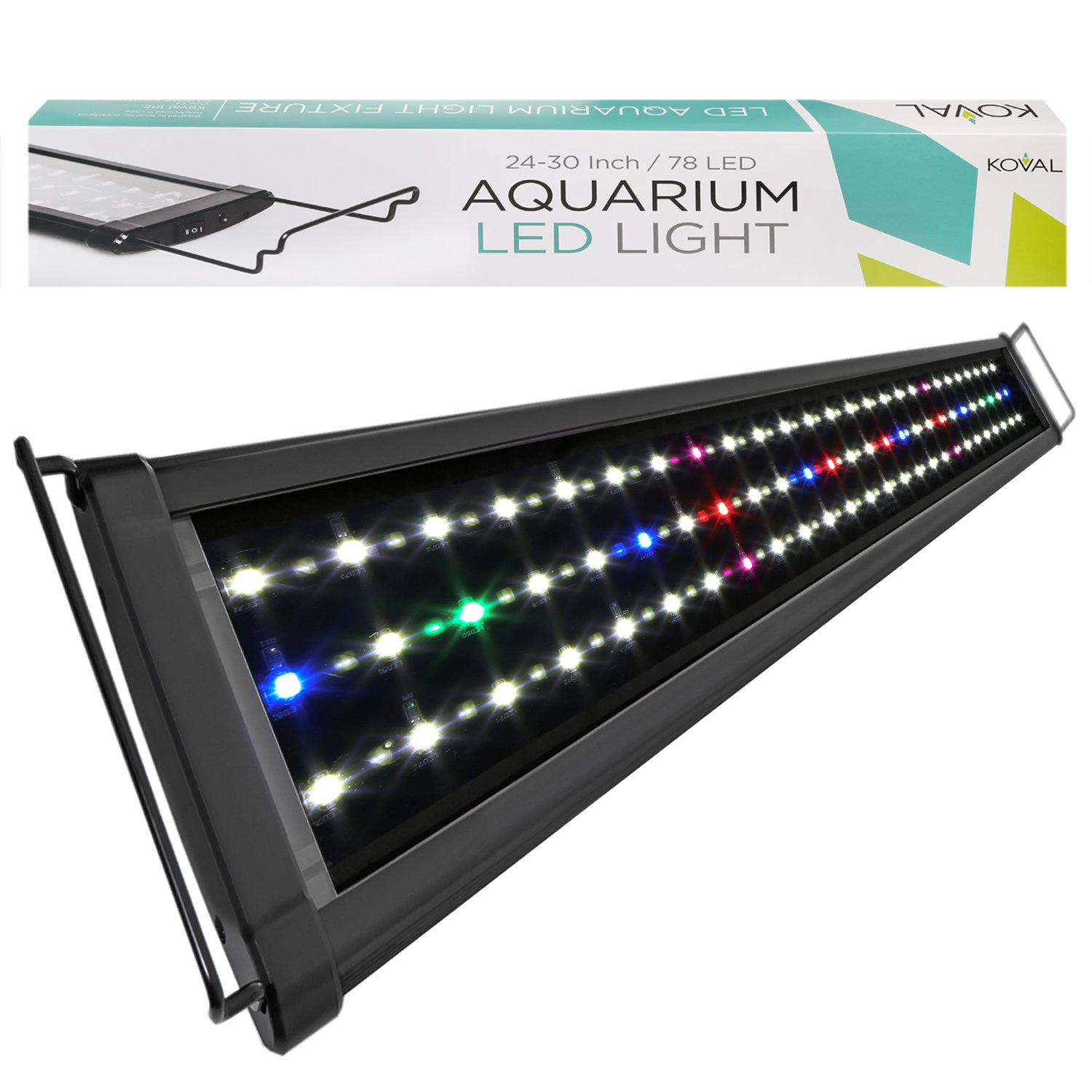 When it comes to longevity, Koval is a much better choice. They have always been the durable ones in the market.
For example, Koval Aquarium Lighting will serve you for more than 50,000 hours. The 8,000K warmth of the white LEDs is also something that should intrigue you.
The wavelengths of the colors (ranging from 460 nm to 625 nm) are also very suitable for aquatic plants. Each of the LED bulbs is rated to consume only 0.1 watts.
There are a total of 78 small LED bulbs in the light setup.
Overall, Koval is an excellent choice if you are looking for a decent solution that will back you up for years to come.
Notable Features
​- Has LED lights of five different colors that promote helpful phycophyta to grow
– Uses parallel circuits so that each of the LED lights works individually
– Low energy dissipation; each LED bulb consumes only 0.1 watts per hour
– The outer layer is made of aluminum alloy shell that gives it a sturdy look and feels
Pros
​Durable
​Longer lasting
​East to install
​Energy efficient
​Budget-friendly
Cons
​Doesn't have any remote
​Doesn't have preset light modes
​Non-programmable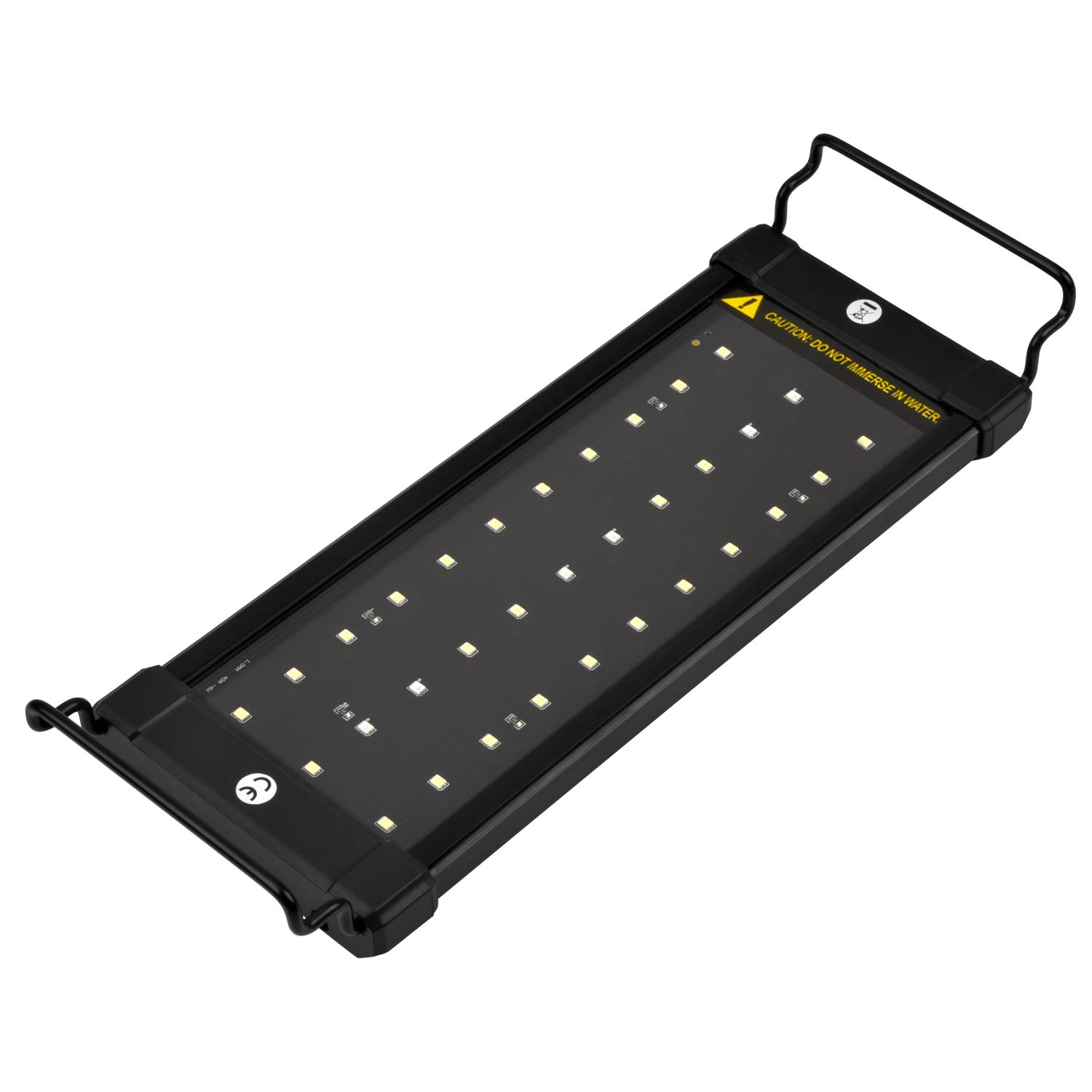 Fish keepers all over the world have grown deep fondness over NICREW led aquarium light, especially the NICREW ClassicLED Aquarium Light. Well, the reasons are quite simple.
You will not be getting any fancy feature out of this aquarium lighting.
So, what is the reason?
The first reason is – adjustability. You can use this light in any type or size of the tank. The light will fit perfectly to any tank having a width between 12 to 15 inches. Just make sure that glass thickness is less than ½".
The second reason is – simplicity.
If you are planning to get this light, make sure to add an extra layer of the canopy on top of the tank as the light is not waterproof.
Notable Features
​- Has two different light combination – white and blue to be used in both day and night
– The adjustable mounting legs make the installation process very easy
– Can offer lunar light effect and bright daylight effect
– Has 38 to 180 individual LED bulbs in the complete set up based on the model variation
– Consumes 6 watts to 32 watts based on the model variation
Pros
​Budget-friendly
​Easily adjustable, can be used in all the small and medium-sized tanks
​Decent build quality; made of either plastic or aluminum
​Has two color modes
Cons
​Doesn't have any remote control system, timer, dimmer, or similar features
​The supporting mechanism can fall off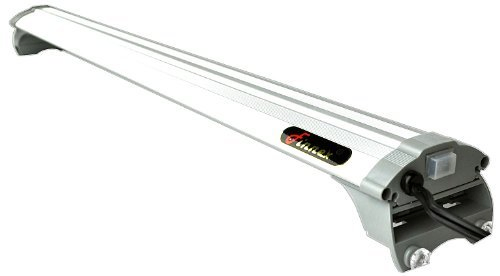 You are already familiar with the goodness of the Finnex lights. Well, this is not as feature-heavy as the Planted+ 24/7, but it can serve you very well.
First of all, you will fall in love with the spectacular Unibody seek design of Finnex FugeRay Planted+. Moreover, the true red (660nm) color will help the plants in photosynthesis.
The best part is that the light extremely bright – it has 160 white, 88 red, and 16 blue LEDs. All of the LEDs have a spread of 120°.
Notable Features
​- Offers true red color that can mimic bright daylight, evening, and a pleasant moonlight
– Circuit boards are made of aluminum that offers superior cooling and quicker heat dissipation
– The legs are easily adjustable and can be used in all the small and medium-sized tanks
– Comes with a moisture-resistant splash guard to protect the lights against water
Pros
​Long-lasting; has a lifespan of 40,000+ hours
​Pure red LEDs
​Easy to mount and install
​Great heat dissipation
Cons
​Doesn't have any remote control
​Doesn't have automatic mood changer
​Non-programmable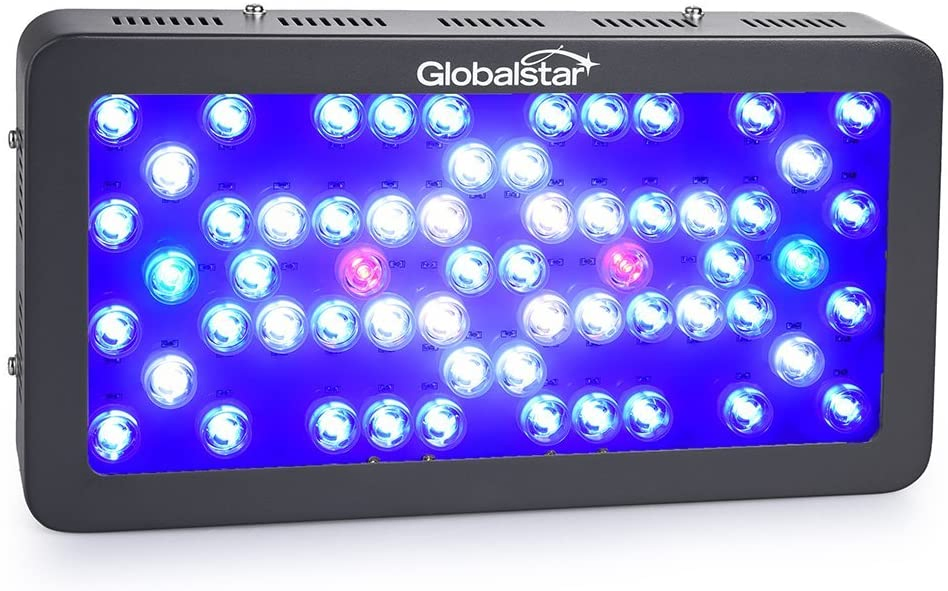 LEDGLE LED Plant Grow might not come from a big company, but it is truly a brilliant light that is bright. The best part is it is one of the few products in the market that has IR and UV in the light spectrum.
Other than the lack of a remote control system, there is nothing that I can complain of.
Notable Features
​- The 50 LED lights are protected with Crystal Plus Optic lens that ensures better light transmittance
– Has two different functionality selector switches
– The full light spectrum includes infrared and ultraviolet along with visible light spectrum
– The light panel has two cooling fans in the back
– Aluminum coated fans ensure better heat dissipation
– Has 12,000K warm white LEDs
Pros
​High light transmittance
​Two functionalities
​Includes IR and UV
​Superior cooling
​Extremely bright colors
Cons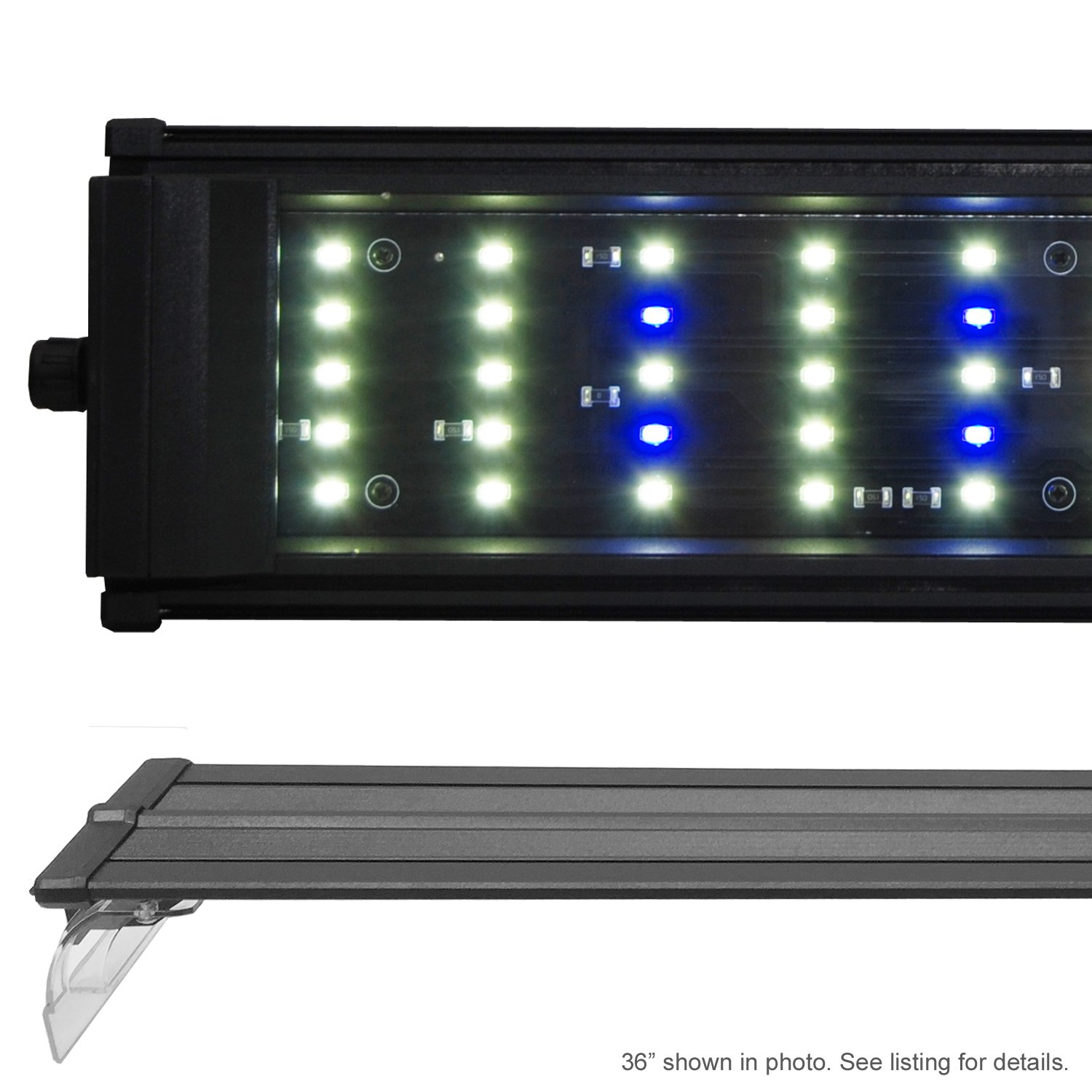 Beamworks Beamswork DA 6500K 0.50W Series is the last one on my list today. You will certainly fall in love with this light.
This particular product will help your plants to participate in the photosynthesis process. So, you will have a healthier environment for your fish.
Notable Features
​- High light intensity of 8,000 lumen
– Has 176 LED lights in the setup that consumes 0.5 watts each
– The 32 actinic lights can cause photochemical reactions among the plants
– Can sync with aquarium light timer
– The configuration comes with 144 lights with 6,500K white color
Pros
​Superior brightness
​Helps with the photosynthesis process
​Great build quality
​Can be used in large tanks
Cons
​Non-programmable
​Doesn't have any remote control system
The Non-Nerd Planted Aquarium Led Lighting Guide
Now that you are familiar with the best aquarium LED lighting bulbs, things can become even more confusing. I have reviewed 9 options for you. You can't just all 9 of them, right?
So, how can you choose the best one?
Luckily, you can make a choice all by yourself. You just need to know the considering parameters that you help you match an LED light to your needs.
Size Matters
The most important parameter for choosing an LED light is the size of the aquarium. Obviously, you will need more lights in a large tank.
Dah! That's obvious!
However, if you use too many lights in an aquarium, the high light intensity might make things even worse. High intensity might not be the best option, especially if your fish light sensitive.
So, what would be your target?
You are getting an LED light that can cover the whole tank while you can control the intensity.
Do You Have Plants in the Tank?
Having plants in the tank changes everything. If you have aquatic plants in the tank, you have to install the lighting setup.
Otherwise, your plants will die soon.
They need light to continue the photosynthesis process.
Different plants need different levels of lights to grow at an optimum rate. For example, duckweed needs a different amount of light comparing to corals.
So, making up your mind, thoroughly plan everything. Decide which plant is suitable for your fish, and how much would it require?
After that, you can select the light setup that satisfies the needs of your fish and the plant.
Intensity and Spectrum of Light
The light intensity is measured by lumen. An average aquarium needs about 75 lumens per gallon of water (20 lumens per liter) for moderate lighting.
Your plants and fish will need at least 37.85 lumens per gallon of water (10 lumens per liter).
So, you should get a light setup based on the total volume of water in your aquarium.
Then comes the light spectrum.
You should know that light acts both waves and particles. While considering the light spectrum, you should consider light as waves to makes things simpler.
For enabling photosynthesis, the wavelength of the light should be between 400nm to 700nm.
Moreover, an ideal light setup should have 40-70% blue or red.
In this case, T5 can be a better option compared to the typical LEDs as it has a better light spectrum range.
More: The Best Sand for Reef Tank
Features and Budget
Obviously, with more features, the price would spike up. The good news is that there are a lot of options available in the market.
That means, there is a perfect lighting setup to meet everyone's pocket.
If you are in a tight budget, make sure you are touching all the basic needs. Otherwise, you will be spending money for nothing.
You can choose any of the lighting setups from my list today. Every one of them will serve you while not robbing you out!
More: The Best Food For Koi Fish
The Best Aquarium LED Light FAQ: Find Out the Answer You Were Looking For!

Are LED Lights Good for Fish Tanks and Growing Plants?

The short answer – Yes!Among all types of lights available in the market, LEDs are most efficient at providing the right amount of light.Still, you shouldn't jump into buying any LED light. Most of the light manufacturers have specification list on the cover.Read the spec list thoroughly. Try to find the intensity and the light spectrum table.Ask yourself whether the blue/red color percentage is on the right level? Is the light intensity suitable?After that, match the specs with the needs of the plants and fish you have in your aquarium.In most cases, the specs should meet your needs. Still, it's better to be safe than sorry.

How Long Do Lights Need to Be on For Optimal Plant Growth?

The answer to this question depends on the model of light you are using. As most of the LED lights have a different specification, it's hard to give a general answer.An LED will give a spectrum of lights, but the plants don't need all of them. For photosynthesis, the plants will need only the visible red and blue particles.So, the answer lies in the percentage of blue and red light in the spectrum. If the light is to be lit for five hours to provide enough blue or red particles, the five hours is the answer.Yes, it can be a bit tricky.However, if you are picking a common generic LED with a typical spec list, you should keep the light on for 12 to 16 hours.

Do LED Lights Cause More Algae in An Aquarium?

It is one of the biggest myths revolving around the usage of LED lights. I don't know how people got the idea. Some even say that a high red/blue color will cause more algae.I have been using high powered LED lights in my aquarium for months, I haven't noticed any sudden algae outbreak due to the lighting setup.Remember, algae outbreak is mostly related to three things –

– Poor health of the plants in the tank
 – The lacking of dominant plant mass
 – High level of biological /organic waste in the water
If you can strictly maintain and stop these three causes, you will most likely never face any algae outbreak.So, again, no. Algae outbreak doesn't happen because of installing LED lighting in your aquarium.
How Does the Color of Light Affect the Growth of Plants?
The color of the light has a direct connection to the growth of the plants in the aquarium. Everything is connected to photosynthesis.
Plants need lights to complete the photosynthesis process. In this process, plants take energy from light and use it to produce carbohydrates.
Here is the thing – light has an infinite number of colors in the spectrum. But the plants mostly need three to four different colors for producing food.
These are –
Ideally, plants can grow at a steady rate if the wavelength is between 400nm to 700nm (visible light range) and has 40-70% blue or red color.
Some think that plants don't need green color. It is another myth!
As the leaves have a green color, people think that all the green color is reflected. Otherwise, we couldn't see the green-colored leaves.
In reality, about 20% of the green color is absorbed.
How to Set Up LED Aquarium Lights?
Most of the LED lighting setup is quite easy. Manufacturers make sure that every customer can set the light up without additional help.
However, you should follow the instructions so that you don't end up in any accident.
Most of the modern lights come with suction tubes or attachable brackets. You will just have to stick them on the wall.
​Make sure to choose an optimum position so that every area in the area can get enough light.
Also, while setting the light, your priority should be on the plants, not on the fish.
How to Hang Aquarium LED Lights?
To hang the lights properly, you need to understand the mounting options. The suspension mounting option can be a bit tricky for some of us.
Still, if you can follow the instruction manual word-by-word, you shouldn't have any problem.
You will be lucky if the light comes with suction cups. These are the easiest ones to mount. Also, the one with adjustable mounting brackets fit perfectly, if you can properly mount them.
While choosing the lights, make sure the mounting option doesn't hamper the aesthetics of your aquarium.
Can You Use A Normal Light Bulb for Your Fish Tank?
There is nothing that you can't do!
However, I would strongly suggest you not to use them. A normal light bulb (assuming it to be a CFL or a tungsten one) will become very hot after a while.
As you will be using the light for about 12 hours every day, it will certainly become very hot. If there is a sudden temperature drop in the outer shell of the bulb, it can explode!
Even if you not planting the bulb in the tank, there still remains a chance of nasty accidents.
Furthermore, a normal light will increase the temperature of the water. The variable temperature of an aquarium is very unhealthy for both the fish and the plant.
How to Program LED Aquarium Light?
Programming an LED is a smart solution to a lot of problems. With programming, you can –
​- Specify a definite light spectrum
​- Turn the lights on or off automatically
​- Control the light intensity
​- Set the warmth to a specific level
So, how can you do it?
Well, again, you will have to rely on the instruction manual. Different manufacturers tend to allow the users to program differently.
Moreover, you need to make sure that your LED lighting setup is programmable. Otherwise, what's the point?
I strongly suggest you choose a light set that is programmable as it allows you to create a perfect ambiance for the plants and fish.
More: Get The Best Nitrate Remover for Freshwater Aquarium Here
How Much LED Light for An Aquarium?
The number of LED lights that you need to install depends on the number of fish, the number of plants, and the total size of the tank.
Moreover, fish and plant variety also play critical roles.
Still, the rule of thumb suggests that you should use about 1 Watt to 2 Watt LED per gallon should be adequate enough.
At the same time, you need to make sure that the lights don't increase the temperature too much.
You can minimize the number of lights by cleverly putting reflectors in the tank.
A good reflector not only boosts the light intensity but also helps to regulate the temperature better.
More: Get The Best HOB Filter Here
How Much Electricity Do LED Aquarium Lights Use?
We all know that LED lights are energy-saving options.
But how energy efficient are they?
A typical LED consumes significantly low power. For example, an incandescent light having the same lumen count will consume 60W every hour. An LED bulb, on the other hand, will consume only 7W.
Moreover, LED bulbs typically have an average lifespan of 25,000 hours, while incandescence will have only 1,200 hours.
So, according to the statistics, an LED bulb costs about 16% compared to incandescence and 62% compared to a CFL bulb.
More:Get The Best Wave Maker For Aquarium Here
Conclusion
Now, it's time to find out the best LED aquarium lighting for planted tanks. Without a doubt, Current USA Satellite is the winner today for offering tons of exciting features to the fish keepers.
The second place goes to Finnex Planted+ 24/7 Fully Automated Aquarium LED. I have to say, the gap between first and second place is very narrow today.
Aquatic Life LED Aquarium Light gets the third spot for offering an abundance of options and choices.