If you are somewhat familiar with the reef tanks, you should already know about the refugium. For those of you who don't know what a refugium is, it's an additional tank connected to the main one that keeps a balance of the main tank's water chemistry.
Think of it as a support tool for the main display tank.
Typically, you will grow friendly algae, like Chaeto in the refugium and some other microorganisms like Asterina, snails, and worms.
As you will keep the refugium away from viewers, it will need lights. Otherwise, the algae can't start the photosynthesis process.
So, you must need the best refugium light, and today I will try to guide towards the best ones!
Review of The Best Refugium Light 2020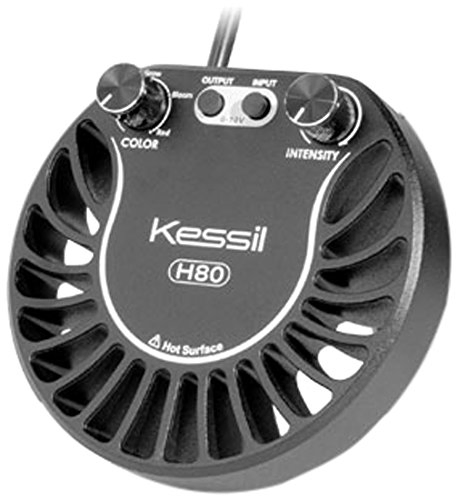 When it comes to refugium lights, Kessil is the crowned king!
In fact, Kessil H80 is the most popular name in the market. All the fishkeepers and the forums are singing praises of this device.
Why?
Because, Kessil refugium light tends to take special care of Chaeto – the most popular macroalgae for a refugium.
Check out the features yourself. You will understand what I am talking about!
Notable Features
​- Has four efficient color spectrums – red, blue, bloom, and grow
​​- The light wavelength includes true Ultra Violet (UV) and Infra-Red (IR)
​- Offers better photosynthetic efficiency as the spectrum ranges from 360 nm to 780 nm
​- Up to 24" light coverage
​- Fully controllable color and light intensity
Pros
​Dimmable
​Fully silent operation
​Superior efficiency
​Fully controllable
​Perfect for Chaeto
Cons
​Not suited for large refugium
Okay, I already gave away the name of the best refugium light for algae growth. Do you want even a better one? Or maybe you have large refugium as Kessil H80 Can't handle large ones.
Then, you should go for Kessil H160 Tuna Flora – the bigger version.
If you want to boost up the photosynthesis process, this is the best thing that you can have. Actually, H160 is designed for horticulture development.
The only negative feature is that it doesn't have white lights but only red and blue.
Notable Features
​- 40-Watt LED light that is equal to the 160-Watt metal halide lights
– Offers variable color temperature option that you can control with a knob
– Creates a smooth pink light that stimulates the chlorophyll of the plants for more efficient ​​​– photosynthesis
– Targets Chaeto growth
Pros
​Compact design philosophy
​Rigorously powerful
​Creates a pink actinic light for boosting photosynthesis
​Superior build quality
​Almost silent performance
Cons
​Needs a gooseneck mounting device
​The shimmer might be too bright in many cases
ACKE LED Grow Light can put a smile on your face if you are in a budget. It's the finest light you can get under $50.
However, it is suited for only a small refugium. If you have a big one, you might need another one.
Notable Features
​- A full spectrum light with 630 nm and 660 nm red, 460 nm blue and 2700K white light
– The light boosts the growth of the seedlings
– A complete waterproof design
– Has rotatable brackets that help you to adjust the projection angle of the light
– Has 40 separate LED bulbs
Pros
​Budget-friendly
​Stimulates carotenoid and chlorophyll
​Waterproof design
​Adjustable projection angle
​Variable mounting option
​Cons
​Lacks blue light
​The power cord doesn't let the light fully stand up
​Gets very hot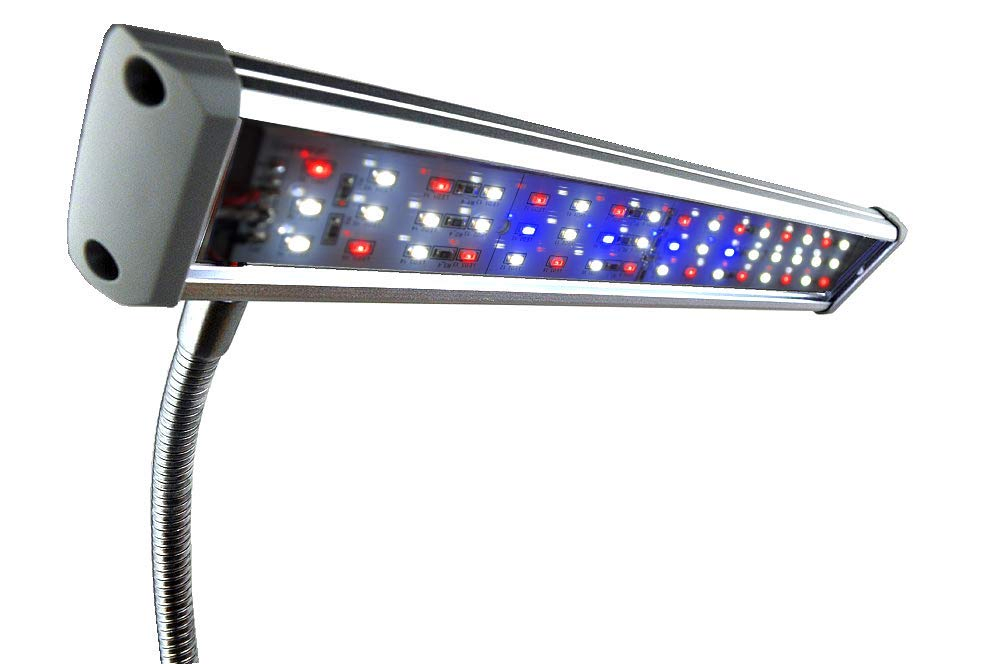 Finnex is already one of the most known names in the industry. But I will talk about a small one that you can use in your refugium – Finnex FugeRay Planted+ Aquarium LED Light Plus Moonlights, Cliplight.
But I must say, compared to other Finnex light, it's quite mediocre.
Notable Features
​​​- ​​​Offers true 660 nm red and lunar blue light LEDs
– The ultra-thin design incorporated hooded design that is made of aluminum or plastic
– Has 120° light spread
– High-quality aluminum gooseneck fixture acts as a heatsink
Pros
​Has splash guard
​Budget-friendly
​Easy to install
​Fixture acts as a heatsink
Cons
​Accumulates moisture
​Light quality is average

– The Budget King!

Innovative Marine ChaetoMax is a specially designed refugium light that works to boost Chaeto growth.
After the Kessil lights, I will place the Innovative in the next position for strictly refugium use.
Notable Features
​- Design specially for sumps and refugium for maximum Chaeto growth
– Wide color spectrum includes 5 – 420nm blue, 10- 470nm violet, 10- 630nm magenta, 20 – 660nm red
– Sleek and small that incorporated hook and loop design
– Can be mounted horizontally or vertically
– No heat transfer
Pros
​Superior quality
​Designed for maximum Chaeto growth
​Small form factor
​No issues of heating
​Comes in two sizes
Cons
​Not suitable for large refugium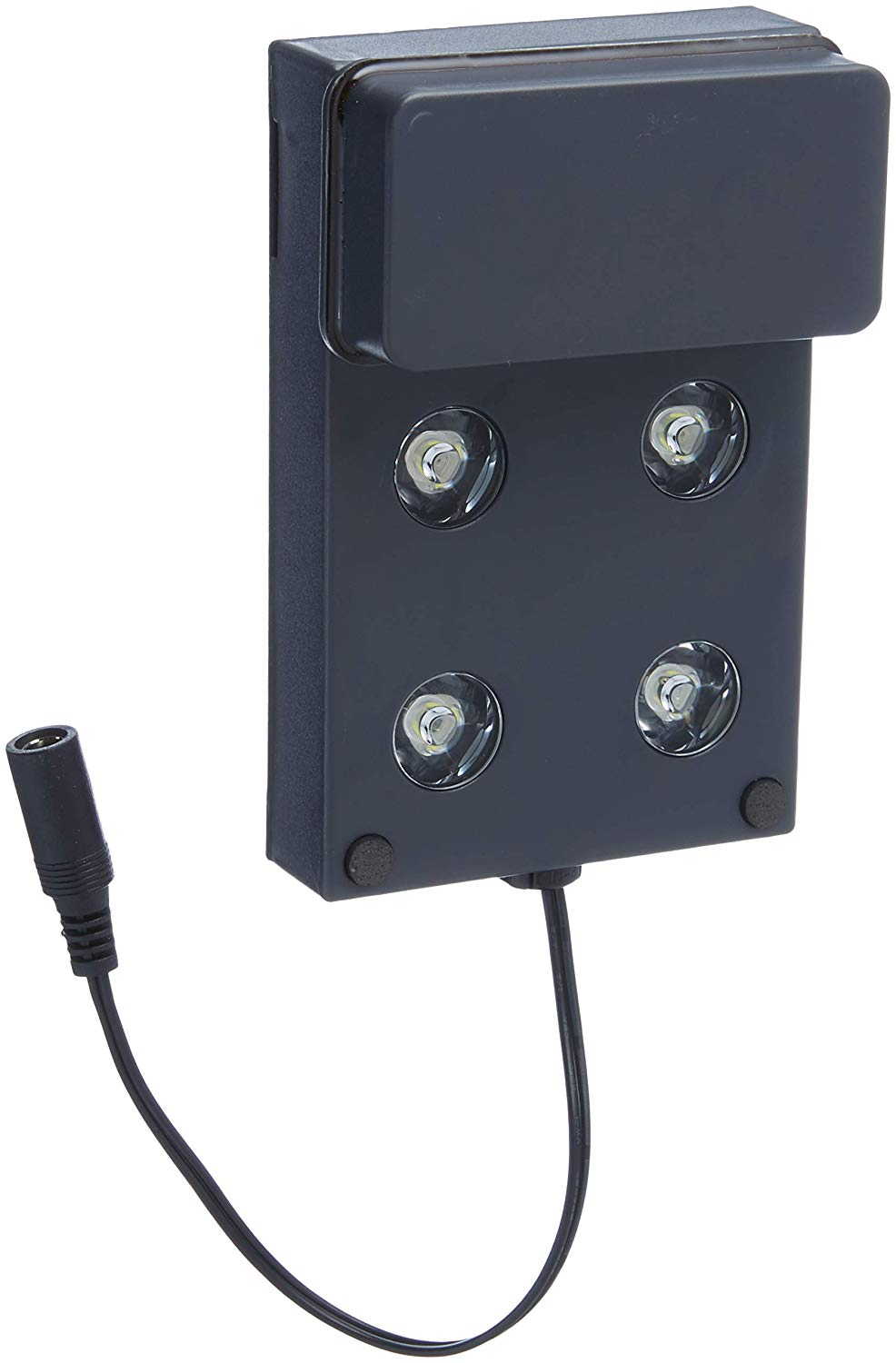 JBJ Nano Glo is an odd one on the list. Rather than using the common small LED bulbs, they are using nano LEDs, which tend to be bigger and consume more power.
Its design is very handy and quite easy to use.
Notable Features
​- Versatile design that uses magnets for easier installation
– Has 4 nano LED bulbs and each of them has a light intensity of 70 lumens
– High heat dissipation offers minimal heating issue
– In-tank design philosophy
Pros
​Small form factor
​Easy to use and install
​Low heat transfer
​Can fit in a smaller refugium
Cons
​Not suitable for large refugium
Wave-point MircoSun 6,500K also follows the same design philosophy of JBJ with the nano LEDs. The great thing about this one is the heatsink option.
Notable Features
​- The aluminum fixture acts as a heatsink and removes heat
– Adjustable arm offers more flexibility and control
– Water-resistant design
​– Has high output nano lights consumes only 1w power
Pros
​Perfect for small tanks and refugium
​Waterproof
​Clamp-style design
​Modular design
Cons
​Mediocre build quality
​No suitable for large refugium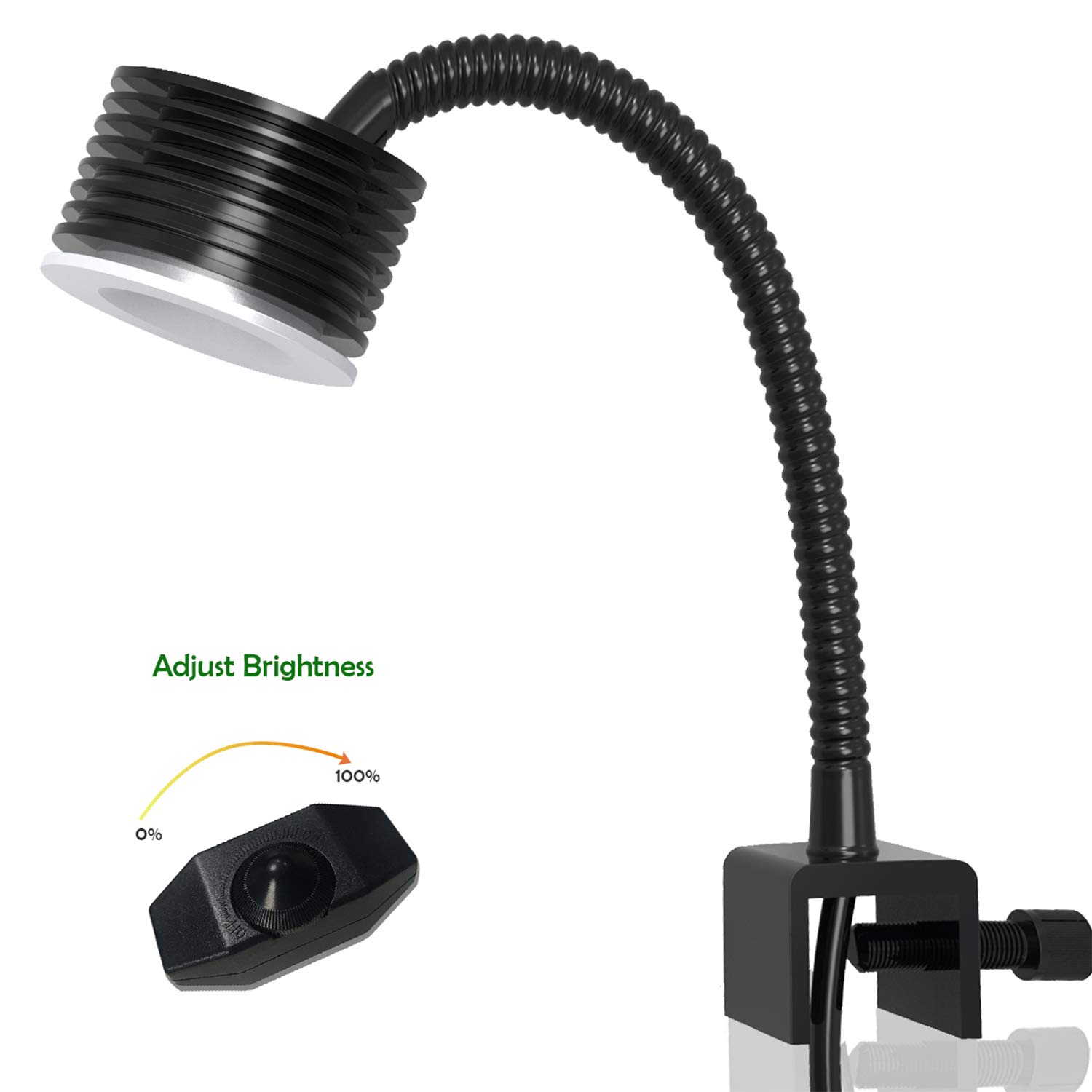 Lominie LED is a name on my list that deserves more exposure. It's a fine quality lighting that offers the highest level of control and flexibility.
Notable Features
​- Fully adjustable dimmer that allows light dimming from 0% to 100%
– 360° rustproof gooseneck design that allows control over light projection
– Has COB LED that offers equally-distributed illumination and better light penetration
– The lights are stored in a solid aluminum housing with 180° and 60° lens
– Uses aluminum cold forging heatsink for effective cooling
Pros
​Better light spectrum test results
​Superior build with high quality
​COB LED offers fine quality lighting
​Cold forging heatsink
​Controllable light dimmer
Cons
​The dimmer switch is unreliable ta times
​Not suitable for rimmed tanks or refugium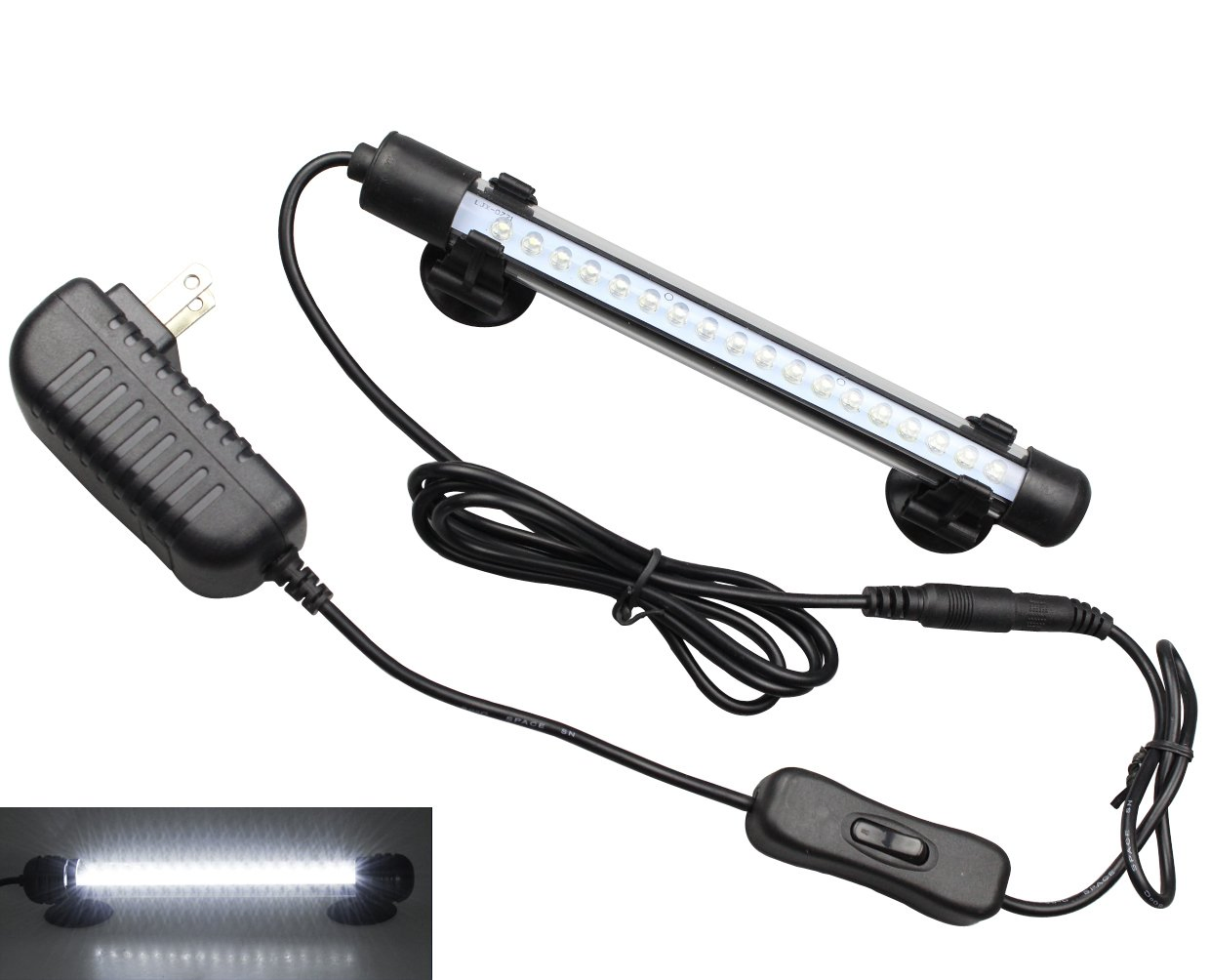 MingDak LED Aquarium Light is the only name on the list that offers total waterproof design with an IP68 certification. Also, this is the cheapest option!
Notable Features
​- Fully waterproof and has IP68 certification
– Has two suction cups for easier installation
– The light panel has 18 to 57 LED lights based on the model variant
– Submersible crystal glass offers 20% brighter illumination
– Consumes only 1.5w to 4w based on the model variant
– Comes in four sizes
Pros
​Can be placed within the refugium
​Easy to install
​Offers brighter light
​Extremely low power consumption
​Extremely cheap
Cons
How Much Light Does a Refugium Need?
A refugium is basically another tank where you are growing beneficial algae and other helpful plants.
Think of it as a layer of added filtration and extra nutrient absorber.
For a reef tank, it is almost a mandatory piece of equipment.
But we are talking about refugium lights today, so let's focus on that!
As you are growing algae and other plants, you will need the lights to enable the photosynthesis process.
In most cases, the refugium sits beneath the display tank along with the sump. So, it doesn't get any daylight as it remains hidden.
I would suggest you to leave the refugium light on for 24 hours. However, you should be able to tweak the light for better output.
How so?
Well, red or crimson color is best for the algae growth. It represents a strong daylight. But you should mimic a nighttime scenario too. That's why you will need blue lights too.
Thus, the final strategy is going 50-50 with red and blue lights.
However, the right light combination truly depends on the type of algae you are keeping in the tank.
Things are not the same for Chaeto (Chaetomorpha), Dragon's Tongue, Caulerpa, and Money Plant.
So, you have to study the algae and their preferences before jumping straight to the conclusion.
Furthermore, for cultivating macroalgae, you will have to provide a decent amount of light. They will bolster the filtration system to a great extent.
What Is the Best Refugium Light For Chaeto (Chaetomorpha) In the Sump?
Among all the variants of macroalgae, Chaeto is by far the most popular choice among the fishkeepers.
The chances are that even you will go for having Chaeto in your refugium eventually!
So, let's study them first!
Chaeto have a fast growth rate, and even with minimum care, they will grow at an insane rate.
But you should give them a proper amount of light.
No matter what brand you choose, you should get a high-powered LED for them.
I would strongly discourage you from getting those curly average CFL bulbs.
Come on, don't be cheap, get an LED, you will thank me later!
I have done my homework, and Kessil H80 is by far the best LED light that you can get for your refugium. These lights consume only 15 Watt but can turn a small chunk into the size of a basketball in a week.
With this light, you can control the color and light intensity. The 360nm to 780nm color spectrum will serve your Chaeto greatly.
What Is the Best Refugium Light For Less Than $50?
Having is a reef tank is an expensive hobby. Not only will you have to spend a fortune on the display tank, but you also have to spend quite some more on a decent sump system.
But you can't escape.
A good sump system is mandatory for a good reef tank.
So, what are some of the value-champs in the case of refugium light that can save you?
I have only one name for you guys – ACKE LED Grow Lights.
Typically, this one costs about $39.99, but you can get it on different sales. The "Sale" price sometimes drops to $23.99!
These lights are waterproof and dissipate low heat. You can even adjust the angle of this full-spectrum light setup.
Overall, this the best option for budget-concerned buyers. The 4.6 rating on Amazon and Amazon's Choice tag is enough to say that the product is a bang for the buck!
Some even vouch for UFO LED Grow Light, Growstar 150W Full Spectrum Plant Light. It's also another great option. But its price is almost double.
Tips for a Thriving Reef Tank
In my experience, creating a perfect reef tank is one of the most difficult and most exciting challenges of all.
Surely, a freshwater or a saltwater tank looks beautiful.
But it can never match the spectacular aquatic magic of a reef tank.
​That being said, you will have to take a few extra steps to help your reef tank "thrive!"
1 – The Bigger, The Better
While selecting the tank size, aim for the biggest one that you can afford or fit in your home.
A bigger tank will not only look more appealing but also help you to maintain harmonious water chemistry. Moreover, you can minimize the death rates of your fish and the coral in a larger tank.
You should be aiming at having at least an 80-gallon reef tank.
2 – Plan Ahead, Don't Make Decisions as You Go
Some of us are a bit laid back about our lives. We tend to make decisions to face different situations.
This strategy might work in many cases, but you will have to plan ahead if you are planning to have a reef tank.
Not all the fish can co-habit with all the corals. Your aim should be designing a community reef tank. The type of fish and coral you will keep in the tank will play a major role in deciding the appropriate prices of equipment for the tank.
3 – You Will All the Pieces of Equipment
If you are planning to make your reef tank thrive, you will need all the equipment – you can't just skip one or two of them.
If you are in a tight budget, I will suggest you wait and save the total amount first. Once you have the full budget, then start designing the reef tank.
4 – Test Your Water Once a Week
With a little bit of change in the water, chemistry can pose harm to the fish and the corals in the tank. So, always maintain the water in the tank.
To be on top of your game, test your water weekly to make sure that water is at the optimum level.
5 – Having a Decent Sump System is a Must!
With a sump, you can hide all the distractions away from the viewers' eyes. But more importantly, you can make a self-sustaining reef tank system with an all-in-one sump system.
For example, a refugium can save you from the hassle of changing the water every now and then, it adds an additional layer to your existing filtration system, absorbs extra nutrients, and help the beneficial microsomes grow.
6 – Maintain Regularly
No matter the design, your reef tank will become the death trap for your fish and the corals without proper maintenance.
Having a reef tank is a lot of work. Make sure you are up for the responsibilities that come along.
Recommended Refugium Light Schedule and Daily Photoperiod
If you want to see your reef tank thriving, you should follow a fixed photoperiod strategy.
You can go for either a single or dual photoperiod strategy. Both of them are good for the tank.
In the single photoperiod strategy, you will keep the lights on for a certain number of hours. A basic idea can be as follows –
| | | |
| --- | --- | --- |
| ​Time | ​Photoperiod Cycle | ​Cycle Duration |
| ​9:00 AM to 7:00 PM | ​Active (Lights On) | ​10 Hours |
| ​7:00 PM to 9:00 AM | ​Off (Lights Off) | ​1​4 Hours |
Also, you can try the dual photoperiod strategy. The basic idea is to give two light periods and two dark periods.
The dual photoperiod idea seems to simulate growth according to many fishkeepers.
You can find and follow your own time planning. However, I follow that following idea –
| | | |
| --- | --- | --- |
| ​Time | ​Photoperiod Cycle | ​Cycle Duration |
| ​8:00 AM to 12:00 PM | ​Active (Lights On) | ​4 Hours |
| ​12:00 PM to 6:00 PM | ​Off (Lights Off) | ​6 Hours |
| ​6:00 PM to 10:00 PM | ​Active (Lights On) | ​4 Hours |
| ​10:00 PM to 8:00 AM | ​Off (Lights Off) | ​1​​0 Hours |
Just remember, this is not a fixed idea, but you should play with the cycle duration to find the optimum result for your tank.
More: 
Conclusion
So, which are the best refugium led grow lights? The number one spot goes to Kessil H80 Tuna Flora Refugium LED, then comes, Kessil H160 Tuna Flora LED Refugium Grow Light and finally, Innovative Marine ChaetoMax Refugium LED Light in the third place!
More: