Having an air stone in your aquarium will greatly improve its water quality. It creates healthy water and air flow in your aquarium. Furthermore, water throughout the tank will have constant food and nutrient level.
Air stones are the easiest and cheapest solution for maintaining a healthy aquatic environment for your fish and plants.
The question is – what is the best air stone for an aquarium and how can you get one for yourself?
First, I would suggest reading reviews of the best air stones. I have categorized the best ones here for different usage scenarios. Finally, you should read the buying guide so you can look for the crucial features.
So, let's jump in!
7 Best Air Stones for Aquariums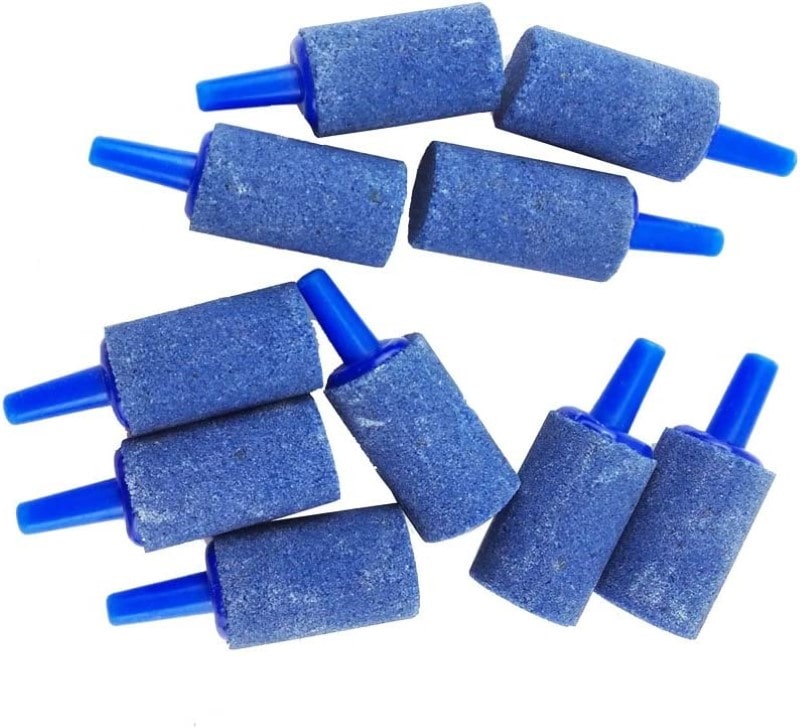 An air stone is a simple tool – it might actually be too simple. That's why even veteran fishkeepers don't want to spend a fortune on them.
So, budget naturally becomes the biggest deciding factor if the quality is decent enough.
From this point of view, hardly any models can beat Yueton Cylinder Aquarium Bubble Air Stone.
Its construction is quite simple. It's made from minerals and plastic. Also, the design principle is quite simple, yet attractive.
The soothing blue color will not make the air stone look like a foreign object in your aquarium.
The fact that it comes in a 10-piece bundle is a blessing.
Despite having a cheap price tag, the Yueton Cylinder Aquarium Bubble Air Stone has a solid build. If you use it properly, it will last you for months.
There is one negative point though. The build quality is not up to scratch, so you might break them if you apply too much pressure. Therefore, make sure to handle them carefully.
Notable Features
Made from mineral and plastic with blue color
0.59-inch diameter and 1.57-inch height
Connects with 4mm soft tubes
Comes in a 10-piece bundle
Specially designed for fish tanks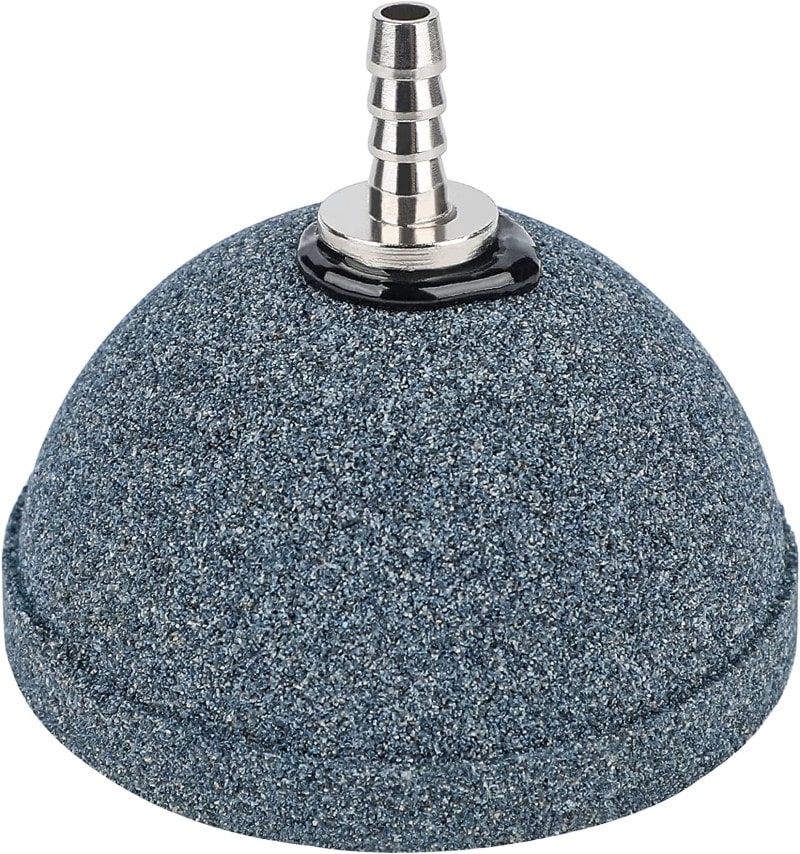 The Pawfly brand kind of rules the air stone and air diffuser market. They are simply the industry leader in this case.
Pawfly 2.4 Inch Air Stone (ASR060) is the crown jewel in their collection.
As you can guess from the product title, it's a ball-shaped air stone – a rare find. Almost all air stones on the market are cylindrical in shape.
Furthermore, this is not exactly an air stone but an air stone diffuser. But no, it's not a typical air diffuser either. It's more like a hybrid. So, forget the air diffuser vs air stone debate, because this can make very small air bubbles.
It has a large 2.4-inch diameter, which means two things – it requires a more powerful air pump, and it's better suited for larger tanks.
So, in a sense, these are the two negative sides of this air stone.
Overall, this is the best air stone for an aquarium.
Notable Features
Dome-shaped flat bottom design
2.4-inch diameter and 1.2-inch height
Made from non-toxic mineral material
Requires an air pump with 4W to 8W power capacity
12 liter/ min jetting volume
Comes in a 2-piece bundle
Designed for fish tanks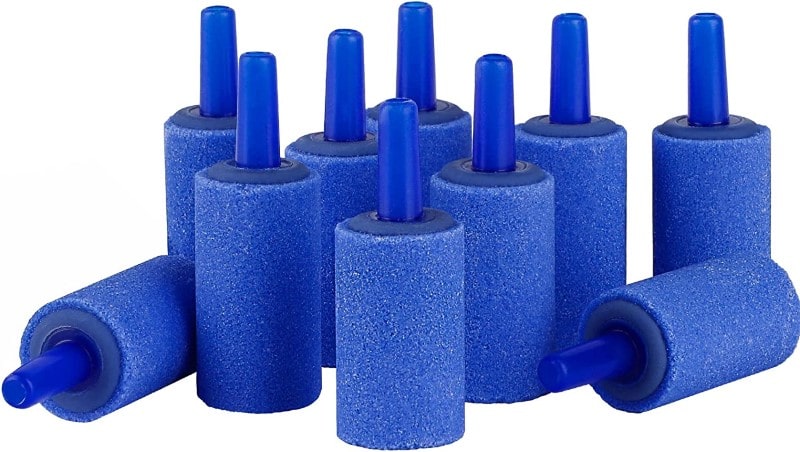 Are you looking for an air stone for your tiny aquarium?
The search might be too exhausting! Not every manufacturer focuses on this category.
Enter, Pawfly 1 Inch Air Stones Cylinder 12 PCS Bubble Diffuser!
This tiny cute air stone can even fit in a fish bowl!
The only negative thing I can say about the Pawfly 1 Inch model is that you can't use it in a medium or large tank, but that's it!
Notable Features
Cylindrical design
Made from non-toxic mineral power and eco-friendly epoxy resin
0.6-inch diameter and 1-inch height
Very low jetting volume – 0.8 liter/min
1500°C sintering temperature
Can work with 2W air pumps
Comes in a 12-piece bundle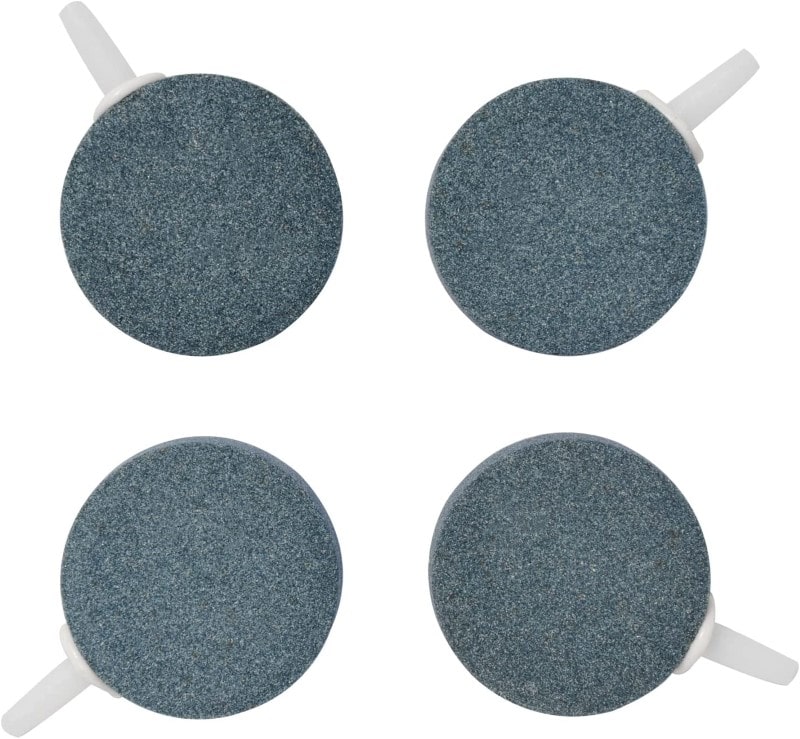 These days more and more people are falling for the charm of betta fish. In fact, betta is now the most common fish among fishkeepers.
That's why manufacturers have created a lot of products which directly target the needs of a betta tank.
If you are the proud owner of a betta fish (or a guppy), you can consider Pawfly 1.6 Inch Air Stone – the bestseller for betta aquariums.
The jetting volume isn't enough to disturb the flow of the fish, but it's strong enough to offer good enough circulation throughout the tank.
Also, you will not need too powerful an air pump to get this air stone working.
However, there is a small issue with this air stone. Due to its shape and size, it can't blow air bubbles throughout the entire tank. It only focuses on a particular section.
Notable Features
Disc-shaped design
Made from high-quality, non-toxic, harmless minerals
1.6-inch diameter and 0.6-inch height
Jetting volume 2 liters/min
Requires an air pump rating 2W to 4W
Comes in a 4-piece bundle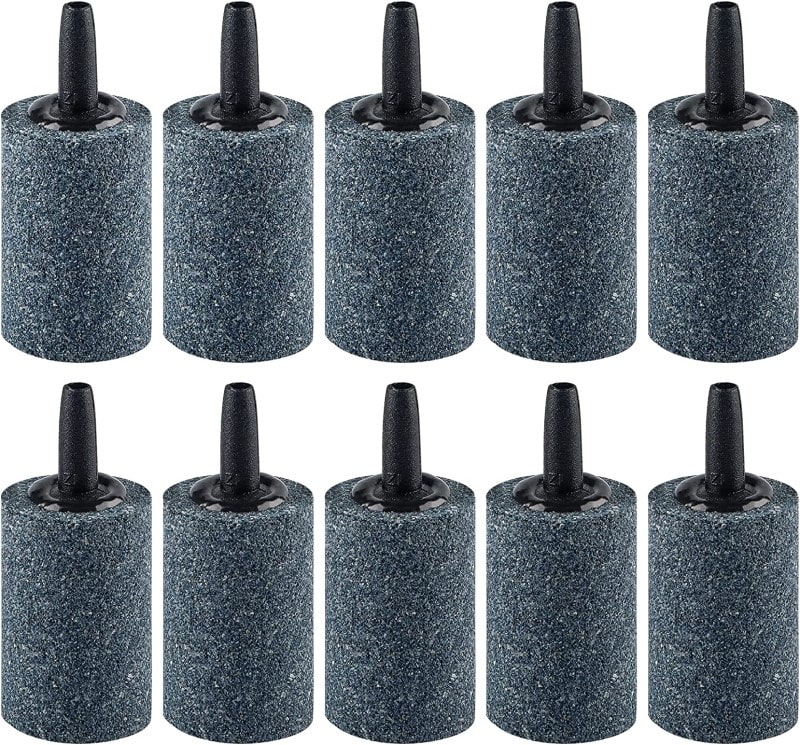 As you can guess, all the air stones from Pawfly should be on your wishlist. After all, it is the top brand in both the USA and Europe.
The main reason I am mentioning this brand so much is due to their top-notch manufacturing technique. They use granulated minerals which don't harm aquatic life in your aquarium. They use non-toxic epoxy resin to make the form. And finally, they put the air stones in the sintering chamber and raise the temperature to 1500°C.
Very few manufacturers disclose so much about their manufacturing process so clearly.
Pawfly 10 PCS Air Stone Cylinder 1.2 Inches Bubble Diffuser Airstones are designed to be a general version. You can use them in both fish tanks and in hydroponics.
The jetting volume is solid – not too much and not too little. Also, you can use common 2W to 4W air pumps and universal 4mm (3/16") tubes with it.
To make things even better, they package this item in 10-piece bundles. Also, they are dirt cheap.
This means you'll have plenty of backup.
But doesn't it have a negative side?
Just the usual. Due to having a small form factor, the air stones might become too light. You will need to attach them with some kind of supporting element or else they will float away.
Notable Features
Cylindrical design
0.8-inch diameter and 1.2-inch height
Made from high-quality harmless minerals and plastic
High 1500°C sintering temperature
Jetting volume 1.3 liter/min
Works with 2W or 4W air pumps
Comes in a 10-piece bundle
Fits with universal 4 mm tubes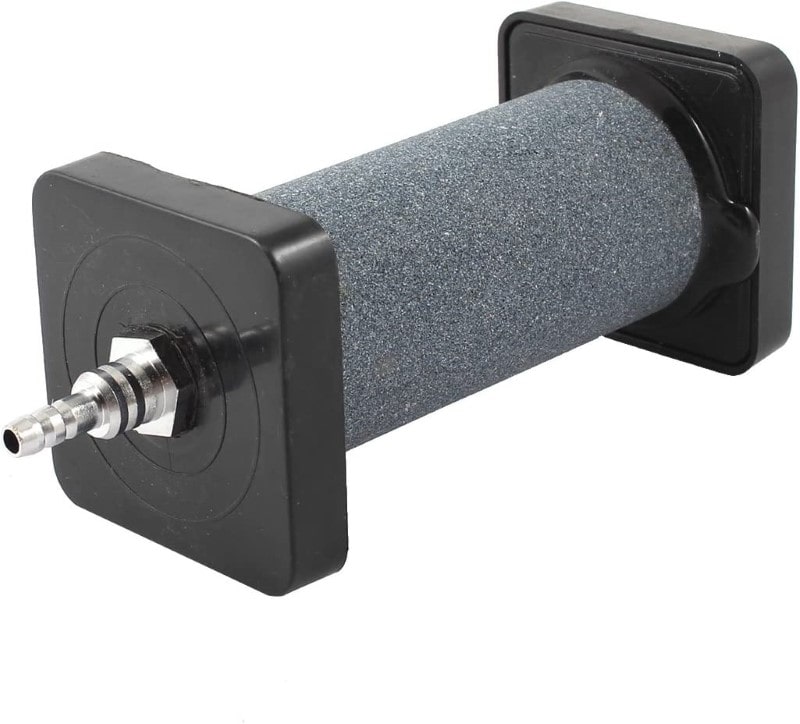 Let's take a look at one of the other good manufacturers in this market – UXCell.
The UXCell Black Mineral Bubble Air Stone Diffuser has a unique vibe to it. The first thing you'll notice is the out-of-the-box design philosophy and the superior build quality.
Yes, it has a cylindrical shape, but it comes with square supports on both ends. Also, rather than having rubber inlet, it uses metal inlets.
It's also bigger than air stones that you typically see, and it's fairly heavy.
Overall, the build quality is certainly noticeably good.
However, you can't put them in smaller tanks because they will overpower the system. Also, you will need a powerful air pump for them, minimum 6W.
Other than the fact that the air stone bubbler is too powerful, I don't see any negative side to the UXCell Black Mineral Bubble Air Stone.
Notable Features
Cylindrical design with plastic squares on both ends
1.6-inch diameter and 3.15-inch height
Jetting volume 20 liter/min
6W+ air stone is required
Fits with universal 4mm tubes
Suitable for any kind of fish tank, aquarium, or hydroponics
Sintered at high temperature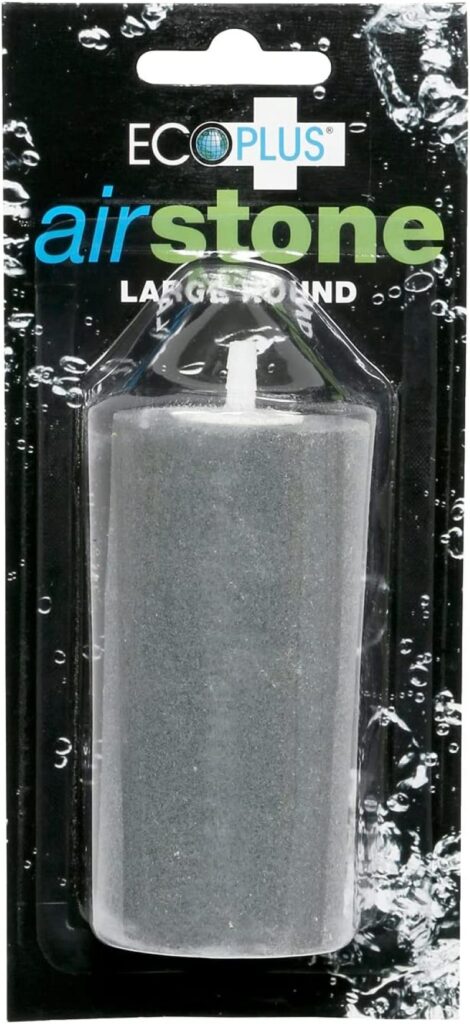 EcoPlus Round Air Stone comes with benefits you don't normally find in air stones.
First of all, you'll notice the shape and size of this air stone. Yes, it's a regular cylindrical stone, but the size is quite large. Its length is about 5.6 inches while most others only have about 1-2 inches in length.
Then comes the factor of air pumps. You'll need fairly powerful air pumps for it. It requires about 10 liters of air to operate properly, so you should be looking for air pumps of 10W power capacity.
Furthermore, the tubing requirement is also different. Rather than using typical 3/16-inch (4mm) tubes, you will need 3/8-inch (8mm) tubes.
I would suggest you use this air stone only in small koi ponds or in very large tanks. Otherwise, it will overpower and cause hazards to small fish in small tanks.
Notable Features
Cylindrical design
5.6-inch height and 2.7-inch diameter
Requires 10W+ air pumps
Made from minerals and epoxy resins
Fits to 3/8-inch tubes
Suitable for small ponds and very large tanks
Should You Buy an Air Stone?
You might think that an air stone is simply an add-on which enhances the beautification of an aquarium.
Yes, it serves that purpose very well.
But the main task of an air stone is entirely different. The thing is, water remains mostly stagnant in the aquarium (unless you use a wavemaker).
Stagnant water is not very healthy for plants and fish in your tank.
For example, CO2 may get stuck in the corners and in the bottom area of the tank and it can then be unhealthy for your fish to explore there. Also, the water at the surface can't exchange oxygen and carbon dioxide properly.
These are the two great dangers of having stagnant water in your aquarium.
An air stone solves these problems.
An air stone pushes air from the bottom to the surface, so the overall circulation increases greatly. As a result, more oxygen and carbon dioxide exchange occurs in the tank.(check this out)
You will eventually achieve consistent water quality throughout the tank.
In addition, an air stone acts as a supporting device for your aquarium filter. Without an air stone filter, this only sucks water from a particular zone. Therefore, the whole tank doesn't get same filtration.
Furthermore, due to increased water circulation, fish and plants can enjoy cleaner, fresher water. Both of them thrive in well-circulated water.
Where Should You Place an Air Stone in Your Aquarium?
As you can probably guess, placing an air stone at the bottom of the tank is the best option. You will then achieve the maximum result.
It's a no brainer!
But where on the tank bottom should you place it?
Well, it depends on your preference, and on the elements you have in your tank.
I prefer placing them among plants or the rocks. In this way, the air bubbles don't disturb the fish while they swim around.
Also, no matter how beautiful they look, air stones are artificial devices and they disrupt the natural aesthetics of an aquarium, so it's better to hide them in the back.
Some fishkeepers even hide them beneath the gravel. This is also a smart idea.
As you can see, the choice is totally up to you.
But you should NEVER place them near the filter inlet. If you do this, the air bubbles will go straight into the filter. This kind of ruins the whole purpose of having an air stone in your aquarium.
Even worse, it can damage the filter with air bubbles.
So, the bottom line is place it anywhere on the tank bottom, but away from an area where your fish roam and the filter inlet.
More: Best Light Spectrum For Coral Growth
How Do You Install an Aquarium Air Stone? Easy Aquarium Air Stone Set-up
It's quite simple – follow this 4-step instruction guide and you'll be good to go.
First, make sure you have the following pieces of equipment:
A bucket of water
Air pump
Airline tubing
One-way valve
Regular valve
Okay, here's what you have to do:
Step 1
Soak the air stone in the bucket of water.
This process will help you get rid of all the dust particles and you will not disturb the water chemistry in the aquarium.
Step 2
Attach one end of the flexible airline tubing to the air pump outlet, then splice in the regular valve. The splice acts as a bleed valve.
You can use the bleed valve to control the air flow flowing to the air stone.
Step 3
Along the tubing, make another splice to insert the one-way valve.
This will prevent water from going into the air pump. Your whole system will remain safe in case something happens.
Step 4
Attach the airline tubing to the air stone.
Now you're ready to go!
Next, power up the air pump and your air circulation system should work just fine.
These steps are just basic guidelines.
You MUST stick to the instructions which come with your air stone. Manufacturers might suggest that you do something else.
More: Best Aquarium CO2 Regulator
How Do You Clean an Aquarium Air Stone?
Air stones might become dirty very quickly, particularly if your aquarium is swarming with algae. The good thing is that air-stones are washable.
Cleaning an air stone isn't too much hard work. All you need is some bleach that you'll find in your kitchen cupboard.
Before starting the cleaning process, take the air stones out of the aquarium and remove the rubber attachments (if there is any).
The rubber attachment prevents water entering whole stone.
Now prepare a 10:1 water and bleach mixture. Pour the bleach solution into a cup and put the air stone in the solution. Remember, the air stones must be fully submerged in the solution.
Leave it there for three hours.
Next, rinse the stone under running water and scrub the stone gently with a soft-bristled brush.
Continue washing it until it's clean. Make sure to clean off all the bleach.
Finally, wait two to three hours until it's completely dry.
You're done!
Are you skeptical about using bleach directly?
Well, you certainly are not the only one.
You can clean an air stone using many other cleaning agents. Here are some other options:
Effervescent denture cleansers
Sodium bicarb and citric acid
Elbow grease
Air stones are not everlasting. After a number of times cleaning and using, you'll notice that the output of an air stone reduces drastically.
Consider this to be your notification to change the air stones. A lot of manufacturers sell air stones in bundles. Getting one of these bundles may be a smart choice.
More: Best Aquarium Snails For Your Tank
Conclusion
So, what is the best air stone on the market right now?
Well, it depends on your tank type and usage. If you are looking for a general good one which doesn't cost too much, then Yueton Pack of 10 Cylinder Aquarium Bubble Air Stones is a good choice.
If you have a medium-sized tank and are looking for a bit more power, Pawfly 2.4 Inch Air Stone Bubble Mineral Ball Shaped Airstones should be on you list.
If you have a very large tank or a koi pond, then go for EcoPlus Round Air Stone.
As I said, the best air stones varies, depending on your requirements. What do you think of this list? Let me know in the comments!