If you are starting your aquascaping journey, you should start with a tank that isn't too big or too small. A 20-gallon aquarium is the ideal option for you in this case. However, as you are just starting out, you should focus on the best 20-gallon aquarium kit rather than just a 20- gallon fish tank.
So, what makes a kit perfect? Quality? Price? Durability?
Well, technically, it is all of these points, but what you should look for is user-friendliness. As you are new to the game, everything should be plain, easy, and intuitive.
So, let's take a look at the best 20-gallon aquarium kits of 2020. You can learn more about them all by checking the buying guide that follows this review.
Top 5 Best 20-Gallon Aquarium Kits of 2020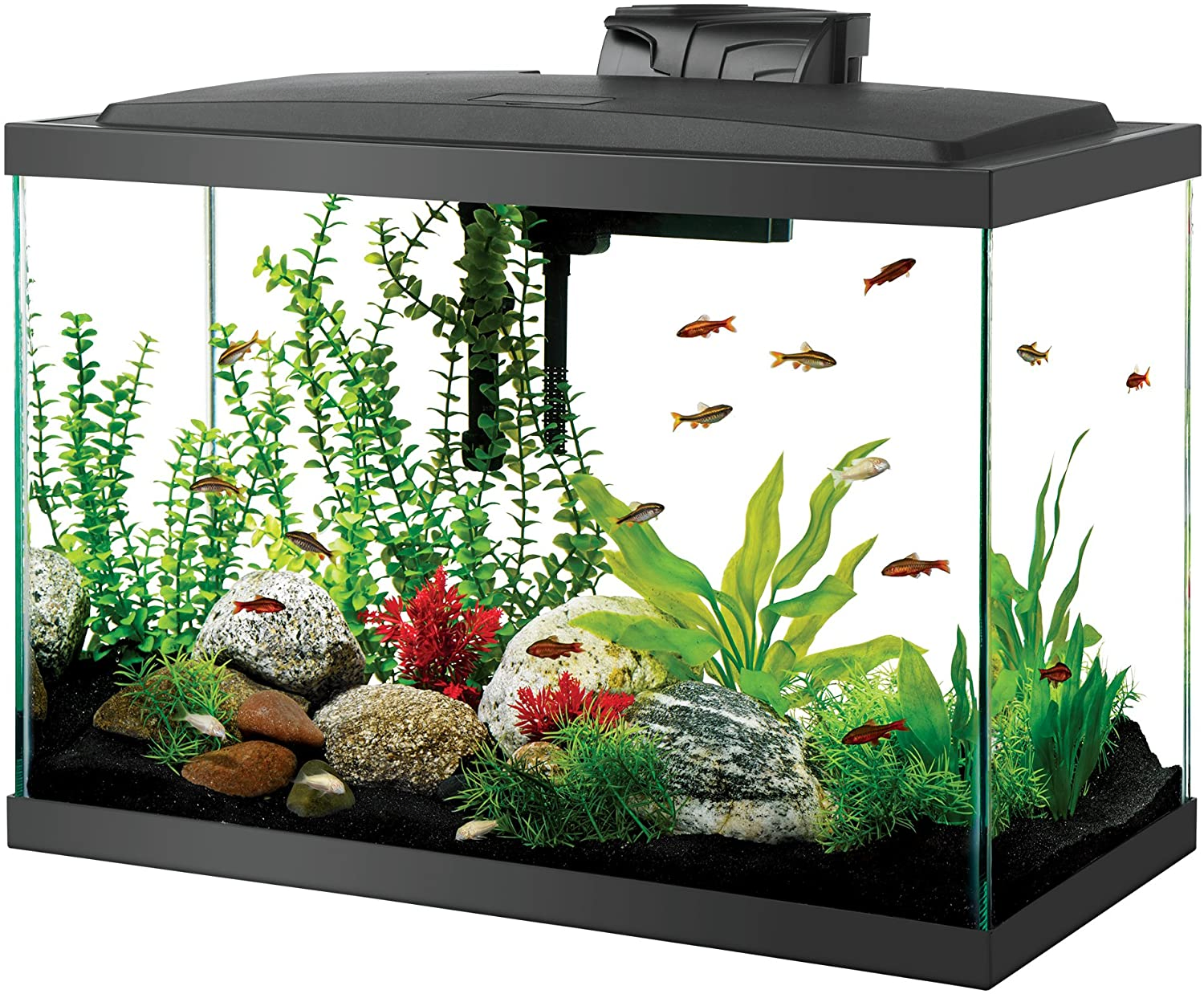 As I have already mentioned, 20-gallon tanks are perfect for beginners to start aquascaping. As we are at the point of beginner-friendliness, Aqueon LED Aquarium Kit 20H Black is the best example of a beginner-friendly kit.
As well as including a strong glass aquarium, this comes with a hooded light setup, a filter, and a heater. These are the three most essential pieces of equipment that you will need to start tropical aquascaping.
The overall quality is superior, and you won't need to think about changing anything until you advance to the next level of aquascaping.
Kit Includes
– 20-gallon glass aquarium​– Sleek low-profile LED hood​– QuietFlow 10 LED PRO power filter​– Filter cartridge​– Aqueon water conditioner​– 100w submersible preset heater​– Tropical flakes​– Fish net​– Stick-on thermometer​– Care guide​
Notable features
​– Rectangular glass tank– Designed to create a tropical aquascape– 10 items included in the kit– Simple 5-step setup
Pros
​Beginner-friendly

​Beginner-friendly

​Contains a great filter

​Low-profile hood
Cons
​LED light is not dimmable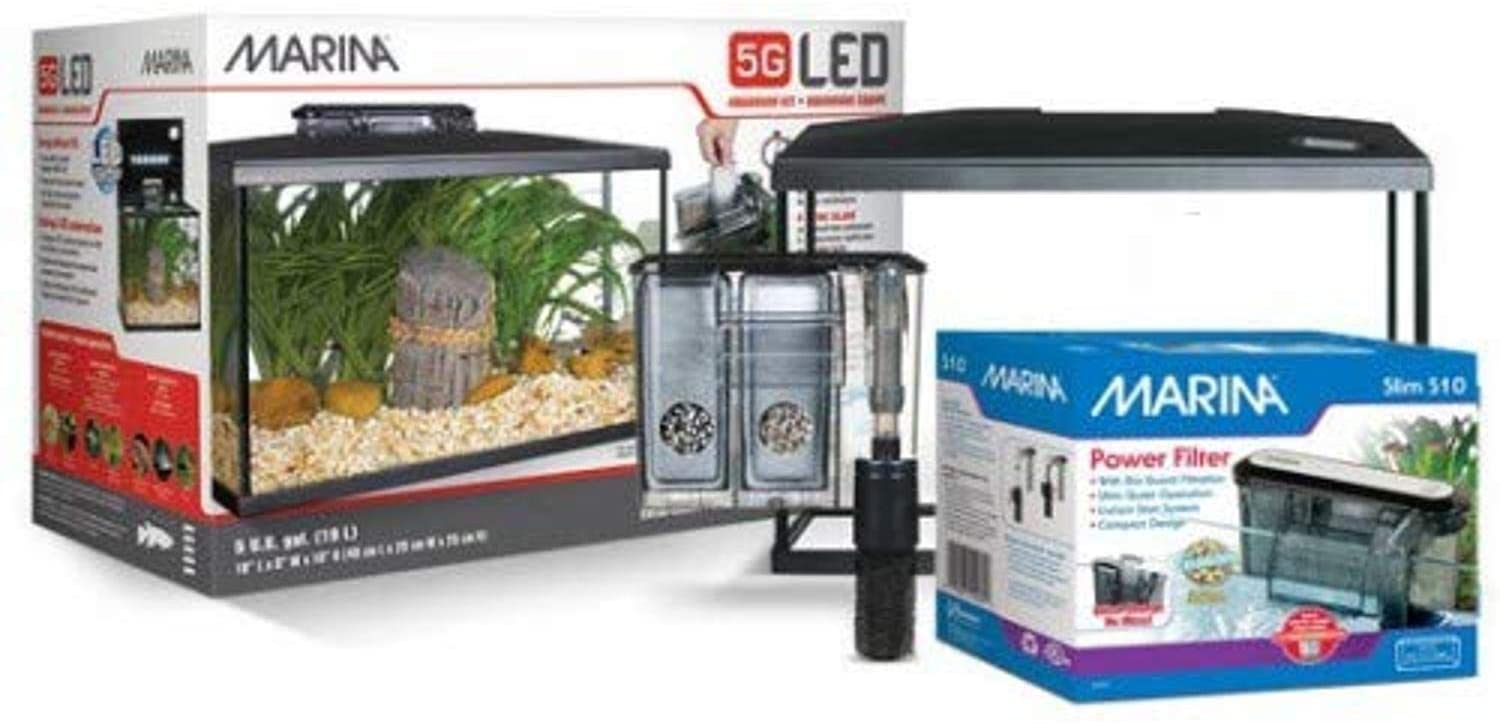 The main point of having an all-in-one starter kit is that everything is budget-friendly. As getting the best value is the top priority, nothing even comes close to Marina LED Aquarium Kit.
The heroes of this kit are the solid, quality glass tank and the top-quality lighting system.
Marina borrows some of the equipment from Fluval in order to design the best quality and best value aquarium kit.
Kit Includes
​- 20-gallon glass aquarium​– LED lighting​– Marina Slim S20 clip-on filter​– Quick change filter cartridges​– Thermometer​– Fluval Max fish food​– Fluval Aqua Plus Water Conditioner​– Fish net​– Aquarium care guide
​Notable features
​– The kit comes with eight essential pieces of aquarium equipment– Authentic glass authentic aquarium setup– Comes in three different sizes – 5, 10, and 20-gallon
Pros
​Perfect newbie-friendly starter kit

​All additional equipment is of superior quality

​Budget-friendly

​Robust and sturdy, despite being a glass aquarium
Cons
​There is no hinged lid which makes the feeding process a hassle

​No option to move the filter from the assigned spot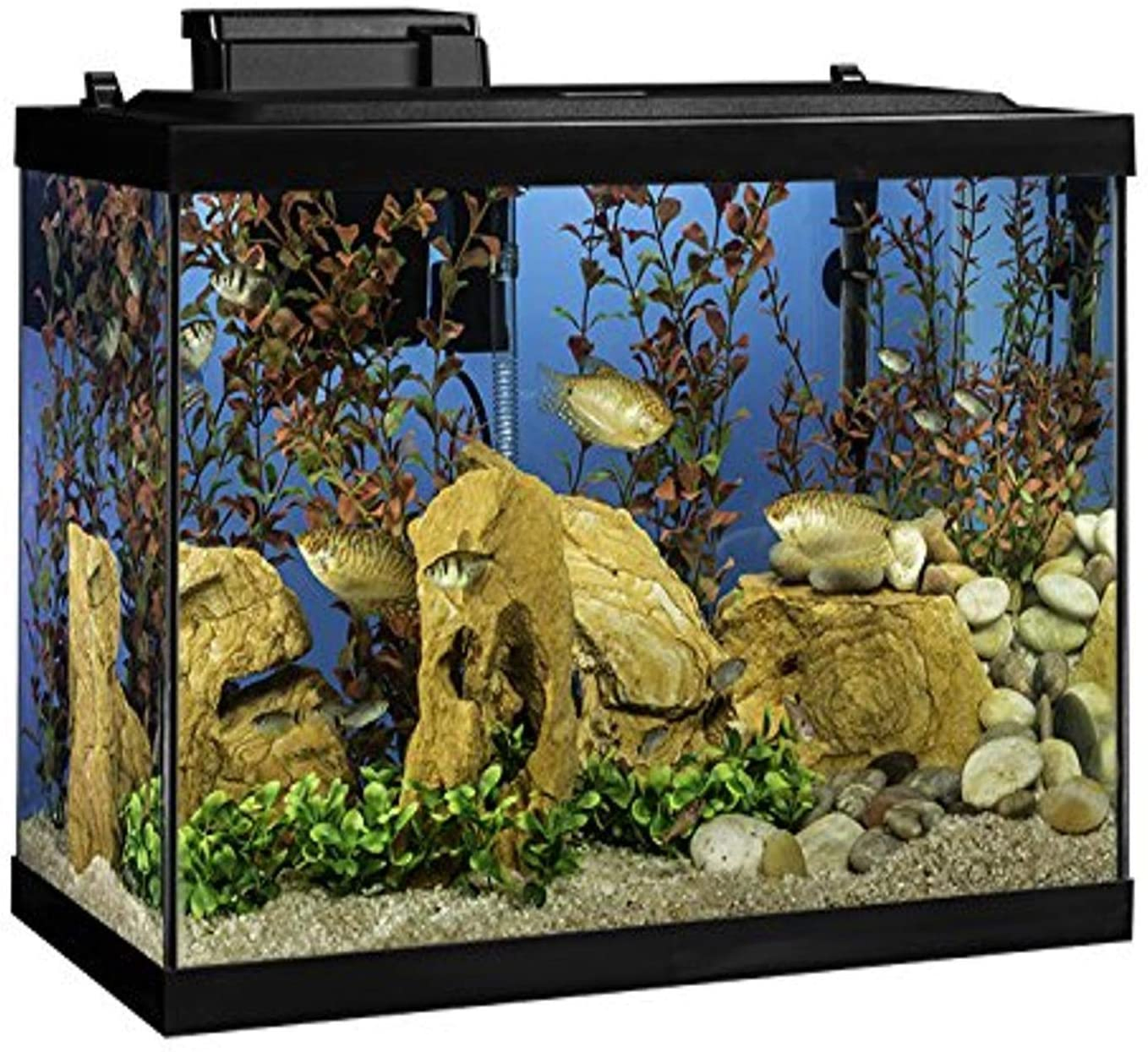 The sad fact is that a lot of complete aquarium kits on the market aren't actually complete. In many cases, the manufacturers miss a thing or two as they focus mostly on pricing.
However, Tetra knows that new fishkeepers need a kit which justifies the word complete.
Enter Tetra 20 Gallon Complete Aquarium Kit, a true complete kit which comes with 13 pieces of essential equipment.
It even packs some artificial plants so that you can put fish in your aquarium straight away.
Kit Includes
​– LED hood– Tetra 100W heater​– Tetra Whisper 20 filter​– Artificial boxwood plant mat​– 2 artificial plant multipacks​– AquaSafe sachet​– TetraMin sachet​– TetraCare brochure​– Digital thermometer​– 37-inch frame hinge​– Adapter​– 4-inch fish net
Notable features
​– Authentic tall rectangular glass aquarium– Comes with 13 essential pieces of equipment– Scratch-resistant glass made in the USA
Pros
​Great build quality

​A complete collection of equipment

​The quality of the equipment is top-notch

​Great design

​Scratch-resistant
Cons
​Filter seems to struggle to support the 20-gallon tank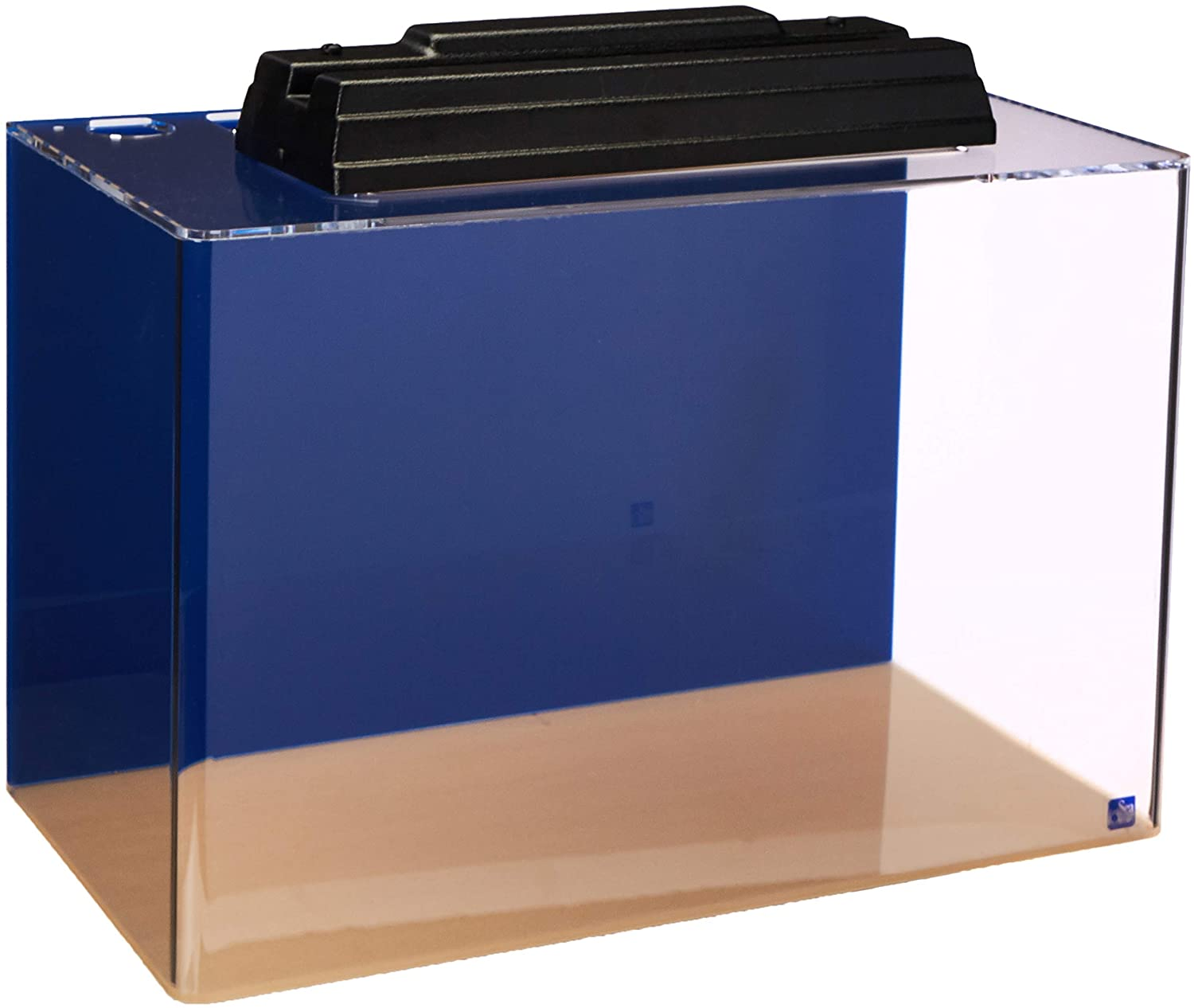 SeaClear Acrylic Aquarium is the definition of superior build. Other acrylic tanks don't offer this level of durability. The tank comes with a reflector and a light fixture.
Unlike cheap acrylic tanks, it will not turn yellowish after a while. This means that you can enjoy every positive aspect of the acrylic tank but forget the negative aspects.
SeaClear offers nine different versions of this tank. These include hexagon, rectangular, flat back, and even bow front designs.
Kit Includes
​– 20-gallon acrylic aquarium– Reflector​– Electrical 15" light fixture
Notable features
– ​The Combo pack includes three items– Acrylic tank is 17x stronger and half the weight of a glass tank– Superior build quality ensures impact resistance and protection against cracking– Suitable for both saltwater and freshwater fish
Pros
​Robust and durable

​Lightweight

​Long-lasting – lifetime warranty

​Great design

​Rounded corners ensure better safety
Cons
​Doesn't include essential pieces of equipment, includes only three pieces of equipment which includes the tank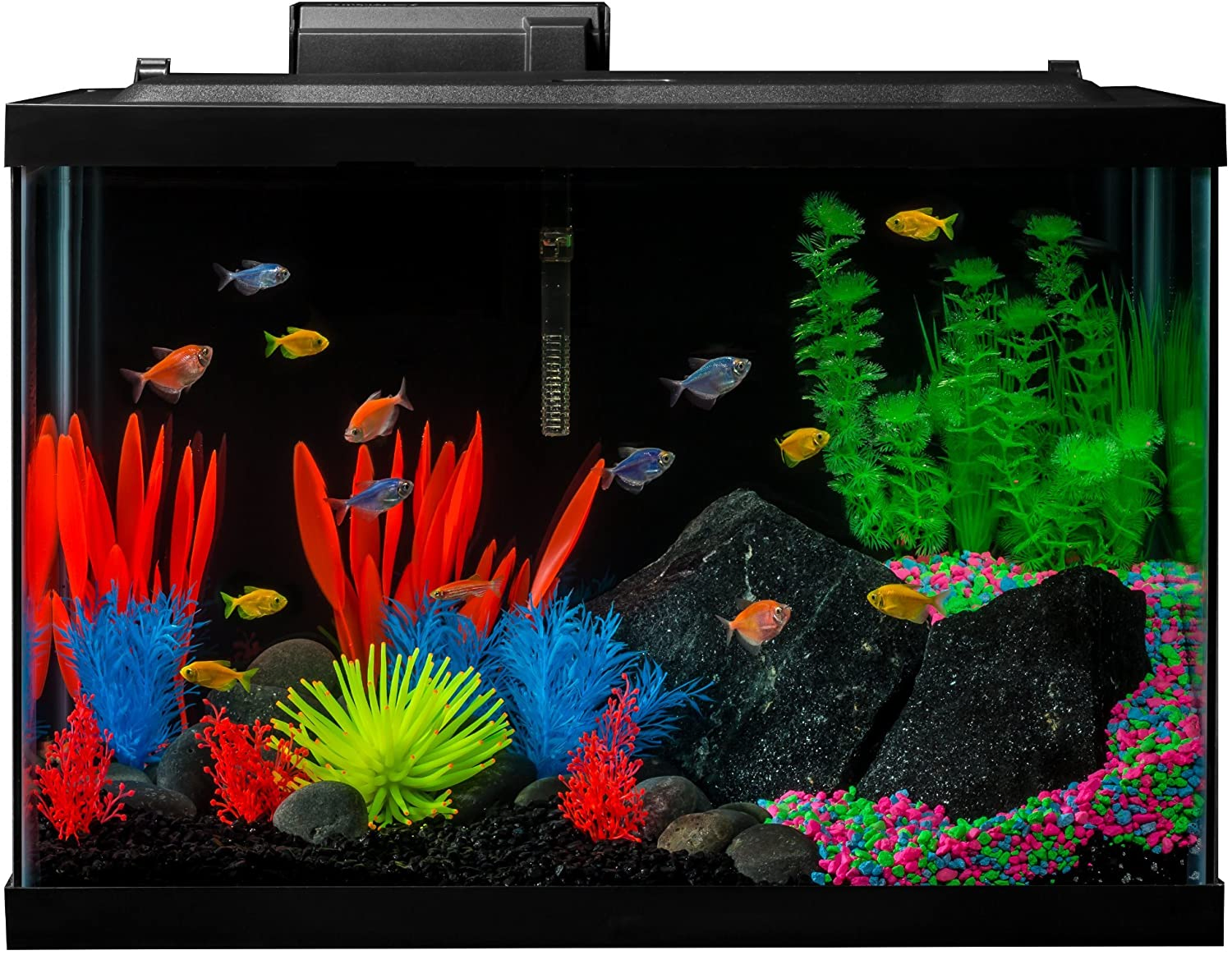 Very few beginner-level aquarium kits offer you original live plants. Luckily, GloFish Aquarium Kit does exactly that.
You will get a total of four plants, including a yellow anemone. The essential pieces of equipment are from Tetra, so you can trust their quality.
Overall, this is a great buy when considering all the features.
Kit Includes
​– 20-gallon glass aquarium– LED hood– Tetra mini ul heater– Tetra whisper(r) 20 filter– GloFish 13″ LED light stick– 3 GloFish plants– GloFish yellow anemone– Fish food and water conditioner sample– Set-up guide
Notable features
​– Rectangular glass aquarium– Includes a 13" LED light stick– Heater and filter from Tetra– Brilliant underwater lights and colors
Pros
​Superior build quality

​Bright colors

​Includes live plants

​10 pieces of equipment come with the kit
Cons
​The plants can be damaged during the delivery process
​Things to Consider When Choosing the Best 20-Gallon Tank: ​A Buying Guide
Please don't be the kind of person who goes to the pet store and buys the first aquarium with a label which says "20-gallon aquarium".
There are many things to consider when buying an aquarium, particularly with a smaller sized aquarium. I know this is a rookie mistake as most newbies will start aquascaping with a smaller aquarium.
And remember, an aquarium is more than just a transparent vase for holding water for your fish and plants.
Here are some things which you should consider:
​– Aquarium material– Shape and size– Surface area– Maintenance features– Aquarium kits (for new fishkeepers only)
Let's take a closer look at all these points.
Aquarium Material
The most important decision that you will make when buying an aquarium concerns the aquarium material.
Typically, an aquarium is either made of glass or acrylic.
There are significant differences between these two aquarium materials.
Traditionally, all aquariums used to be made of glass, but this posed some major issues. The
biggest issues with glass aquariums are:
​– Heavy weight– Brittle and prone to shattering– Water can leak from the corners
In addition, glass aquariums can be quite expensive.
But luckily, a new material came to the market which offered solutions to the problems posed by glass aquariums.
Yes, I am talking about acrylic!
Durability is the most impressive part of acrylic tanks. Your mind can now rest in ease as you will not be living in constant fear of breaking your aquarium and creating a huge mess.
Plus, acrylic offers better bonds, so water will not leak through the glued corners.
There is another issue which makes acrylic tanks a great option – heat retention. With this property, you can now maintain your entire aquatic environment running at a constant temperature.
While an acrylic aquarium is lighter and shatter-proof, it comes with its own set of issues.
Firstly, acrylic tanks can never give you the level of authenticity of a glass aquarium. After all, acrylic tanks serve as a knock-off of glass aquariums.
But the biggest issue with acrylic tanks is the bending issue. Due to their high plasticity, acrylic tanks will deform or bend over time.
They can also become yellowish or brownish over time.
So ultimately, it's a trade-off between glass tanks and acrylic tanks, and only you can make the decision.
More: Our Guide To The Best 10-Gallon Fish Tank Here
Aquarium Shape
No, not all the aquariums have a rectangular box design.
There are many varieties on the market right now. You can change the look of your aquarium to a great extent by having a different shaped aquarium.
Here are some of the most popular shapes:
​1. Rectangular2. Bow front3. Corner bow front4. Half cylinder5. Cylinder6. Bullet7. Hexagon8. Flat back hexagon9. Cube10. Pentagon
There is a close connection between aquarium shape and the material it's built from.
Simpler shapes such as rectangular, bow front, corner bow front, and cube tanks can be made from both glass and acrylic. Manufacturers can use glass due to the simple structure of these shapes.
However, as you delve into more complex shapes such as cylinders, pentagons, or hexagons, your options will be limited to just acrylic tanks.
Why is that?
The answer is quite simple. Acrylic can be shaped much more easily than glass.
​More: Our Guide To Best Betta Fish Tank Here
Surface Area
Many newbie fishkeepers neglect the surface area factor, but surface area plays a crucial role.
Surface area simply refers to the water surface of the tank. The larger the surface area of a tank, the more gas exchange occurs in it.
So, what happens during the gas exchange process?
The water in the tank releases CO2 in return for O2 through the surface area. A higher surface area is good for fish, but it is not that helpful for plants. Plants demand CO2 in order to engage in the photosynthesis process.
So, excessive CO2 and O2 both are equally bad for your aquarium. You should aim to achieve a balance between these two.
There are two solutions to this. Either you buy an aquarium which offers the optimum surface area or you install a CO2 diffuser.
The choice is yours.
​More: Our Guide To The Best Goldfish Tank Here
Maintenance and Aquarium Kits
Aquascaping demands a great deal of your time . The hardest part of aquascaping is properly maintaining it. Without maintenance, even award-winning aquariums will turn into the garbage through time.
So, you must ask yourself, will you be able to clean the tank you are planning to buy? Or will it be too difficult?
For example, if the tank is too deep, you won't be able to reach the bottom to scrub off dirt.
Next, you must consider if the aquarium is capable of welcoming future attachments, because you will need to install a:
​– Filter– Heater– Lighting system– CO2 diffuser (optional)– Wavemaker (optional)– Automatic feeder (option)
and possibly other pieces of kit too.
Also, if you are buying an aquarium for the first time, you will probably buy a kit due to convenience. Ask the seller what equipment comes with the kit.
More: Our Guide To The Best Turtle Tank Here
20-Gallon Fish Tank Set-Up
Setting up a 20-gallon fish tank is quite simple. You just need to follow these simple steps:
Step 1: Getting the Tank Ready
This step is quite a no-brainer: you need to buy a tank!
You must make sure you are getting a sturdy tank which allows you to install all the necessary equipment.
Also, don't forget to check the surface area.
Once you have made your purchase, place the aquarium in your house where it will not be in direct sunlight. It's better to control the light yourself using artificial lighting.
Step 2: Setting the Substrate
Now that your tank is in the right place, you must set the substrate layer.
Firstly, you should start with placing the gravel in the tank. You can either place the gravel in the tank as is or put it in a nylon bag in order to maintain shape.
You can either create a flat layer or be creative. Take your time and try to imagine your dream landscape.
After adding the gravel, you should spread out the substrate and the sand. Again, you can create a flat surface or an uneven surface.
Finally, it's time to add rocks and driftwood. Then, you should spray water on the rocks and the substrate layer to keep them moist.
Don't rush this stage as this will set the mood for the entire aquascape of your aquarium.
And one quick note, always clean the gravel and the sand before placing them in the aquarium. In many cases, they consist of harmful foreign materials which can pose a threat to both fish and plants.
Step 3: Time to Plant
You should have some form of green plants. You can go for either fake artificial plants or natural live green ones.
Live plants will enhance the overall beauty of your aquarium to a great extent.
Before you add plants, you should do some research regarding the position and ideal environment for plants, because, just like fish, live plants also require ideal living conditions. If not, they can die and rot away.
You should have four kinds of plants in your tank:
​– Background plants (long and typically larger)– A centerpiece plant– Carpeting plants– Floaters
After choosing and planting the plants, you should sprinkle water on them. You will not add water to the tank right away as you must first add some of the equipment.
Also, make sure to create enough hiding spaces for timid fish.
Step 4: Adding Equipment
You can have a lot of different equipment in your tank, depending on your requirements. However, there are three pieces of equipment which are absolutely essential.
They are:
​– Filter– Heater– CO2 diffuser (only if you have live plants)
As you are working with a small 20-gallon tank, you won't need powerful canister filters. A good HOB filter should do the trick.
Next, you will add the heater. A heater will maintain a constant temperature in your tank so that fish and plants can thrive at the correct temperature.
A smart decision is to hide these pieces of equipment at the back of the tank so they don't bother viewers or fish.
DON'T turn the devices on yet. That will be done later. Now you are ready for the big step!
Step 5: Add Water
Now you can add water to the tank. It's better if you can add water from another healthy tank. Don't worry if you don't already have a tank.
After adding the water, you should pour in water conditioner and liquid fertilizers.
Yes, the water might turn cloudy instantly, but don't stress out as the cloudiness will clear up. You should keep the water as is for the next 3 to 5 days. During this period, the water will cycle.
Finally, turn on all the equipment as per the manufacturer's guidelines.
Step 6: Check the Water Condition and Add Fish
After a waiting period, you must check the water condition. You should check the pH level, water temperature, presence of nitrogen, and water hardness level.
If everything seems fine, you can add the fish.
Conclusion
Now you know about the best 20-gallon aquariums and how you can choose a nice one to match your needs.
So, if I had to rank the aquarium kits, which one would I choose?
Aqueon LED Aquarium Kit 20H Black would be the clear winner. Aqueon offers superior quality and doesn't cost a fortune.
Next would be Marina LED Aquarium Kit – the ultimate budget champ. And finally, Tetra 20 Gallon Complete Aquarium Kit would be in third place.
What do you think? Let me know in the comments section!