New fishkeepers often have a hard time designing their first aquarium system. There are a lot of devices and supporting equipment out there that you can skip for your first try. But you can NEVER skip or overlook the importance of a filter.
An aquarium filter makes the aquarium healthy and habitable for fish and plants. Otherwise, the tank becomes dirty in no time.
But not every filter acts in the same way. Each one serves a different purpose and has different functionalities.
So, what is the best filter for a 20-gallon tank?
Well, to know that you will need to check this review of handpicked filters. Also, don't forget to check out the buying guide. This will help you find the perfect filter for your aquarium.
| IMAGE | Product | Rated Size (Max.) | Rating | price |
| --- | --- | --- | --- | --- |
| Best 20-Gallon Aquarium Filter | Aqua Clear – Fish Tank Filter | 30 Gallons | | |
| | Fluval C Power Filter | 50 Gallons | | |
| Best Internal Filter | Fluval Underwater Filter | 40 Gallons | | |
| | Aqueon Quietflow Internal Power Filter | 30 Gallons | | |
| | Penn Plax Cascade Canister Aquarium Filter | 30 Gallons | | |
| | Aqueon Quietflow Canister Filter | 55 Gallons | | |
| The Premium Choice | Fluval External Filter | 45 Gallons | | |
7 Best Filters for a 20-Gallon Tank Review In 2020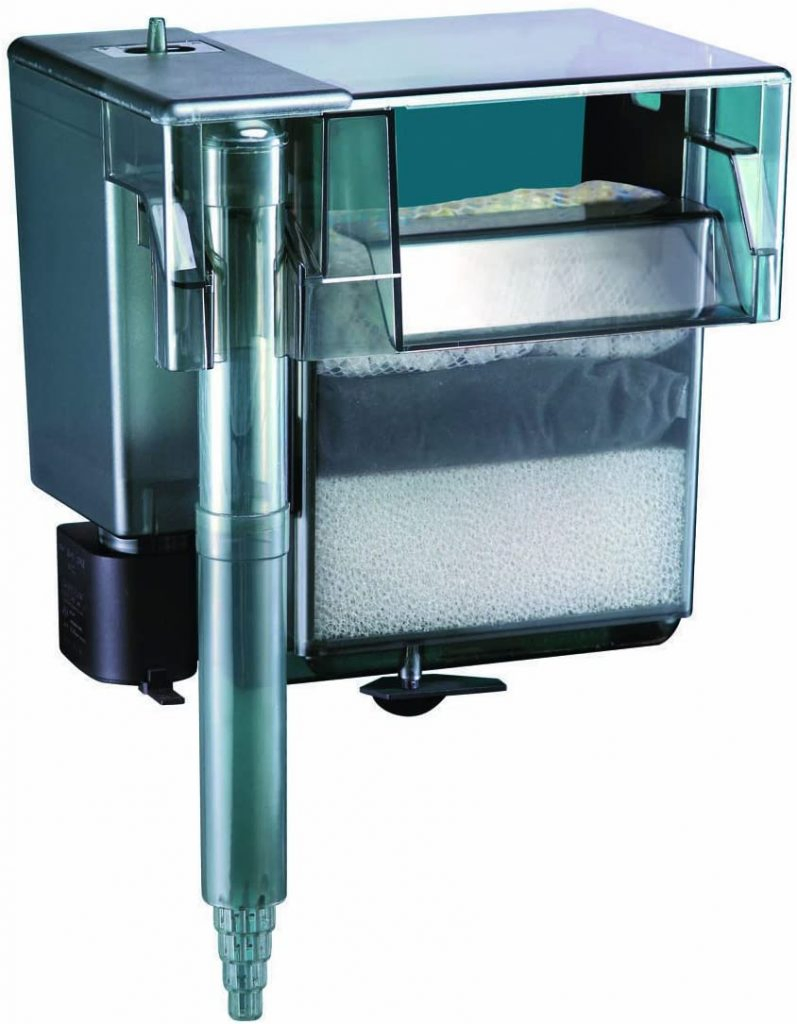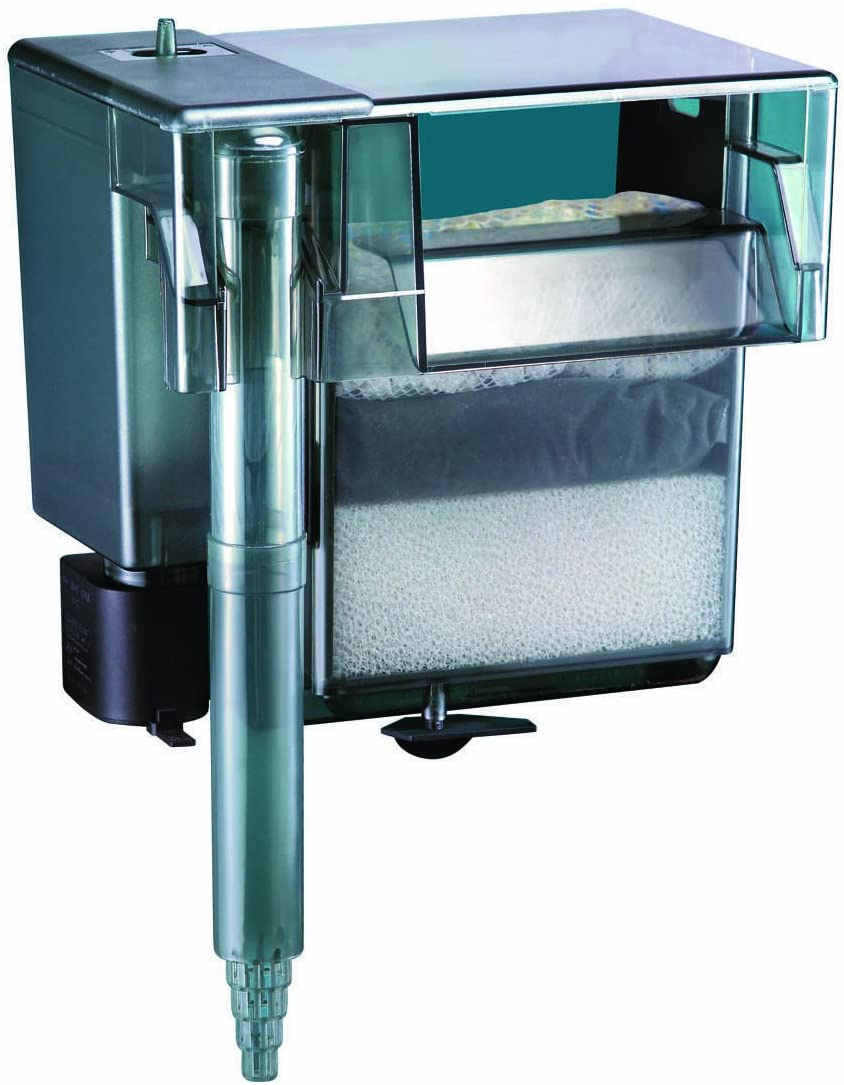 A simple 20-gallon filter should focus on just one thing, quality filtration. If you have a large 100-gallon tank, then you should consider other factors too.
But for a small tank, filtration quality is the most important priority.
That being said, very few products on the market can match the filtration quality of the AquaClear Power Filter.
What's unique about this filter is that if you reduce the flow rate, about 50% of the water in the tank gets refiltered.
Also, the filtration media is superior, which allows great three-stage filtration.
The only bad thing I can think of about this filter is the maintenance issue. You will need to clean the filter every two weeks. This can be a major hassle for a lot of people.
Other than that, the AquaClear Power Filter is a pure gem!
Spec
Filter Type: Hang on back (HOB)
Rated tank size (range): 10 to 30 gallons
Flow rate: 150 gallons/hour
Notable Features
Offers patented AquaClear re-filtration system which processes 50% of the water in the chamber multiple times
CycleGuard multi-stage filtration system provides optimal filtration while nurturing beneficial bacteria in the tank
Customizable flow control
Mimics the water flow of a natural waterfall
Capable of handling 7 times more filtration volume than similar filters
Uses AquaClear Foam, Activated Carbon and BioMax as filtration media
To reduce the ammonia level in the water, there are ZeoCarb and ammonia removers
To achieve maximum efficiency, filter needs cleaning every two weeks
2. Fluval C Power Filter – Best 20-Gallon Fish Tank Filter with 5-Stage Filtration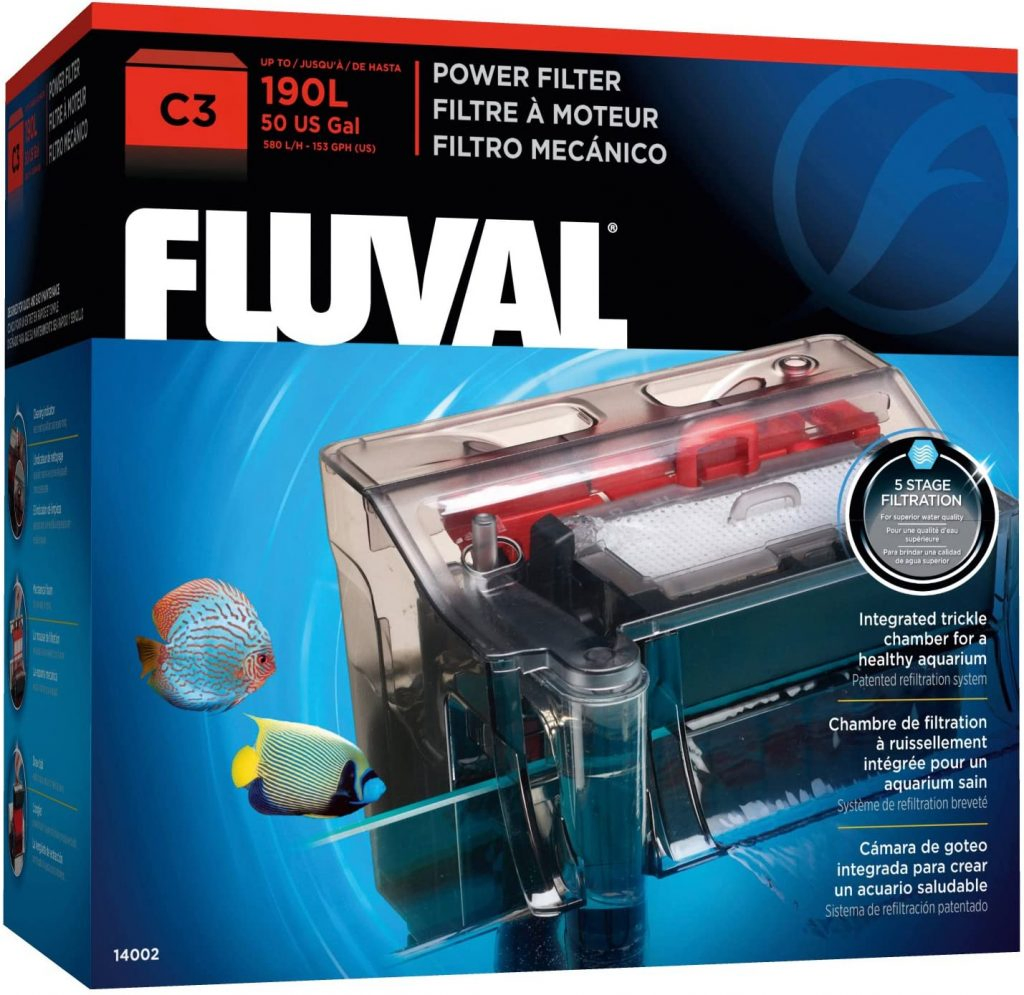 When it comes to the biggest brands in the aquarium industry, Fluval can't be forgotten.
In fact, they broke into the industry with the world's first three-stage aquarium filter. So, one thing is for sure; they have a phenomenal reputation.
Fluval C3 Power Filter offers great filtration with five-stage filtration. Yes, with the Fluval filter, you will get two extra filtration stages – one extra mechanical and one extra biological filtration stage.
Just like the previous filter, this is also a HoB type filter, so the installation process is very easy and handy. Furthermore, it also has its own re-filtration technology.
Due to its ease of use, I would recommend this filter for new fishkeepers who just bought a 20-gallon tank. This is certainly one of the best HoB filters for a 20-gallon tank.
However, users of Fluval C have complained about an occasional clogging issue, so this issue should be considered.
Spec
Filter Type: Hang on back (HoB)
Rated tank size (range): 20 to 50 gallons
Flow rate: 153 gallons/hour
Notable Features
Five-stage filtration process – two mechanical, one chemical, and two biological stages
Patented re-filtration technology
Uses polyfoam, activated carbon, and C-Nodes as filtration media
Two stages of biological media layers ensure more beneficial bacteria growth
Cleaning indicator tells you when it's time to clean the filter


Nothing beats the compactness of an internal filter in a small tank. If you are someone who doesn't like to deal with tubes and other installation hassles, you should get your yourself an internal filter.
Fluval Underwater Filters are the most convenient and advanced internal filters on the market right now.
All you need to do is place the filter somewhere suitable in your tank, and it will take care of everything. While most other internal filters only offer sponge filtration, Fluval Underwater offers three-stage filtration, including biological filtration.
The most fascinating feature of this filter is its three-way flow control with completely adjustable flow rate. The top output chamber offers a high circulation and oxygenation rate and the bottom output offers deep-water agitation.
The middle section has a spray bar which maintains constant gentle and even flow.
Spec
Filter Type: Internal
Rated tank size (range): 24 to 40 gallons
Flow rate: 155 gallons/hour
Notable Features
Adjustable three-way flow patterns and adjustable flow control
Three-stage filtration including biological, chemical, and mechanical filtration
Filtration media includes two foam pads, two poly or carbon cartridges, and 65 grams of BioMax
Has a flip-top lid for easier access to the filtration media
Can be installed both in horizontal and vertical positions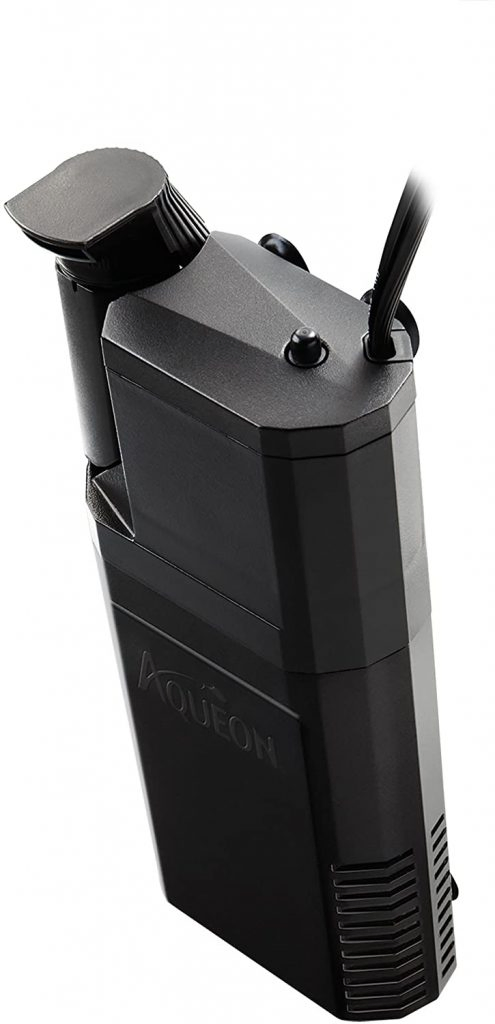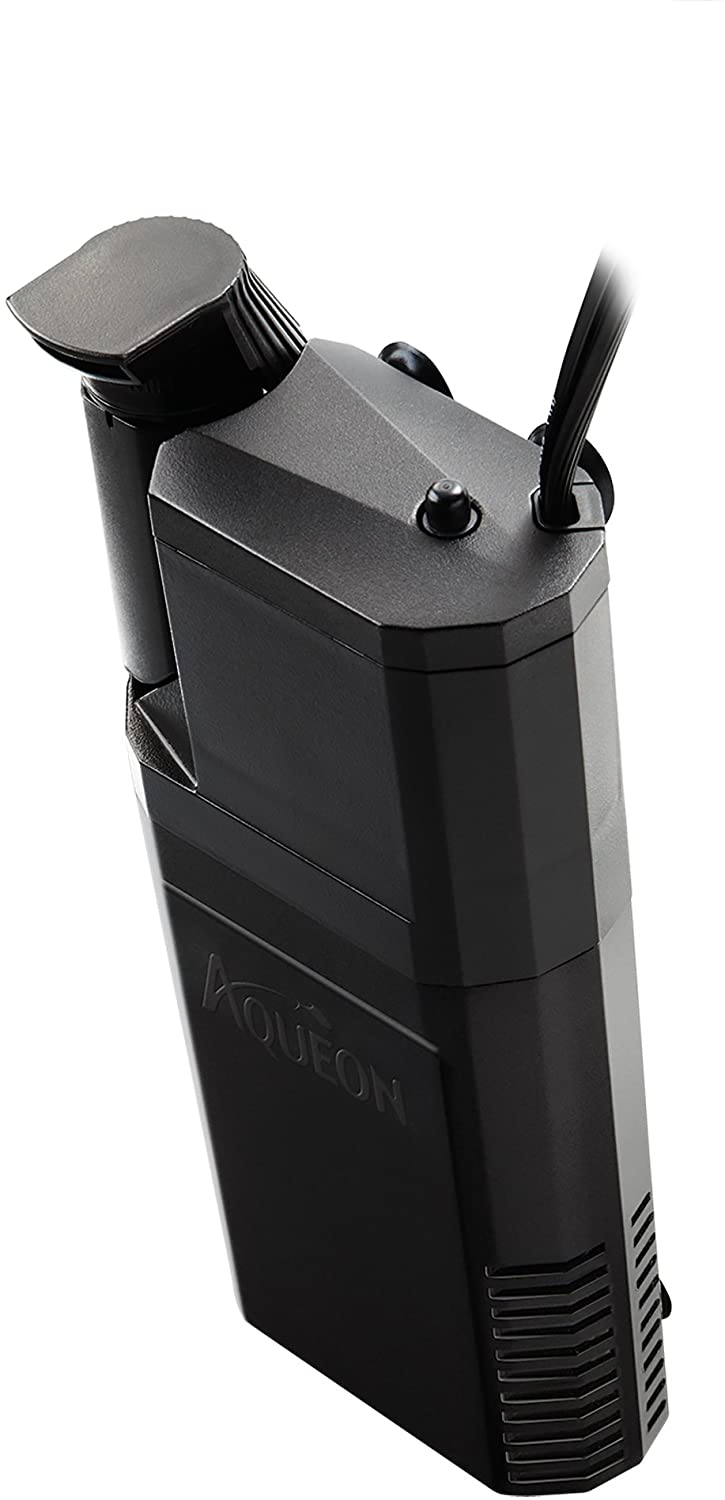 One of the biggest problems of having a small tank is that there is very little space to design and decorate your aquarium. In addition, if your internal filter takes up a huge amount of space, things can become even more problematic.
If you are suffering with space issues, then you might like the Aqueon Quietflow Internal Power Filter.
There are two things I love about this filter – the small form factor and noiseless operation. Some users have complained about noise issues, but I think they just haven't installed the product correctly.
There's nothing major about this filter that you'll hate except one issue – the water input current can be too strong in some instances.
So, if you have small fish such as betta or guppy in your tank, be careful. You can attach a net in the water intake valve to be on the safe side.
Spec
Filter Type: Internal
Rated tank size (max.): 30 gallons
Flow rate: 142 gallons/hour
Notable Features
Fully submersible design
Adjustable flow rate
Three-stage mechanical-chemical-biological filtration
Uses dense foam for mechanical, activated carbon for chemical, and patented BioGrid material for biological filtration
Can be used horizontally or vertically
Self-priming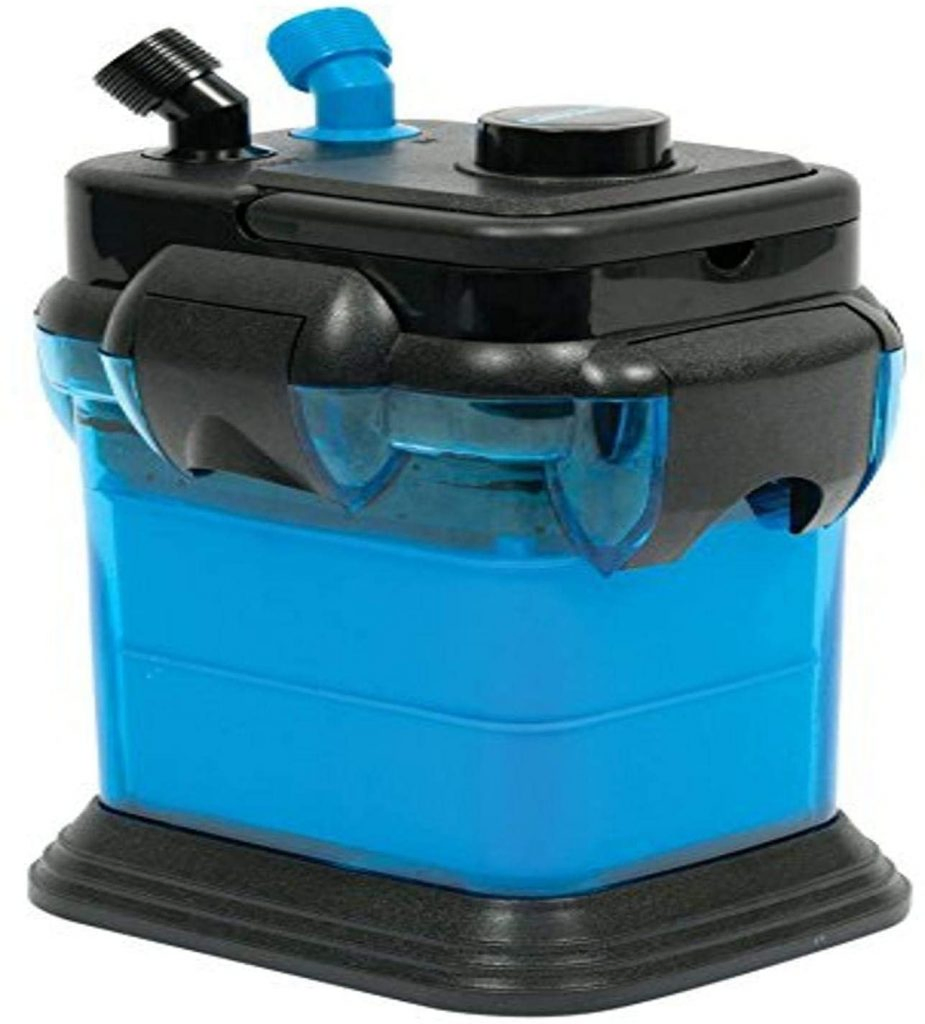 When it comes to power and efficiency, there are few filters which can match canister filters in terms of durability. They are durable, efficient, and very powerful.
Among small canister filters, Penn Plax Cascade Canister 500 is a very good choice.
The biggest advantage with this filter is customizability. You can control the flow rate and use the filter media of your own choice.
In addition, the filter media chamber is huge, so you can expect better filtration.
As with any other canister filter, this has two negative issues – priming problems and a high price tag.
Spec
Filter Type: Cascade canister
Rated tank size (max.): 30 gallons
Flow rate: 115 gallons/hour
Notable Features
Two independent 360° rotational flow valves ensure easier maneuvering
Large media baskets allow users to use more filtration media
Controllable flow rate and pool style hose valve
Any choice of filtration media (bio-floss, bio- sponge, activated carbon, etc.) can be used
Has a push button primer on top of the external device
All accessories (filter media, spray bar, tubes, and directional spout) come with the filter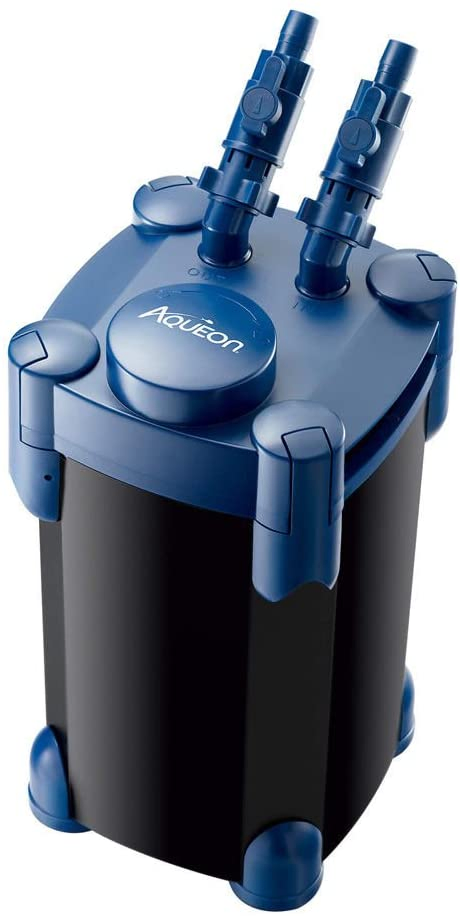 Let's talk about another canister filter – Aqueon Quietflow Canister Filter. The biggest advantage of this filter is its insane water flow rate.
If you use this filter in your 20-gallon tank, all dirty water will be cleaned 10-times per hour!
But the feature which sets the Aqueon Quietflow Canister Filter apart is its water polishing device. With this device, small, even microscopic levels of dirt are removed from the water.
The biological filtration system in this filter is remarkable. Rather than using one type of biological filtration media, it uses two – bio-balls and bio-ceramic rings.
In addition, you will also get activated carbon for chemical filtration and coarse foam for mechanical filtration.
So, what's the catch? What's the negative aspect of this filter?
There's only one – the price!
Spec
Filter Type: Canister
Rated tank size (max.): 55 gallons
Flow rate: 200 gallons/hour
Notable Features
Three-stage filtration with more space for filter media
Comes with water polishing device to offer cleaner water
Filtration media includes activated carbon, coarse foam pad, bio-balls, bio-ceramic rings
Very high flow rate which can be controlled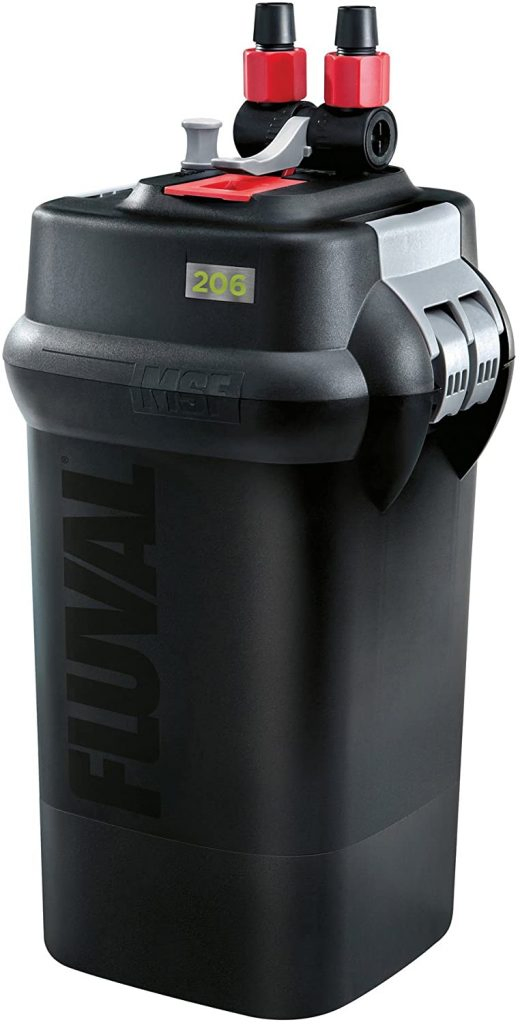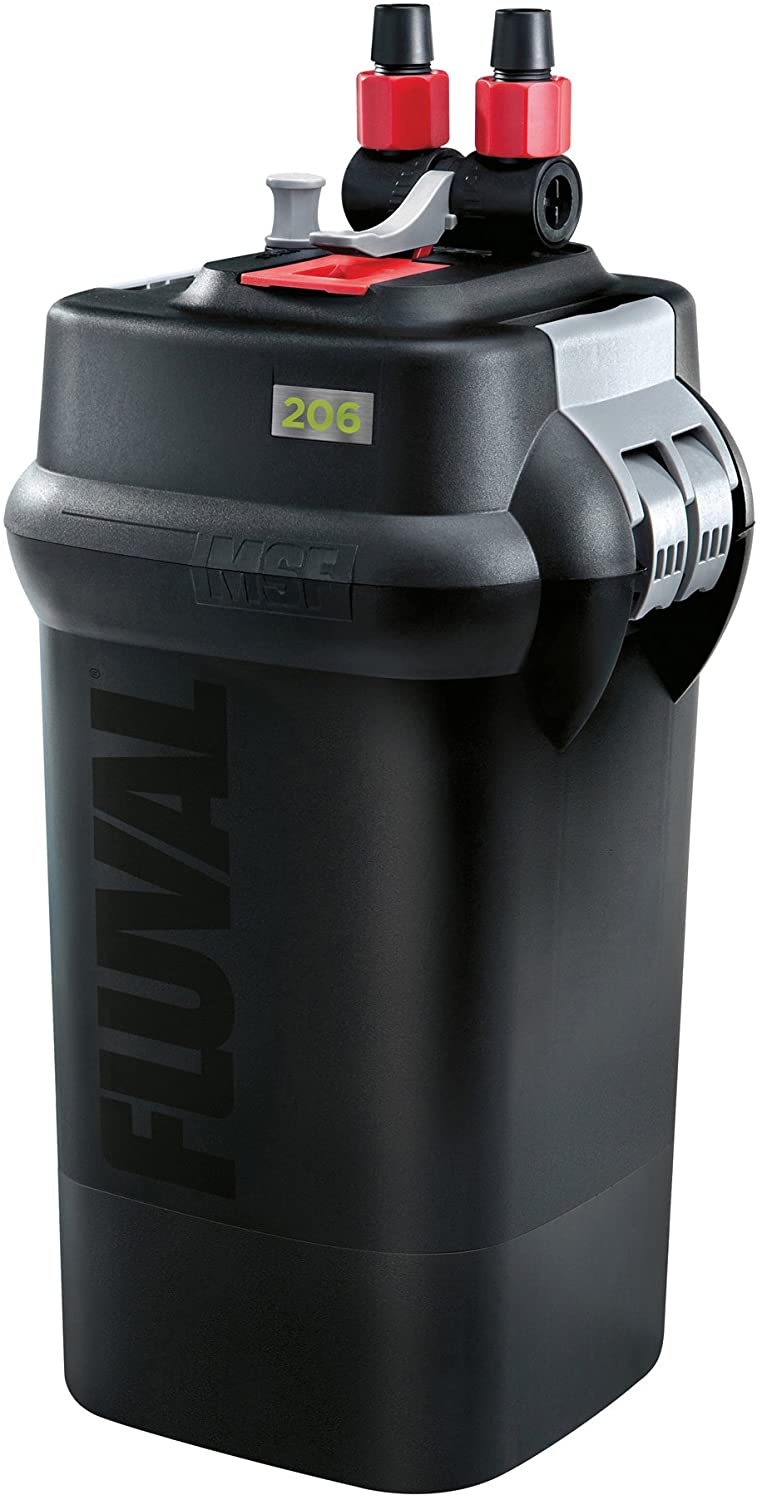 It's sad that this engineering marvel is at the bottom of this list today. If I hadn't considered the price at all and only focused on features, the Fluval External Filter would have been in the first place.
The number of features Fluval have implemented in this filter is absolutely mind-boggling. From the twin-foam mechanical pre-filter to the AquaStop valves, everything is engineered to perfection.
The only negative aspect with this filter is its price. Only a few people would spend this much on a filter for a small 20-gallon aquarium.
If money isn't an issue for you or you don't want to compromise even a little, then you should definitely buy this filter.
Specs. Table – Fluval External Filter
Filter Type: Canister
Rated tank size (max.): 45 gallons
Flow rate: 206 gallons/hour
Notable Features
Multi-stage filtration and ability to choose any filter media
Additional twin-foam mechanical pre-filter
Separate chambers and modules ensure mess-free maintenance
Sound-dampening impeller for noiseless operation
Clog-proof intake strainer
Patented AquaStop valves stop water flow without disconnecting the pipes
Lift-Lock clamps ensure stability
The Ultimate Buying Guide to Choosing the Best Filter for a 20-Gallon Tank
What Should You Look for in a Good Filter?
Filtration quality. Yes, of course, but that's a no brainer!
But how can you say that a filter is doing a good job? Cleaner water doesn't only mean that the water quality is good enough.
It's possible for a clean aquarium to have high nitrate or ammonia levels. Or, the water could smell foul.
A good filter should be able to combat three major issues:
Waste food grains or other kinds of debris
Dissolved harmful particulates
Ammonia, nitrite, and nitrate
This is why filter brands focus on the phrase "three-stage filtration." This means that the filter works in multiple stages to fight off these major issues.
Types of Filter
Filter capabilities are also dependent on the type of filter. For a small aquarium such as a 20-gallon tank, you can find three kinds of filter on the market:
Hang on back (HoB) filters
Internal filters
Canister filters
HoB filters are those which you clip on the aquarium walls. It's a type of external filter which has a very strong water pump. The biggest advantage of an HoB filter is the ease of maintenance.
However, the water current can be too high in many cases. Choose a HoB filter which offers a flow rate modifier.
The second variety, an internal filter, is compact and fully submersible. Its compact design makes usage hassle-free. You will not need to deal with annoying wires.
However, let me give you a warning, internal filters often come with weaker pumps, so the filtration quality can be disappointing.
The last option is a canister filter. They are robust, rugged and last for a long, long time. Most canister filters offer the freedom to use any filter media. The media chamber is also large, so you can go for any layering strategy.
Of the three, canister filters offer the best quality filtration. However, they are the most expensive of all filters.
In addition to these three, some manufacturers design simple sponge filters and corner filters.
More: Check our guide for best betta fish tank filter here
Filtration Types
Now that you are aware of the different filter types, you should focus on filtration types. A good filter must offer three-stage filtration:
Mechanical filtration
Chemical filtration
Biological filtration
Mechanical Filtration
The water quality in an aquarium will gradually deteriorate. The main two culprits for this are:
Fish excrement
Waste fish food
These two grains stay in the water and become rotten. Mechanical filter clears all large debris.
Once the water pump sucks in dirty water, the debris get caught in the foam pads. Then, cleaner water passes through.
So, the hero of mechanical filtration is the pad which absorbs the dirt.
Chemical Filtration
Mechanical filtration takes care of the debris and large grains, but what about the pollutants which are dissolved in the water?
This is where chemical filtration comes in.
Chemical filtration stage is basically conducted by activated carbon. Some brands use resins or other similar kinds of adsorbents.
In this stage, most dissolved particles are neutralized.
Also, this phase removes foul odors from the water.
Biological Filtration
If you know even a little about fishkeeping, you should be aware of the dangers of the nitrogen cycle.
The harmful byproducts of the nitrogen cycle are ammonia, nitrite, and nitrate. Even the chemical filtration stage can't remove them.
Luckily, there are some beneficial bacteria which consume these harmful compounds. The biological filtration stage mainly creates a colony of beneficial bacteria.
When water passes through the bacteria colony in the filter, they consume the ammonia, nitrite, and nitrate.
Most manufacturers create a biological filtration layer with bio-balls, bio-ceramic rings, or similar materials.
More: The Best Filter For Small to Mid-Size Pond
Tank Size and Flow Rate
This is crucial, as you might kill your fish by using a filter which is suitable for another tank. For a 20-gallon tank, you can use filters which are designed for tanks of up to 50 gallons in size.
Any filter which is suitable for larger tanks can cause hazards.
This is mainly due to the high flow rate of more powerful filters. The maximum flow rate for a 20-gallon tank is 200 gallons/hour.
The ideal flow rate should range from 100 to 200 gallons/hour.
Why Do You Need a Filter for a 20-Gallon Aquarium?
The simple answer is to create a healthier living environment for your fish.
All filters work to serve to only one purpose and that is to clean the aquarium water. But is having a filter a must?
NO!
You can clean your tank manually using a scrubber or perform more frequent manual cleaning. However, there are some obvious problems and issues with manual cleaning.
So, let's check out some of the benefits of using a filter:
Less Stress
If you plan on using a scrubber, you will need to take the fish out of the tank and do the cleaning. But if you take the fish out of the tank too often, it will be traumatic for them.
On the other hand, using a filter can be less stressful for the fish.
Avoid Overfeeding
If you don't remove leftover food from the tank, the fish will later eat it. This can lead to overfeeding issues which can cause different diseases.
Installing a good mechanical filter removes excess food from the tank.
Less Ammonia and Nitrate
Ammonia and nitrate will easily stress out the fish. In some serious cases, your fish might die from nitrate poisoning.
Biological filtration helps your fish avoid such issues.
Less Maintenance
Even when using a good filter, you will need to maintain your tank by performing tasks such as changing the water. But if you don't have a filter, you will have to perform more regular maintenance, even perhaps on a daily basis!
Having a filter saves you from this hassle.
Overall Better Environment
With a filter, the water in the tank becomes cleaner and the fish can enjoy a much better aquatic life in it.
More: Best Filter for Goldfish
Conclusion
It's time to talk about the winners.
What is the best filter for a 20-gallon tank?
That award certainly goes to the Aqua Clear – Fish Tank Filter. Then, second place goes to the Fluval C Power Filter.
Finally, third place goes to the Fluval Underwater Filter.
What do you think about the ranking? Let me know in the comments below!